Goodyear Ballpark Seating Charts
Goodyear Ballpark - Baseball Seating Map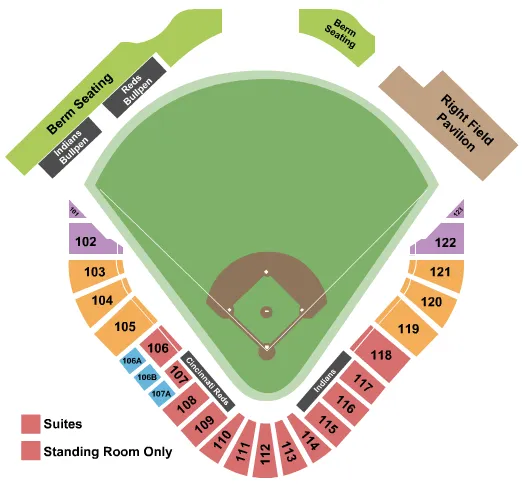 See Goodyear Ballpark - Baseball events that use this seating chart configuration
The Cincinnati Reds: A Legacy of Baseball Tradition and Success
As the oldest professional baseball team in existence, the Cincinnati Reds have a storied history that dates back to their establishment in 1869. With a legacy that spans over a century and a half, the Reds have experienced numerous memorable moments, from thrilling playoff runs to iconic players who have left an indelible mark on the team's history. As one of the most beloved franchises in Major League Baseball, the Reds' story is a fascinating journey through the annals of America's pastime.
The playoff history of the Cincinnati Reds is filled with excitement and accomplishment. The team has captured five World Series titles, with the most recent championship coming in 1990. The Reds' most successful era was during the 1970s, when they earned the nickname "The Big Red Machine" due to their dominant play. Led by manager Sparky Anderson and a roster of legendary players, the team won back-to-back World Series titles in 1975 and 1976, cementing their place in baseball history.
Throughout their existence, the Reds have been home to numerous legendary players who have contributed to the team's enduring success. Hall of Famers such as Johnny Bench, Joe Morgan, and Tony Pérez have all donned the Reds uniform, leaving a lasting impact on the team's legacy. In more recent years, stars like Barry Larkin, Joey Votto, and Ken Griffey Jr. have continued the tradition of excellence, becoming fan favorites and leading the team to success on the field.
One of the most iconic aspects of the Cincinnati Reds is their home stadium, Great American Ball Park. Opened in 2003, this picturesque ballpark offers fans a stunning view of the Ohio River and the Cincinnati skyline. With a variety of fan-friendly amenities and a strong focus on the team's rich history, Great American Ball Park provides a unique and memorable experience for baseball fans of all ages.
As one of the top sports venues in Cincinnati, Great American Ball Park has also hosted a range of events beyond baseball, including concerts and college baseball games. The surrounding area, known as The Banks, offers fans a wide array of dining and entertainment options, ensuring a complete game-day experience. The ballpark's convenient downtown location also makes it easily accessible for fans from all over the city.
The Cincinnati Reds have a rich and storied history that encompasses thrilling playoff runs, legendary players, and a beautiful, fan-friendly stadium. To witness the excitement of Reds baseball in person, be sure to purchase tickets from Event Tickets Center and join the passionate fanbase cheering on their beloved team at Great American Ball Park.
FAQs about Cincinnati Reds 2023 Game Schedule And Tickets
How and where to buy Cincinnati Reds tickets?
While it may be difficult to find Cincinnati Reds tickets, Event Tickets Center has plenty of Cincinnati Reds tickets available starting from $19. Select your tickets using our interactive seating chart, and follow the steps in checkout. You'll be going to a Cincinnati Reds event in no time!
How much are Cincinnati Reds tickets?
On Event Tickets Center, Cincinnati Reds ticket prices range from $19 up to $535 over a number of different Cincinnati Reds events.
When do Cincinnati Reds tickets go on sale?
Typically, Cincinnati Reds will announce the schedule 3-6 months before the first game, and tickets go on sale within a few weeks of the schedule announcement.
Are Cincinnati Reds tickets sold out?
No. While tickets to see Cincinnati Reds may be sold out on other ticketing websites, Event Tickets Center has plenty of tickets available for you to see Cincinnati Reds live.
Are Cincinnati Reds tickets on sale?
Yes, Cincinnati Reds tickets are on sale, and you can buy them right here at Event Tickets Center.
When is the next Cincinnati Reds event?
The next Cincinnati Reds event is on February 24, 2024 at Goodyear Ballpark in Goodyear, AZ. Event Tickets Center has 225 tickets available for this event.
MLB Teams, Stadiums, and Divisions
Event Dates and Pricing Information
| Venue | Date | Price | Tickets Available |
| --- | --- | --- | --- |
| Goodyear Ballpark | Feb 24, 2024 | From $27 | 225 |
| Goodyear Ballpark | Feb 25, 2024 | From $27 | 331 |
| Goodyear Ballpark | Feb 26, 2024 | From $28 | 325 |
| American Family Fields of Phoenix | Feb 26, 2024 | From $28 | 326 |
| Sloan Park | Feb 27, 2024 | From $30 | 589 |
| Goodyear Ballpark | Feb 29, 2024 | From $35 | 324 |
| Goodyear Ballpark | Mar 1, 2024 | From $30 | 315 |
| Salt River Fields | Mar 2, 2024 | From $36 | 928 |
| Surprise Stadium | Mar 3, 2024 | From $19 | 465 |
| Goodyear Ballpark | Mar 4, 2024 | From $33 | 325 |