LECOM Park Seating Charts
LECOM Park - Baseball Seating Map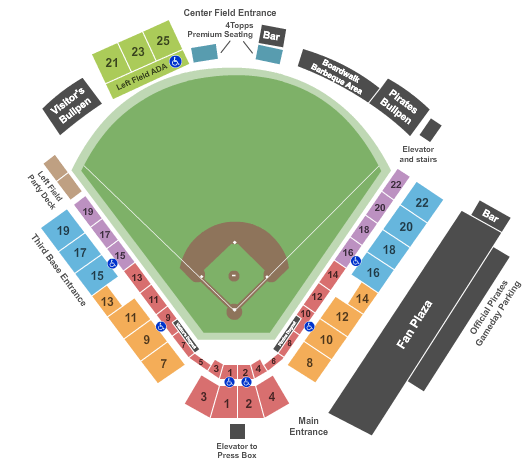 See LECOM Park - Baseball events that use this seating chart configuration
The Pittsburgh Pirates are a Major League Baseball team that competes in the National League Central Division. The Pirates have been a member of Major League Baseball since 1882 which makes them one of the oldest franchises in all of professional sports. This long history and many years of winning have gone a long way in making the Pirates popular both in the city of Pittsburgh and nationwide.

The Pirates play their home games at PNC Park, and have done so since 2001. When built a few years ago many felt that this was the best stadium in the league. Although some newer venues have been built, PNC Park still has a lot to offer both fans and players.

Many great players have worn the Pirates jersey in the past. They include Roberto Clemente, Ralph Kiner, Willie Stargell, Bill Mazeroski, Honus Wagner, and many more. This list is only going to continue to grow over the next few years. See the complete Pittsburgh Pirates 2023 schedule to buy tickets.

Overall, the Pirates are one of the most storied franchises in the league. They have been playing baseball for over 100 years, and are sure to be in Pittsburgh for at least 100 more.