Michelob ULTRA Arena At Mandalay Bay Seating Charts
Michelob ULTRA Arena At Mandalay Bay - Basketball Seating Map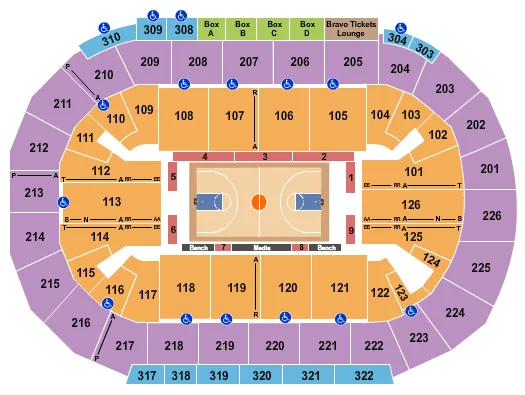 See Michelob ULTRA Arena At Mandalay Bay - Basketball events that use this seating chart configuration
In the heart of the vibrant Las Vegas Strip, a basketball revolution is taking place. The Las Vegas Aces, a proud franchise in the Women's National Basketball Association (WNBA), have emerged as one of the league's most formidable teams. From their humble beginnings to their recent triumphs, the Aces have captured the hearts of fans and transformed into a force to be reckoned with. Join us as we delve into the exhilarating world of the Las Vegas Aces and discover why their games are a must-see for basketball enthusiasts.
The Las Vegas Aces have a remarkable journey that began in 1997 as the Utah Starzz before moving to San Antonio and becoming the Silver Stars. In 2017, the franchise was acquired by MGM Resorts International and relocated to Las Vegas, adopting their current identity as the Las Vegas Aces. This transition injected new life into the team, igniting a passion that has since defined their success.
The Aces' recent playoff history is nothing short of remarkable. Led by Head Coach Bill Laimbeer, a legendary figure in women's basketball, the Aces have soared to new heights. In the 2021 season, the Aces demonstrated their championship mettle by advancing to the WNBA Finals for the first time in franchise history. Although they fell short of the title, their journey showcased their potential and set the stage for future success. With a talented roster and a hunger for victory, the Aces are poised to build upon their playoff achievements and make their mark in the seasons to come.
The Las Vegas Aces call the Michelob Ultra Arena at Mandalay Bay Resort and Casino their home. This state-of-the-art venue, with a seating capacity of over 12,000 passionate fans, provides an electric atmosphere for every game. The arena's vibrant energy, combined with the Aces' electrifying style of play, creates an unforgettable experience for spectators. From the breathtaking dunks to the precision three-pointers, the Aces' games at the Michelob Ultra Arena are a celebration of skill, athleticism, and the love of the game.
The Aces' rise to prominence has sparked exhilarating rivalries within the WNBA. Matchups against perennial powerhouses such as the Seattle Storm and the Phoenix Mercury have become must-see events, with the intensity and competitiveness reaching new heights. These clashes feature basketball's brightest stars, including A'ja Wilson, a force on both ends of the court and a leader within the Aces' ranks. Wilson's determination and talent have propelled her to numerous accolades, including the 2020 WNBA MVP award. With Wilson and her fellow teammates driving the Aces' success, the team's future is undeniably bright.
Immerse yourself in the excitement of women's professional basketball by securing your tickets to witness the Las Vegas Aces in action. Whether you're a devoted basketball aficionado or simply looking for a thrilling sporting event, attending an Aces game at the Michelob Ultra Arena promises an unforgettable experience!
FAQs about Las Vegas Aces 2023 Game Schedule And Tickets
How and where to buy Las Vegas Aces tickets?
While it may be difficult to find Las Vegas Aces tickets, Event Tickets Center has plenty of Las Vegas Aces tickets available starting from $29. Select your tickets using our interactive seating chart, and follow the steps in checkout. You'll be going to a Las Vegas Aces event in no time!
How much are Las Vegas Aces tickets?
On Event Tickets Center, Las Vegas Aces ticket prices range from $29 up to $5,586 over a number of different Las Vegas Aces events.
When do Las Vegas Aces tickets go on sale?
Typically, Las Vegas Aces will announce the schedule 3-6 months before the first game, and tickets go on sale within a few weeks of the schedule announcement.
Are Las Vegas Aces tickets sold out?
No. While tickets to see Las Vegas Aces may be sold out on other ticketing websites, Event Tickets Center has plenty of tickets available for you to see Las Vegas Aces live.
Are Las Vegas Aces tickets on sale?
Yes, Las Vegas Aces tickets are on sale, and you can buy them right here at Event Tickets Center.
When is the next Las Vegas Aces event?
The next Las Vegas Aces event is on October 8, 2023 at Michelob ULTRA Arena At Mandalay Bay in Las Vegas, NV. Event Tickets Center has 961 tickets available for this event.
Event Dates and Pricing Information
| Venue | Date | Price | Tickets Available |
| --- | --- | --- | --- |
| Michelob ULTRA Arena At Mandalay Bay | Oct 8, 2023 | From $46 | 961 |
| Michelob ULTRA Arena At Mandalay Bay | Oct 11, 2023 | From $29 | 1,517 |
| Barclays Center | Oct 15, 2023 | From $77 | 1,657 |
| Barclays Center | Oct 18, 2023 | From $75 | 1,697 |
| Michelob ULTRA Arena At Mandalay Bay | Oct 20, 2023 | From $60 | 1,374 |