Hohokam Park Seating Charts
Hohokam Park - Baseball Seating Map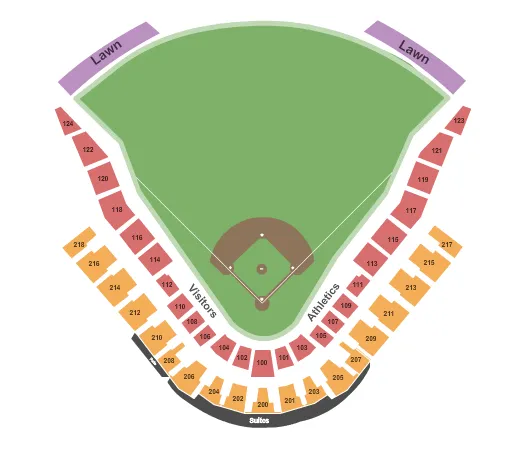 See Hohokam Park - Baseball events that use this seating chart configuration
Oakland Athletics: A Storied Franchise with Rich History and Exciting Future
The Oakland Athletics, affectionately known as the A's, have a storied history in Major League Baseball that spans over a century. Established in 1901 as the Philadelphia Athletics, the franchise relocated to Kansas City in 1955 before finally settling in Oakland in 1968. Throughout their history, the A's have been a dominant force in the league, appearing in 16 playoffs, winning nine American League pennants, and securing four World Series championships.
The A's playoff history is punctuated with moments of greatness and unforgettable performances. In the 1972, 1973, and 1974 seasons, the team won three consecutive World Series championships, cementing their place in baseball lore. More recently, in 2020 and 2021, the Athletics were division champions, showcasing their continued drive for success.
Throughout their time in the league, the Athletics have been home to some of the most talented and memorable players in baseball history. Legends such as Reggie Jackson, Rickey Henderson, and Catfish Hunter all donned the green and gold, leaving indelible marks on the franchise and the sport. Today, the A's continue to develop and foster new talent, ensuring their legacy as a powerhouse in Major League Baseball.
The Oakland Athletics have called Oakland Coliseum their home since 1968. This multi-purpose stadium has been the stage for many historic moments in A's history. The stadium has a seating capacity of 46,867 and offers fans a unique experience, with its expansive outfield and breathtaking views of the Oakland hills. In recent years, the Coliseum has undergone numerous upgrades and improvements, ensuring that the fan experience remains top-notch.
Aside from their on-field achievements, the Athletics have been pioneers in the world of sports, most notably through their use of sabermetrics. Led by general manager Billy Beane in the early 2000s, the A's embraced advanced statistics and analytics to build a competitive team on a limited budget. This approach was chronicled in the bestselling book and subsequent movie, Moneyball, bringing the franchise even more notoriety.
With such a rich history and promising future, there's no better time to become a fan of the Oakland Athletics. Whether you're a lifelong supporter or new to the team, don't miss out on the excitement and action at the ballpark. Buy your tickets now and join the green and gold faithful as they cheer on the A's to their next victory!
FAQs about Oakland Athletics 2023 Game Schedule And Tickets
How and where to buy Oakland Athletics tickets?
While it may be difficult to find Oakland Athletics tickets, Event Tickets Center has plenty of Oakland Athletics tickets available starting from $14. Select your tickets using our interactive seating chart, and follow the steps in checkout. You'll be going to a Oakland Athletics event in no time!
How much are Oakland Athletics tickets?
On Event Tickets Center, Oakland Athletics ticket prices range from $14 up to $535 over a number of different Oakland Athletics events.
When do Oakland Athletics tickets go on sale?
Typically, Oakland Athletics will announce the schedule 3-6 months before the first game, and tickets go on sale within a few weeks of the schedule announcement.
Are Oakland Athletics tickets sold out?
No. While tickets to see Oakland Athletics may be sold out on other ticketing websites, Event Tickets Center has plenty of tickets available for you to see Oakland Athletics live.
Are Oakland Athletics tickets on sale?
Yes, Oakland Athletics tickets are on sale, and you can buy them right here at Event Tickets Center.
When is the next Oakland Athletics event?
The next Oakland Athletics event is on February 24, 2024 at Hohokam Park in Mesa, AZ. Event Tickets Center has 730 tickets available for this event.
MLB Teams, Stadiums, and Divisions
Oakland Athletics Matchups
Event Dates and Pricing Information
| Venue | Date | Price | Tickets Available |
| --- | --- | --- | --- |
| Hohokam Park | Feb 24, 2024 | From $20 | 730 |
| Camelback Ranch Stadium | Feb 25, 2024 | From $32 | 799 |
| Hohokam Park | Feb 26, 2024 | From $20 | 764 |
| Goodyear Ballpark | Feb 27, 2024 | From $27 | 236 |
| Hohokam Park | Feb 28, 2024 | From $27 | 748 |
| Hohokam Park | Feb 29, 2024 | From $14 | 631 |
| Surprise Stadium | Mar 1, 2024 | From $18 | 508 |
| Peoria Stadium | Mar 2, 2024 | From $36 | 755 |
| Hohokam Park | Mar 3, 2024 | From $20 | 628 |
| Goodyear Ballpark | Mar 4, 2024 | From $33 | 337 |