Hammond Stadium at Lee Health Sports Complex Seating Charts
Hammond Stadium at Lee Health Sports Complex - Baseball Seating Map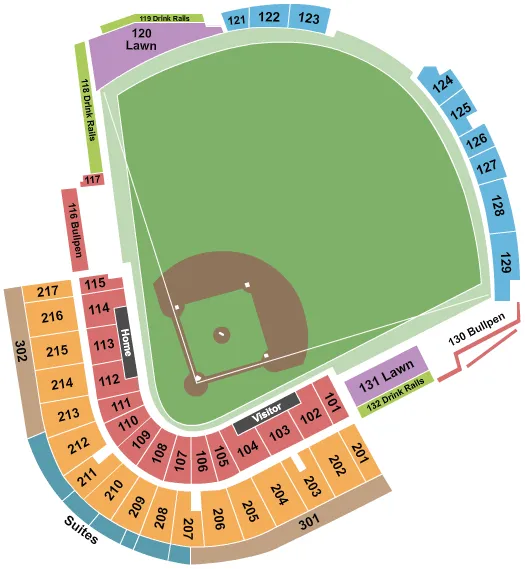 See Hammond Stadium at Lee Health Sports Complex - Baseball events that use this seating chart configuration
The Minnesota Twins: A Rich History
Founded in 1901 as the Washington Senators, the Minnesota Twins have been a staple of the MLB for over a century. The franchise moved to Minneapolis in 1961 and adopted the Twins name, symbolizing the "twin" cities of Minneapolis and Saint Paul. Since then, the team has experienced several highs and lows, making for an exciting and storied history. Their playoff record is highlighted by two World Series championships, the first in 1987 and the second in 1991, both memorable and hard-fought victories.
Throughout their storied history, the Minnesota Twins have been home to several notable players. Hall of Famers such as Harmon Killebrew, Rod Carew, and Kirby Puckett donned the Twins uniform and made lasting impacts on the franchise. Killebrew, known for his power-hitting, became the face of the team during the 1960s, while Carew and Puckett brought their own unique talents and charisma to the team in later years. All three players have had their numbers retired by the franchise, ensuring their legacy will forever be remembered by fans.
Since 2010, the Twins have played their home games at the stunning Target Field, located in the heart of downtown Minneapolis. Offering breathtaking views of the city skyline, this state-of-the-art ballpark has been lauded as one of the best in Major League Baseball. With a seating capacity of over 39,000, Target Field provides a fantastic atmosphere for fans to cheer on their beloved Twins. In addition to baseball games, the venue has hosted a variety of other events, including concerts and outdoor hockey games, further establishing itself as a premier destination in the region.
Beyond their on-field success and beautiful ballpark, the Minnesota Twins are known for their strong community involvement. The team regularly hosts events and fundraisers to support various charities and causes throughout the Twin Cities area. In addition, the Twins have won several awards for their commitment to environmental sustainability, making them a model franchise in terms of their social and environmental impact.
In conclusion, the Minnesota Twins offer a rich and storied history, a beautiful ballpark, and a strong commitment to their fans and community. There's no better time than now to experience the excitement of Twins baseball. Don't miss your chance to catch a game at Target Field this season. Buy your tickets today and join thousands of fans in cheering on the Twins as they continue their quest for another championship!
FAQs about Minnesota Twins 2023 Game Schedule And Tickets
How and where to buy Minnesota Twins tickets?
While it may be difficult to find Minnesota Twins tickets, Event Tickets Center has plenty of Minnesota Twins tickets available starting from $9. Select your tickets using our interactive seating chart, and follow the steps in checkout. You'll be going to a Minnesota Twins event in no time!
How much are Minnesota Twins tickets?
On Event Tickets Center, Minnesota Twins ticket prices range from $9 up to $5,618 over a number of different Minnesota Twins events.
When do Minnesota Twins tickets go on sale?
Typically, Minnesota Twins will announce the schedule 3-6 months before the first game, and tickets go on sale within a few weeks of the schedule announcement.
Are Minnesota Twins tickets sold out?
No. While tickets to see Minnesota Twins may be sold out on other ticketing websites, Event Tickets Center has plenty of tickets available for you to see Minnesota Twins live.
Are Minnesota Twins tickets on sale?
Yes, Minnesota Twins tickets are on sale, and you can buy them right here at Event Tickets Center.
When is the next Minnesota Twins event?
The next Minnesota Twins event is on February 23, 2024 at Hammond Stadium at Lee Health Sports Complex in Fort Myers, FL. Event Tickets Center has 189 tickets available for this event.
MLB Teams, Stadiums, and Divisions
Event Dates and Pricing Information
| Venue | Date | Price | Tickets Available |
| --- | --- | --- | --- |
| Hammond Stadium at Lee Health Sports Complex | Feb 23, 2024 | From $9 | 189 |
| Hammond Stadium at Lee Health Sports Complex | Feb 24, 2024 | From $30 | 238 |
| JetBlue Park At Fenway South | Feb 25, 2024 | From $42 | 472 |
| George M. Steinbrenner Field | Feb 26, 2024 | From $42 | 2,190 |
| Hammond Stadium at Lee Health Sports Complex | Feb 27, 2024 | From $32 | 166 |
| Hammond Stadium at Lee Health Sports Complex | Feb 28, 2024 | From $32 | 202 |
| CoolToday Park | Feb 29, 2024 | From $32 | 1,232 |
| Hammond Stadium at Lee Health Sports Complex | Mar 1, 2024 | From $32 | 281 |
| BayCare Ballpark | Mar 2, 2024 | From $38 | 856 |
| Hammond Stadium at Lee Health Sports Complex | Mar 3, 2024 | From $30 | 255 |