Scotiabank Arena Seating Charts
Scotiabank Arena - Basketball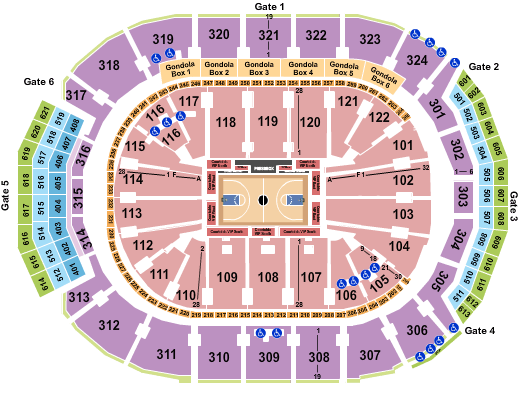 See Scotiabank Arena - Basketball events that use this seating chart configuration
Scotiabank Arena - Bill Burr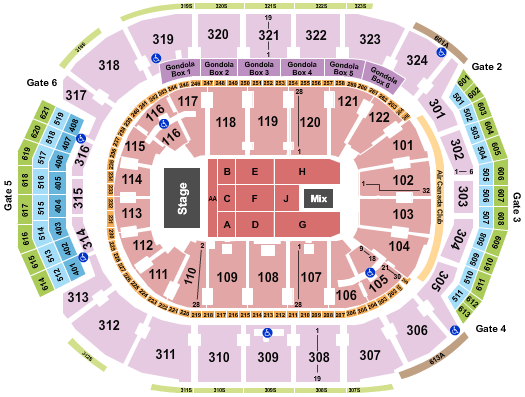 See Scotiabank Arena - Bill Burr events that use this seating chart configuration
Scotiabank Arena - Blink 182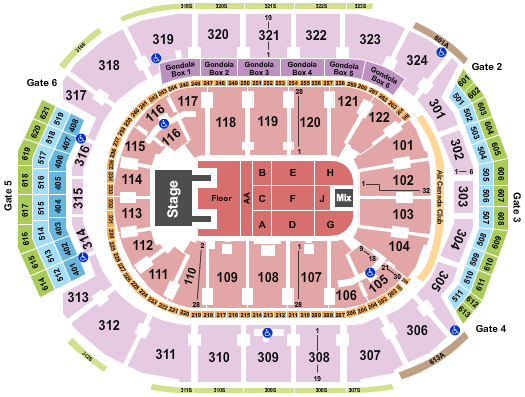 See Scotiabank Arena - Blink 182 events that use this seating chart configuration
Scotiabank Arena - Depeche Mode 2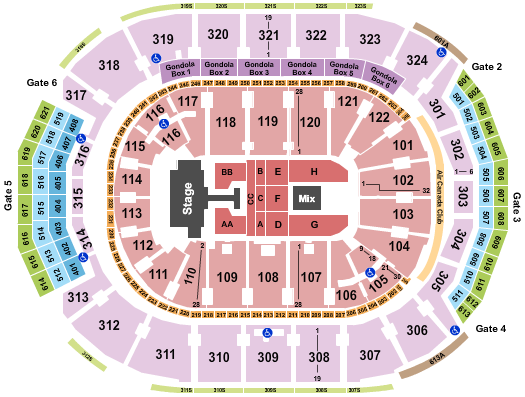 See Scotiabank Arena - Depeche Mode 2 events that use this seating chart configuration
Scotiabank Arena - Disney On Ice 2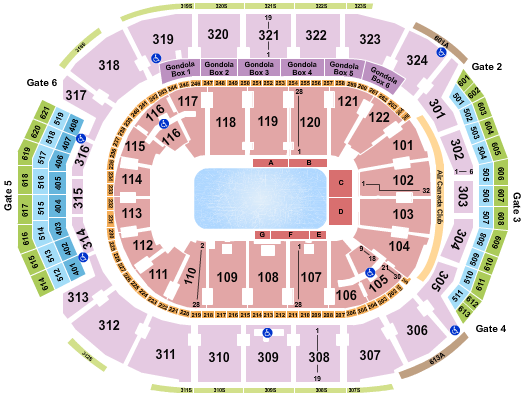 See Scotiabank Arena - Disney On Ice 2 events that use this seating chart configuration
Scotiabank Arena - Dude Perfect 2023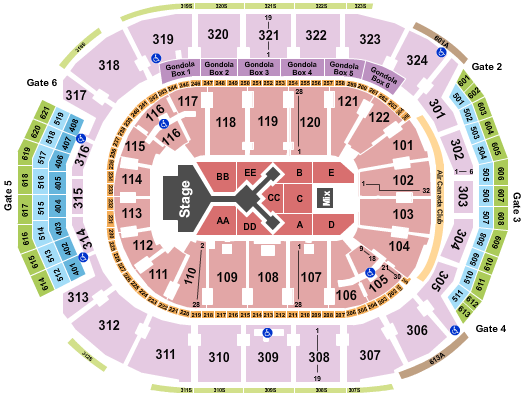 See Scotiabank Arena - Dude Perfect 2023 events that use this seating chart configuration
Scotiabank Arena - Ebi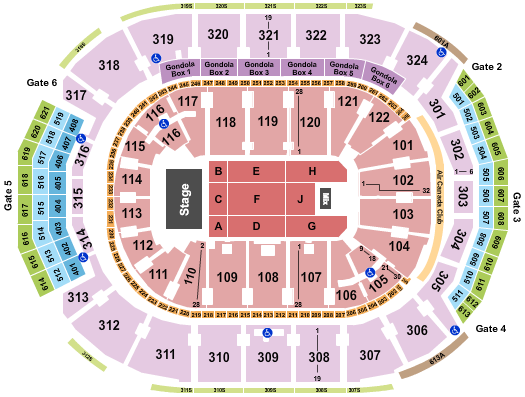 See Scotiabank Arena - Ebi events that use this seating chart configuration
Scotiabank Arena - ELevation Worship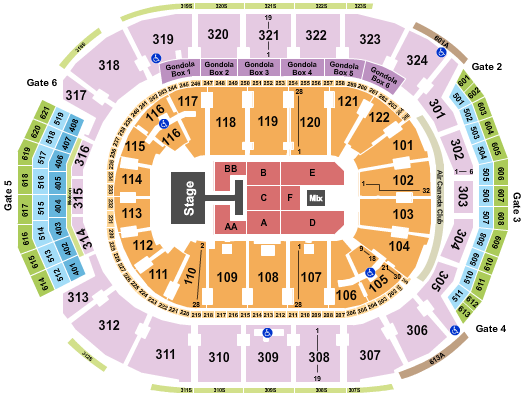 See Scotiabank Arena - ELevation Worship events that use this seating chart configuration
Scotiabank Arena - Endstage - GA Floor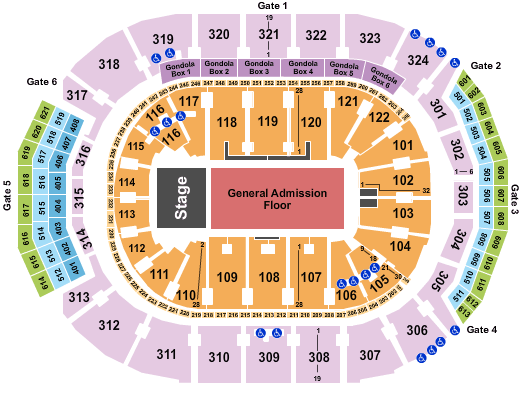 See Scotiabank Arena - Endstage - GA Floor events that use this seating chart configuration
Scotiabank Arena - Genesis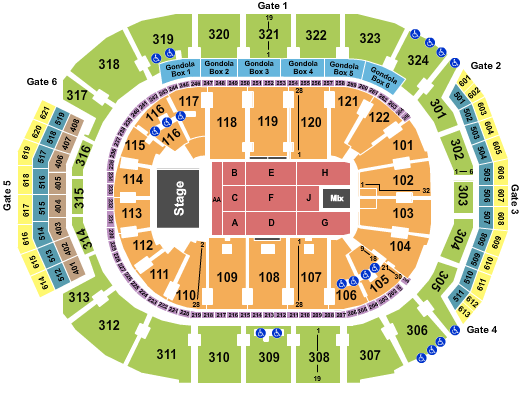 See Scotiabank Arena - Genesis events that use this seating chart configuration
Scotiabank Arena - Hockey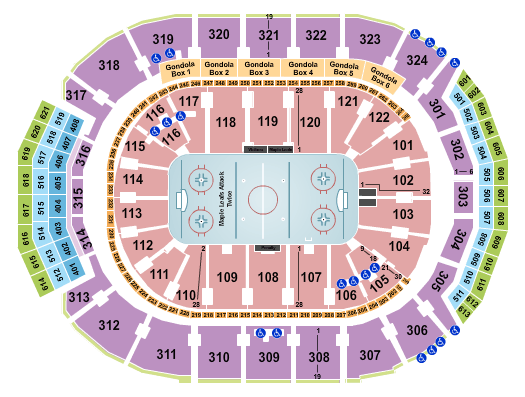 See Scotiabank Arena - Hockey events that use this seating chart configuration
Scotiabank Arena - Madonna-2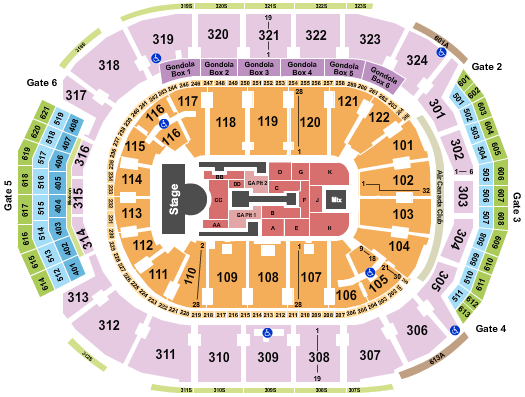 See Scotiabank Arena - Madonna-2 events that use this seating chart configuration
Scotiabank Arena - Marc Anthony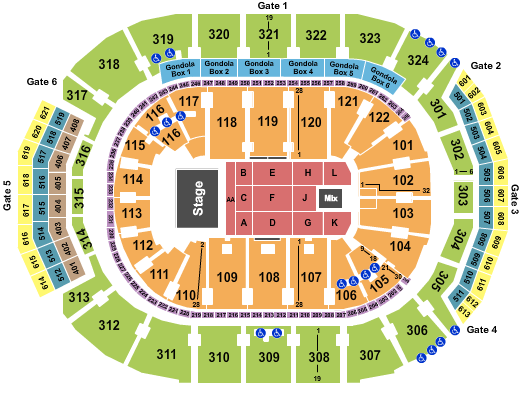 See Scotiabank Arena - Marc Anthony events that use this seating chart configuration
Scotiabank Arena - Muse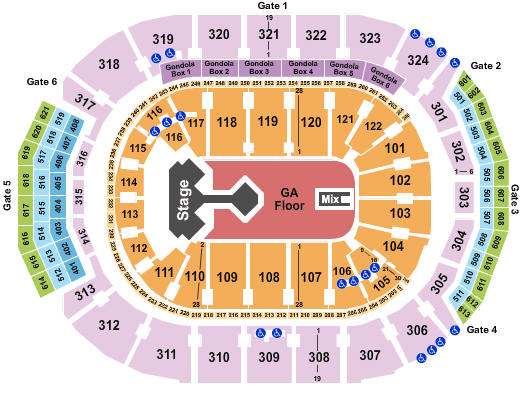 See Scotiabank Arena - Muse events that use this seating chart configuration
Scotiabank Arena - NAV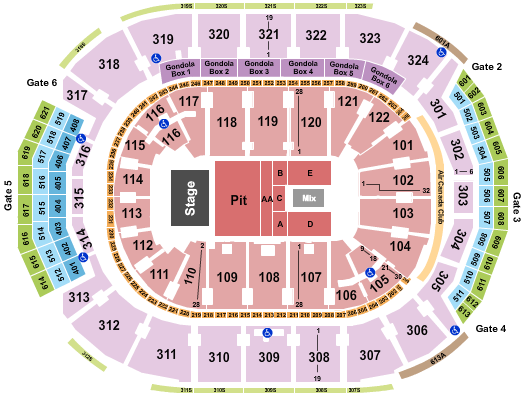 See Scotiabank Arena - NAV events that use this seating chart configuration
Scotiabank Arena - Old Dominion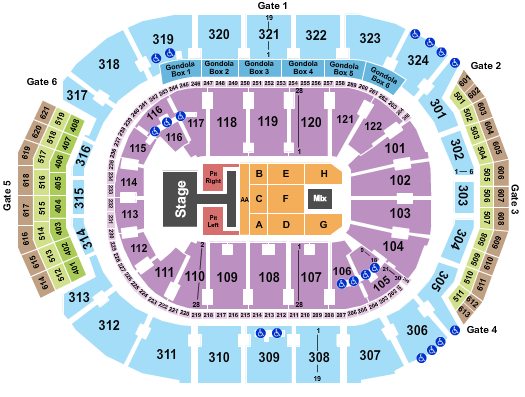 See Scotiabank Arena - Old Dominion events that use this seating chart configuration
Scotiabank Arena - Paramore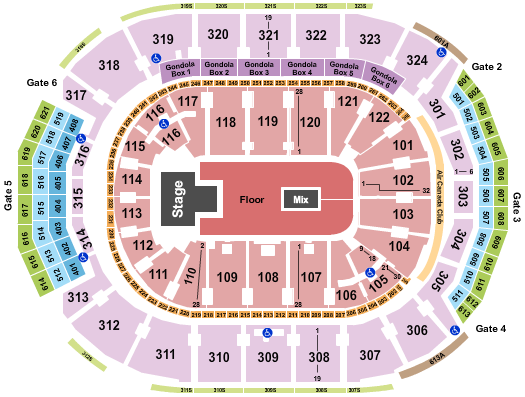 See Scotiabank Arena - Paramore events that use this seating chart configuration
Scotiabank Arena - Rauw Alejandro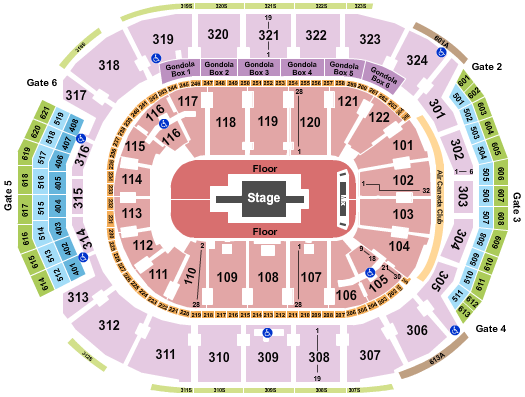 See Scotiabank Arena - Rauw Alejandro events that use this seating chart configuration
Scotiabank Arena - Stars On Ice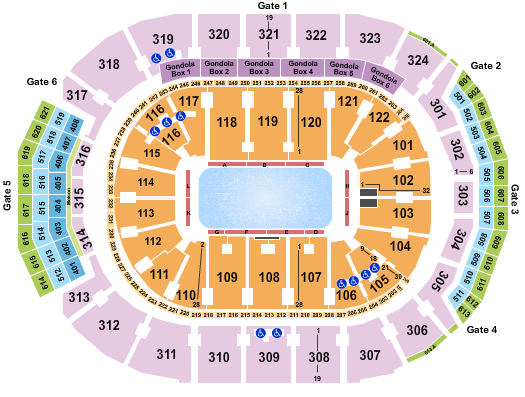 See Scotiabank Arena - Stars On Ice events that use this seating chart configuration
Scotiabank Arena - Thomas Rhett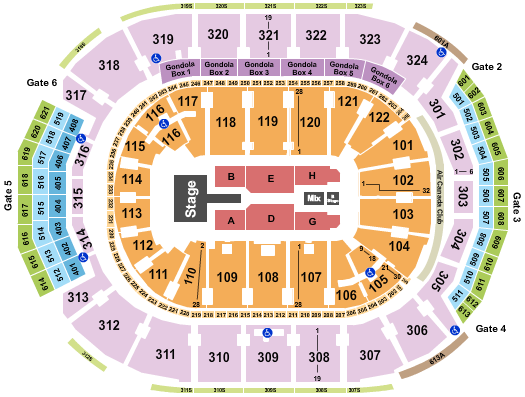 See Scotiabank Arena - Thomas Rhett events that use this seating chart configuration
Scotiabank Arena - WizKid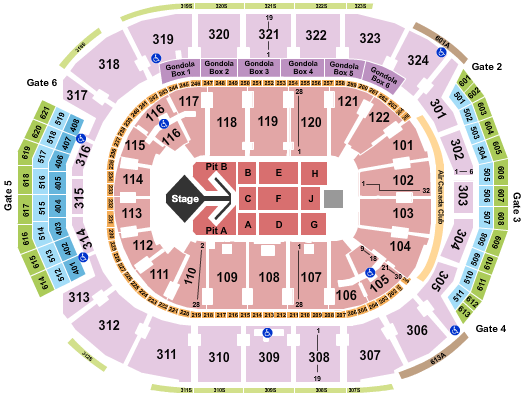 See Scotiabank Arena - WizKid events that use this seating chart configuration
Learn more about Scotiabank Arena
Home to the
Toronto Raptors
,
Toronto Maple Leafs
, Scotiabank Arena is known as the foremost entertainment and sports venue in Canada. The center opened in 1999 with a hockey game featuring the Toronto Maple Leafs versus the Montreal Canadiens. Since then, it has welcomed more than 36 million visitors, and has hosted about 2,500 events including sporting events, concerts, family shows, trade-shows, festivals, skating events, circuses, business meetings, banquets and receptions. According to Billboard Magazine, Scotiabank Arena is currently ranked No. 2 in the USA/Canada and No. 4 worldwide, while Venues Today ranks it No. 3 in USA/Canada and No. 5 worldwide.
The 665,000-square-foot sports and entertainment complex has a seating capacity of 19,800 seats for basketball games and full house concerts, 18,800 seats for hockey games, and 5,200 seats for theater. It boasts a state-of-the-art BOSE sound system, providing extraordinary sound quality for all its events. Aside from themed concession stands and kiosks, the venue has three restaurants, two bars and a Molson brewery within the facility. There are two levels of parking beneath the building and four on-site accessible parking spaces for people with disabilities, with 13,000 public parking spaces nearby. You can also take a cab, Uber, subway, bus, street car or train to the venue. Take a guided tour of the center before your event for a behind-the-scenes look at its operations.
Scotiabank Arena is located right in the heart of Toronto. The city is known for a number of attractions, including Lake Ontario, the Toronto Zoo, the Hockey Hall of Fame, CN Tower, Casa Loma, Ripley's Aquarium of Canada, Toronto Islands and the Eaton Center. The city boasts an Entertainment District where you can watch major theater productions, dine in one of the restaurants, or socialize with the locals. Don't forget to drop by Toronto's Distillery District, known as the country's premier entertainment, culture and arts destination.
FAQs about Scotiabank Arena
Q: What time do doors open at Scotiabank Arena?
A: Doors typically open anywhere between 90 minutes to 2 hours prior to showtime at Scotiabank Arena. Be sure to check the listing on your ticket as showtimes will vary.
Q: Who plays at Scotiabank Arena?
A: The NBA's Toronto Raptors and NHL's Toronto Maple Leafs are the home teams at the Scotiabank Arena.
Facts about Scotiabank Arena
Capacity:
19,800 Basketball 8,800 Hockey
Past Names/Nicknames:
The ACC The Hangar Air Canada Centre
Date/Year Built/Opened:
Feb. 19, 1999