Virginia/August Wilson Theatre Tickets and Seating Charts - New York, NY
Virginia/August Wilson Theatre - NY Seating Charts
Virginia/August Wilson Theatre - NY - Endstage 1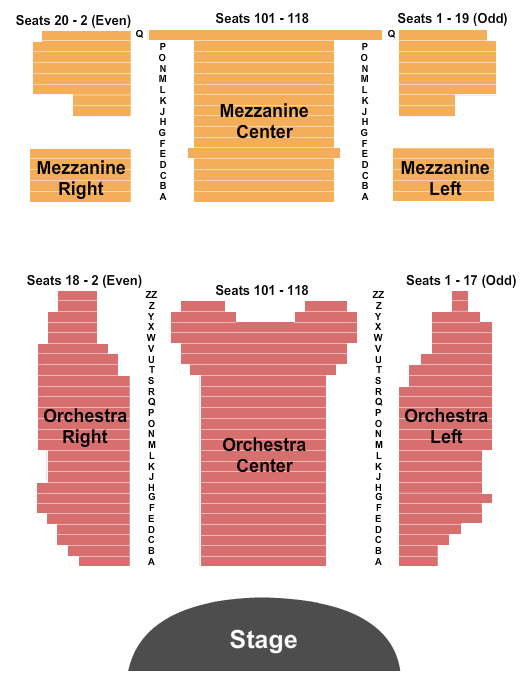 See Virginia/August Wilson Theatre - NY - Endstage 1 events that use this seating chart configuration
Learn more about Virginia/August Wilson Theatre - NY
Opened in 1925 as the Guild Theatre, the August Wilson Theatre was built by the subscription-based Theater Guild, an organization dedicated to uplifting artistic aspirations. It's a small, uniquely designed space with Tuscan Renaissance inspired details. The theater is known for its intimate setting, creating an extraordinary connection between the performers and the audience. In addition, its flat ceiling allows the sound to stay intact and not bounce off all over the theater, ideal for jukebox musicals. In 2005, the venue was renamed the August Wilson Theatre in honor of August Wilson, the Pulitzer Prize - winning playwright.

Past productions at the August Wilson Theatre include The Owl and the Pussycat, Cat on a Hot Tin Roof, Carrie, Little Women and City of Angels. From 2005 until recently, it was the home of Jersey Boys, a Tony Award - winning jukebox musical. Groundhog Day the Musical is one of the most recent productions at the August Wilson Theatre.

Doors open 45 minutes before the show, and visitors are advised to arrive early, as bags and coats are checked. Devices for the hard-of-hearing are available in the lobby free of charge. Concession stands and merchandise booths are open before the show, during the intermission and after the show. Recording devices as well as still cameras are not allowed inside the theater.

FAQs about Virginia/August Wilson Theatre - NY
Q: Are VIP Packages or Accessible Seating offered at Virginia/August Wilson Theatre?
A: Virginia/August Wilson Theatre VIP seating packages and accessible seating section locations may vary per event. A stair lift on 52nd St provides access to the Orchestra level where the only wheelchair accessible seating is located. Please click the seating chart below or contact our customer service department to discuss options for accessible seating or VIP package purchases.
Facts about Virginia/August Wilson Theatre - NY
Capacity:
1,222
Past Names/Nicknames:
ANTA Playhouse Virginia Theatre
Date/Year Built/Opened:
1925