Clover Park Seating Charts
Clover Park - Spring Training Seating Map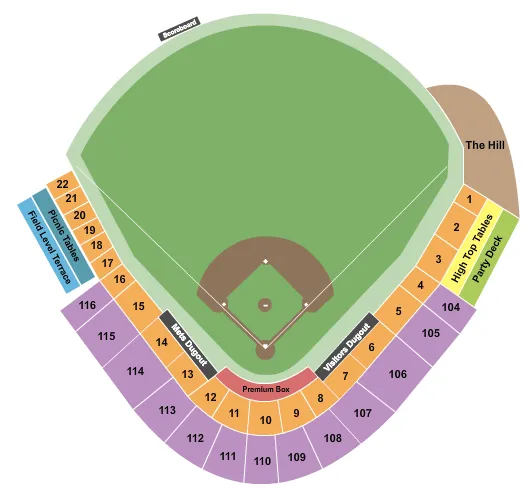 See Clover Park - Spring Training events that use this seating chart configuration
The New York Mets are an exciting and storied team in Major League Baseball. Established in 1962, the Mets have captured the hearts of fans in New York and beyond with their thrilling gameplay and rich history. Over the years, the Mets have experienced a rollercoaster of success and challenges. They have won two World Series titles, with their first coming in 1969 when they were dubbed the "Miracle Mets" due to their improbable victory. Their second title came in 1986, featuring an unforgettable Game 6 that saw the Mets rally to win after being down to their final out. The team has also claimed five National League pennants and six East Division titles.
In recent years, the Mets have had their share of playoff appearances, including a trip to the 2015 World Series where they ultimately fell to the Kansas City Royals. Despite the loss, the 2015 season showcased the Mets' promising young talent and reinvigorated the fan base. The team has continued to be competitive, keeping fans on the edge of their seats with the hope of another championship run.
Attending a Mets game is an unforgettable experience for baseball enthusiasts. The team's home stadium, Citi Field, offers a fantastic game-day atmosphere with modern amenities, a wide range of food options, and excellent sightlines. The stadium is located in Flushing, New York, which is east of downtown New York in the Queens borough. Citi Field, which opened in 2009, pays homage to the team's history with design elements that evoke the former home of the Mets, Shea Stadium, as well as Ebbets Field, the historic home of the Brooklyn Dodgers.
One of the most interesting aspects of being a Mets fan is the team's intense rivalry with the New York Yankees. Known as the "Subway Series," games between these two teams are a must-see for any baseball fan. The rivalry captures the spirit of New York City and adds an extra layer of excitement to the already thrilling world of Major League Baseball.
From their rich history and intense rivalries to their passionate fan base and state-of-the-art stadium, the New York Mets offer an exceptional baseball experience that is not to be missed. Catch a game and be a part of the excitement!
FAQs about New York Mets 2023 Game Schedule And Tickets
How and where to buy New York Mets tickets?
While it may be difficult to find New York Mets tickets, Event Tickets Center has plenty of New York Mets tickets available starting from $35. Select your tickets using our interactive seating chart, and follow the steps in checkout. You'll be going to a New York Mets event in no time!
How much are New York Mets tickets?
On Event Tickets Center, New York Mets ticket prices range from $35 up to $331 over a number of different New York Mets events.
When do New York Mets tickets go on sale?
Typically, New York Mets will announce the schedule 3-6 months before the first game, and tickets go on sale within a few weeks of the schedule announcement.
Are New York Mets tickets sold out?
No. While tickets to see New York Mets may be sold out on other ticketing websites, Event Tickets Center has plenty of tickets available for you to see New York Mets live.
Are New York Mets tickets on sale?
Yes, New York Mets tickets are on sale, and you can buy them right here at Event Tickets Center.
When is the next New York Mets event?
The next New York Mets event is on February 24, 2024 at Clover Park in Port Saint Lucie, FL. Event Tickets Center has 1,214 tickets available for this event.
MLB Teams, Stadiums, and Divisions
Event Dates and Pricing Information
| Venue | Date | Price | Tickets Available |
| --- | --- | --- | --- |
| Clover Park | Feb 24, 2024 | From $42 | 1,214 |
| Clover Park | Feb 25, 2024 | From $39 | 842 |
| The Ballpark of The Palm Beaches | Feb 26, 2024 | From $38 | 378 |
| Clover Park | Feb 27, 2024 | From $35 | 863 |
| Clover Park | Feb 28, 2024 | From $41 | 994 |
| The Ballpark of The Palm Beaches | Feb 29, 2024 | From $35 | 409 |
| Roger Dean Stadium | Mar 1, 2024 | From $41 | 761 |
| Roger Dean Stadium | Mar 2, 2024 | From $35 | 479 |
| Clover Park | Mar 3, 2024 | From $39 | 1,015 |
| Clover Park | Mar 5, 2024 | From $47 | 1,664 |