Wrigley Field Seating Charts
Wrigley Field - Baseball Seating Map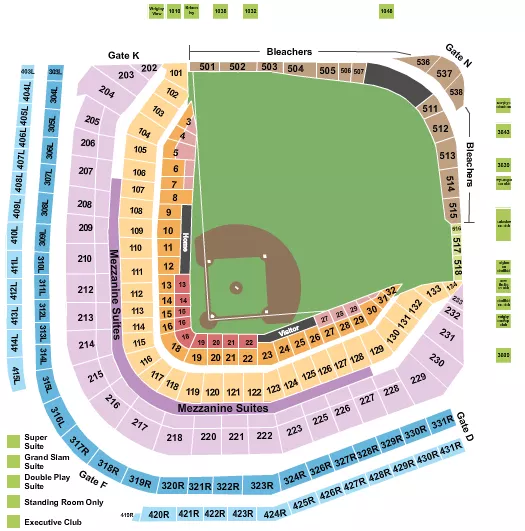 See Wrigley Field - Baseball events that use this seating chart configuration
Wrigley Field - Baseball-Regular season Seating Map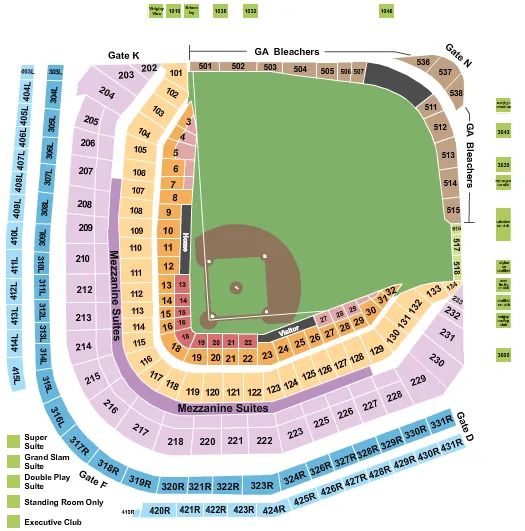 See Wrigley Field - Baseball-Regular season events that use this seating chart configuration
Wrigley Field - Football Seating Map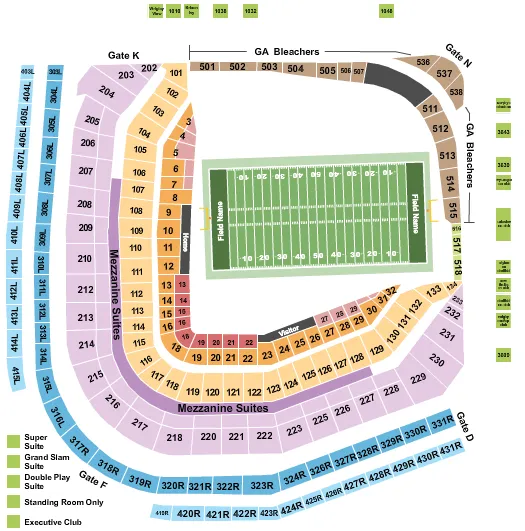 See Wrigley Field - Football events that use this seating chart configuration
Learn more about Wrigley Field
When it comes to Major League Baseball parks, Wrigley Field is in a league of its own. It's the second-oldest stadium in the country, which means it has a whole lot of history living within its walls. Its old-school ambiance, ivy-covered brick outfield walls and iconic main entrance marquee are some of the reasons the MLB's
Chicago Cubs
fans never get tired of watching a game at Wrigley Field.
Wrigley Field has played host to hundreds of events since 1914 including football games, soccer matches and concerts. It was only in 2005 that rock shows were allowed in the stadium, with longtime Cubs fan Jimmy Buffett gracing the stage in center field. Since then, rock legends such as the Police, Billy Joel, Elton John, Bruce Springsteen and Paul McCartney have all performed at Wrigley.
The ballpark is located in the heart of Chicago's North Side not far from Lake Michigan. Dozens of restaurants, sports bars and cafés are within walking distance, and there are several hotels nearby offering everything from budget to luxury accommodations. Metra Trains, PACE shuttle buses and CTA buses and trains provide access to the stadium from downtown Chicago and its surrounding areas. For drivers, there are hundreds of parking spaces within a 1-mile radius of Wrigley Field.
FAQs about Wrigley Field
Are bags allowed at Wrigley Field?
Bags (such as wallets, purses, drawstring bags, fanny packs, lunch bags, briefcases and soft-sided coolers) smaller than 16 x 16 x 8 inches in size are permitted. Exceptions will be made for medical bags and diaper bags that accompany guests with young children. Bags are subject to inspection.
What time do doors open at Wrigley Field?
Doors typically open anywhere between 90 minutes to 2 hours prior to showtime at Wrigley Field. Be sure to check the listing on your ticket as showtimes will vary.
Who plays at Wrigley Field?
The Chicago Cubs are the home team at the Wrigley Field.
What can I bring into Wrigley Field?
Factory-sealed plastic bottles as well as a personal amount of food (in a small, disposable bag) can be brought into the ballpark. No glass bottles, cans, alcoholic beverages, thermoses or hard-sided coolers of any kind may be brought into Wrigley Field.
Facts about Wrigley Field
Capacity:
41,160
Past Names/Nicknames:
Weeghman Park Cubs Park
Date/Year Built/Opened:
1914
Event Dates and Pricing Information
| Performer | Date | Price | Tickets Available |
| --- | --- | --- | --- |
| Chicago Cubs | Oct 3, 2023 | From $250 | 99 |
| Chicago Cubs | Oct 4, 2023 | From $246 | 124 |
| Chicago Cubs | Oct 5, 2023 | From $233 | 115 |
| Chicago Cubs | Oct 7, 2023 | From $268 | 126 |
| Chicago Cubs | Oct 9, 2023 | From $262 | 120 |
| Chicago Cubs | Oct 14, 2023 | From $273 | 51 |
| Chicago Cubs | Oct 16, 2023 | From $433 | 76 |
| Chicago Cubs | Oct 17, 2023 | From $433 | 68 |
| Chicago Cubs | Oct 23, 2023 | From $497 | 74 |
| Chicago Cubs | Oct 24, 2023 | From $532 | 63 |