Lumen Field Seating Charts
Lumen Field - Beyonce 2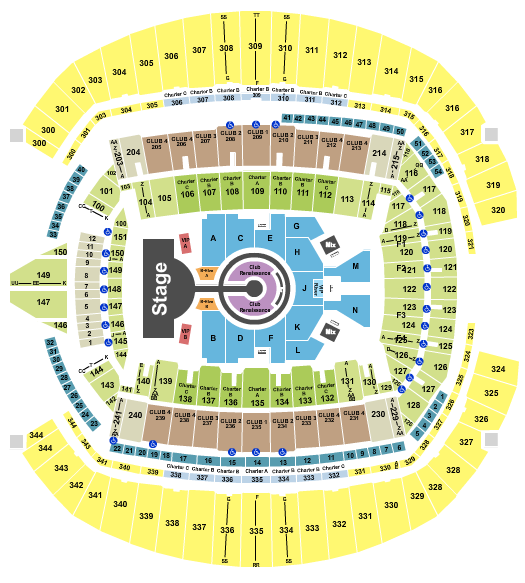 See Lumen Field - Beyonce 2 events that use this seating chart configuration
Lumen Field - Coldplay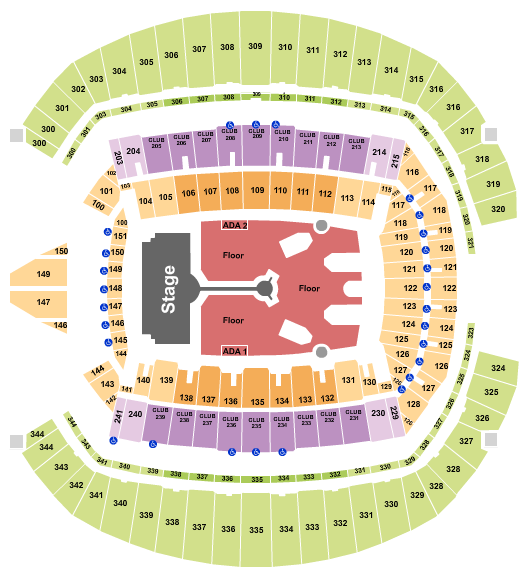 See Lumen Field - Coldplay events that use this seating chart configuration
Lumen Field - Ed Sheeran
See Lumen Field - Ed Sheeran events that use this seating chart configuration
Lumen Field - Football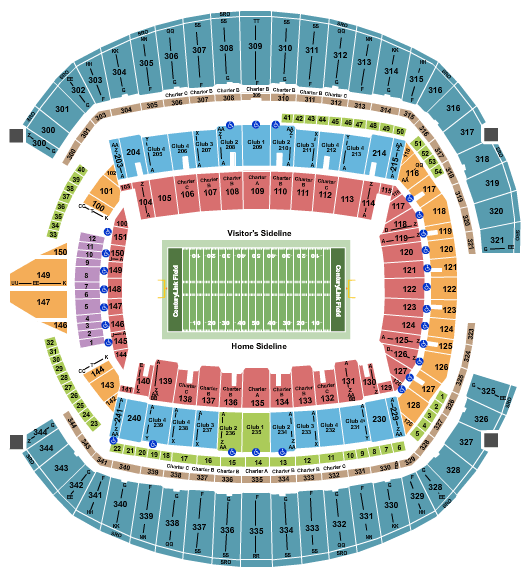 See Lumen Field - Football events that use this seating chart configuration
Lumen Field - Generic Floor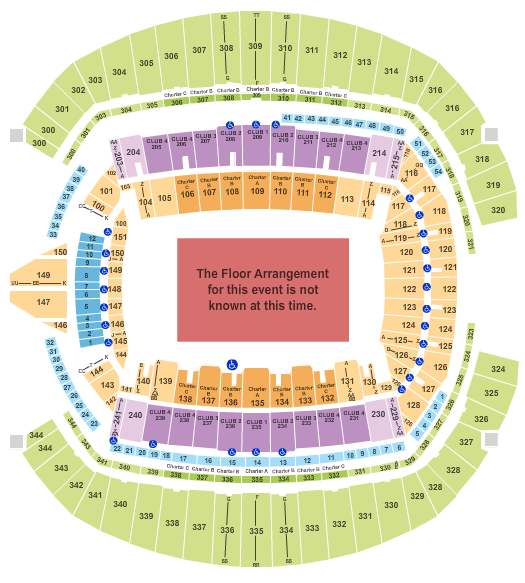 See Lumen Field - Generic Floor events that use this seating chart configuration
Lumen Field - George Strait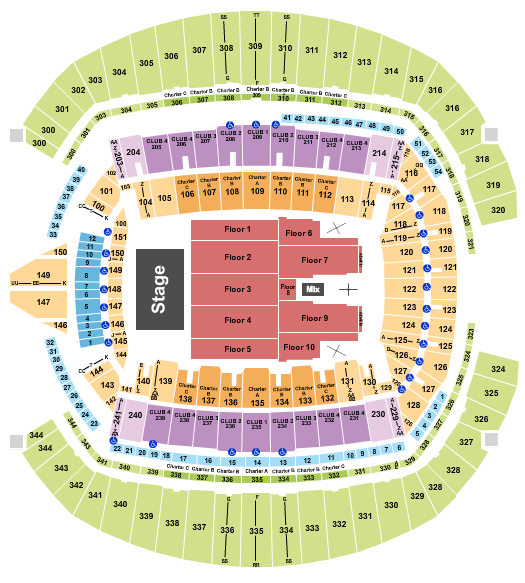 See Lumen Field - George Strait events that use this seating chart configuration
Lumen Field - Metallica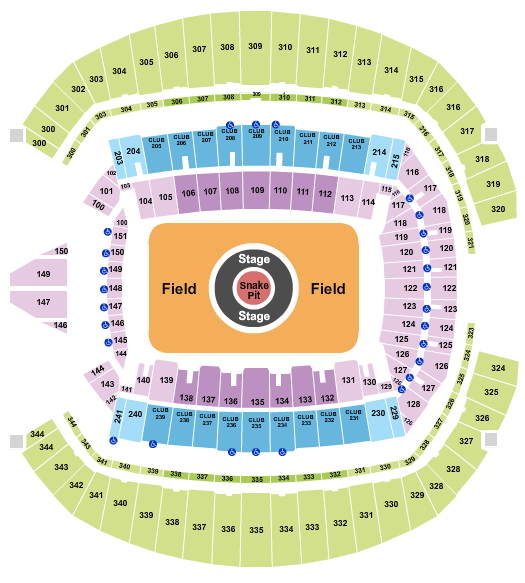 See Lumen Field - Metallica events that use this seating chart configuration
Lumen Field - Soccer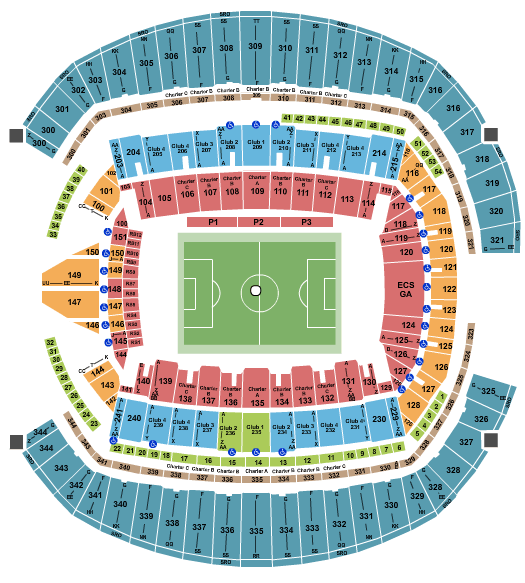 See Lumen Field - Soccer events that use this seating chart configuration
Lumen Field - Supercross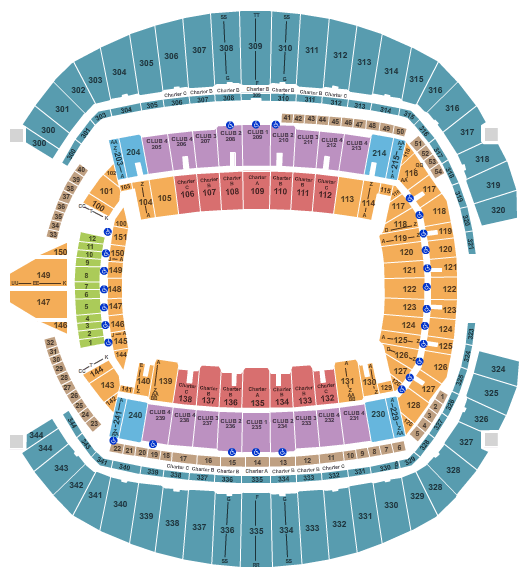 See Lumen Field - Supercross events that use this seating chart configuration
Lumen Field - Taylor Swift 2023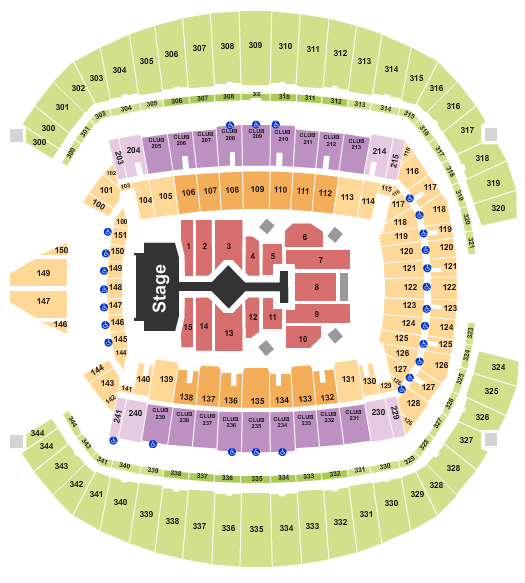 See Lumen Field - Taylor Swift 2023 events that use this seating chart configuration
Learn more about Lumen Field
Some might wonder why the
Seattle Seahawks
, who play at Lumen Field, are almost twice as likely to win at home. Seahawks fans know it's probably because of the noise. Crowds at the stadium have twice set the Guinness World Record for loudest recorded cheers. This has led to frequent calls of false starts and delays of games against visiting teams. To prepare for the 2005-2006 NFC Championship Game, the Carolina Panthers even played recordings of jet engines during practice. (They still lost.)
Many believe the shape of Lumen Field Seattle is the reason for its high volumes. It has one of the smaller footprints among NFL stadiums, and upper level seating extends over lower levels. The roof and both ends of the field are open and provide views of downtown Seattle and Mount Rainier. As such, the field forms a slightly open shell, creating a partial echo chamber.
The 69,000-seat stadium is used primarily as the home of the Seattle Seahawks. College and even high school football games regularly take place on the field as well. The
Seattle Sounders FC
of the MLS play their home games there, and the venue has hosted several national team soccer matches. Besides football and soccer, event organizers haul in 650 truckloads of dirt every year for Supercross races. The stadium is also used for trade and consumer shows.
Many major headliners have played the venue, including the Rolling Stones, Taylor Swift and Metallica. U2 set the stadium record for attendance during a 2011 show that drew 70,000 fans.
Seahawks games have generally sold out since the 2008-2009 season, but due to the flexible nature of the field, seating can be added if there's increased demand. The stadium is just south of downtown Seattle and can be accessed via Route 99, Interstate 5 or Interstate 90. Several public transit routes connect to the site from central Seattle, and there's plenty of parking nearby.
In terms of food and drink, the field is slightly separated from the downtown area, but there are still a few good options nearby. For those who prefer to eat at the stadium itself, there are diverse choices including pho, sandwiches, burgers, and even some locally sourced, chef-driven cuisine. Use Event Tickets Center to get Lumen Field tickets, or check out Lumen Field seating charts to find your seats to Lumen Field events!
View Lumen Field seating charts for live games! If you're planning to visit Lumen Field in Seattle, you'll want to make sure you have great seats. Get acquainted with Lumen Field by using our seating chart below. This seating map features a complete layout of Lumen Field seats and the locations of different ticket tiers. Simply click on a section to browse tickets and you'll be on your way to an unforgettable event experience!
FAQs about Lumen Field
Q: What time do doors open at Lumen Field?
A: Doors typically open anywhere between 90 minutes to 2 hours prior to showtime at Lumen Field. Be sure to check the listing on your ticket as showtimes will vary.
Q: Who plays at Lumen Field?
A: The Seattle Seahawks are the home team at the Lumen Field.
Q: Lumen Field Seat Numbers, Sections and Seating Chart
A: When looking at seating charts for sports events, seats are arranged so that the lower numbered seats within a section are located closer to the preceding section. For example; if a venue shows three sections (A, B, and C), seat #1 in section B will be located next to section A. As the seat numbers progress within section B, they move closer to section C. Lumen Field, a venue designed to host sports games, may be set up in a similar fashion. While concerts and other events held at Lumen Field may not follow this layout, most sports events happening at Lumen Field will follow this configuration. Concert seating is typically laid out so that the higher the seat number, the further you are from the stage/performance area. If you're seeing a concert at Lumen Field, it's likely that the seats closest to the stage will have low seat numbers and low section numbers.
Q: Lumen Field Reviews, Interactive Seating Charts and Seat Views
A: Finding Lumen Field seating charts with seat views or 3D views from your seat has proven to be a difficult task – until now. Event Tickets Center provides fans with unbiased Lumen Field reviews on our venue guides, including information on Lumen Field seat numbers, row numbers, and tips on how to find great seats!
Q: Are VIP Packages or Accessible Seating offered at Lumen Field?
A: Lumen Field VIP seating packages and accessible seating section locations may vary per event. Please click the seating chart below or contact our customer service department to discuss options for accessible seating or VIP package purchases.
Q: Where is the Seattle Seahawks Sideline at Lumen Field?
A: The Seattle Seahawks home bench is located in front of Section 133 and Section 134 and the away team bench is in front of Section 136 and Section 137.
Q: Where is the Seattle Sounders FC Sideline at Lumen Field?
A: The Seattle Sounders FC home bench is located in front of Section 133 and Section 134 and the away team bench is in front of Section 136 and Section 137.
Q: How many seats are at Lumen Field?
A: Lumen Field seats 72,000 people.
Q: What are club seats at Lumen Field?
A: Club seats at Lumen Field provide guests with 24 inch wide and fully padded seats.
Q: Are there covered seats at Lumen Field?
A: About half of the seats at Lumen Field are covered.
Q: Is Section 316 covered at Lumen Field?
A: Only part of the section is covered by roof at Lumen Field.
Q: Does Lumen Field have a retractable roof?
A: Lumen Field does not have a retractable roof.
Q: What are Seahawks charter seats?
A: Charter seats offer the best midfield and sideline seats, which are normally found in sections 106 to 112 and 132 to 138 at Lumen Field.