Capital One Arena Seating Charts
Capital One Arena - Hockey Seating Map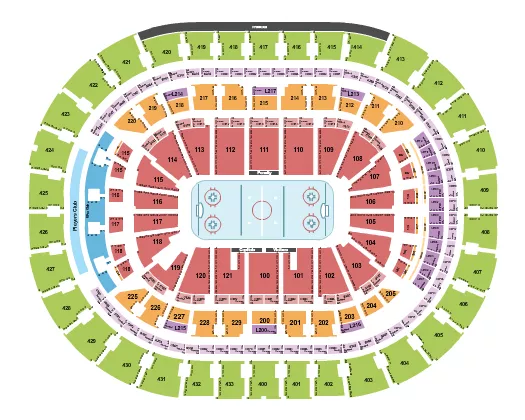 See Capital One Arena - Hockey events that use this seating chart configuration
Washington Capitals
The Washington Capitals are a professional ice hockey team based in Washington, D.C. They were founded in 1974 and joined the NHL as an expansion team. The team is owned by Monumental Sports & Entertainment and plays its home games at Capital One Arena, which has a seating capacity of 18,277.
The Capitals have had a successful history, with 11 division championships, 3 Presidents' Trophies, and one Stanley Cup championship in 2018. Led by superstar Alex Ovechkin, the team has been a dominant force in the league for years and has made the playoffs in each of the last 7 seasons.
The Capitals have a few notable rivalries, including the Pittsburgh Penguins, the New York Rangers, and the Philadelphia Flyers. However, their biggest and most heated rivalry is with the Penguins, with whom they have had several playoff battles over the years.
If you're in the Washington D.C. area, attending a Capitals game at Capital One Arena is a must-do experience. The team's high-octane offense, led by Ovechkin, Nicklas Backstrom, and Tom Wilson, provides for an exciting game every time. With a talented roster and a passionate fan base, the Capitals are always in contention for the Stanley Cup. Buy tickets to an upcoming game today!
FAQs about Washington Capitals 2023 Game Schedule And Tickets
How and where to buy Washington Capitals tickets?
While it may be difficult to find Washington Capitals tickets, Event Tickets Center has plenty of Washington Capitals tickets available starting from $17. Select your tickets using our interactive seating chart, and follow the steps in checkout. You'll be going to a Washington Capitals event in no time!
How much are Washington Capitals tickets?
On Event Tickets Center, Washington Capitals ticket prices range from $17 up to $5,778 over a number of different Washington Capitals events.
When do Washington Capitals tickets go on sale?
Typically, Washington Capitals will announce the schedule 3-6 months before the first game, and tickets go on sale within a few weeks of the schedule announcement.
Are Washington Capitals tickets sold out?
No. While tickets to see Washington Capitals may be sold out on other ticketing websites, Event Tickets Center has plenty of tickets available for you to see Washington Capitals live.
Are Washington Capitals tickets on sale?
Yes, Washington Capitals tickets are on sale, and you can buy them right here at Event Tickets Center.
When is the next Washington Capitals event?
The next Washington Capitals event is on November 30, 2023 at Honda Center in Anaheim, CA. Event Tickets Center has 1,892 tickets available for this event.
NHL Teams, Stadiums, and Divisions
Washington Capitals Matchups
Event Dates and Pricing Information
| Venue | Date | Price | Tickets Available |
| --- | --- | --- | --- |
| Honda Center | Nov 30, 2023 | From $18 | 1,892 |
| T-Mobile Arena | Dec 2, 2023 | From $54 | 1,483 |
| Mullett Arena | Dec 4, 2023 | From $97 | 715 |
| Capital One Arena | Dec 7, 2023 | From $35 | 3,013 |
| Capital One Arena | Dec 9, 2023 | From $88 | 2,237 |
| United Center | Dec 10, 2023 | From $51 | 2,707 |
| Wells Fargo Center - PA | Dec 14, 2023 | From $47 | 2,629 |
| Bridgestone Arena | Dec 16, 2023 | From $63 | 1,920 |
| PNC Arena | Dec 17, 2023 | From $63 | 1,846 |
| Capital One Arena | Dec 20, 2023 | From $55 | 3,086 |