Coors Field Seating Charts
Coors Field - Baseball Seating Map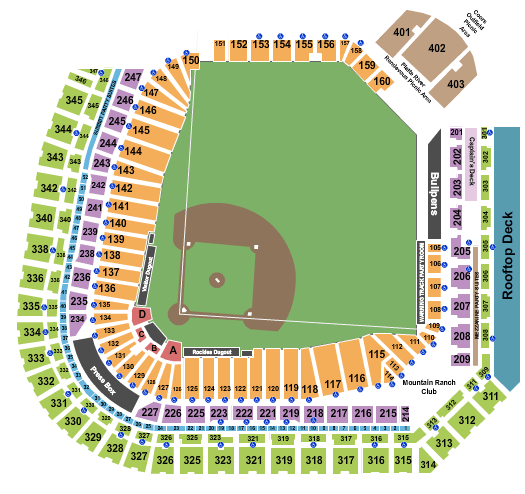 See Coors Field - Baseball events that use this seating chart configuration
Learn more about Coors Field
Coors Field, home of the MLB's
Colorado Rockies
, holds the reputation as the most batter-friendly ballpark. Air is thin in the mile-high city, and the ball meets less friction, allowing it to travel further than at sea level. Curve balls curve less in this environment, and the field sees fewer strikeouts than other parks.
The ballpark itself straddles the 1-mile above-sea-level mark: upper-level seats are colored purple to mark the height. Besides baseball, the ballpark has hosted college and NHL hockey games.
More than 50 concession stands are scattered throughout the park. The site also includes the Blue Moon Brewery at The Sandlot, featuring classic brews and experimental new beers. Tailgating is not an aspect of Rockies fan culture, but fans typically gather in the nearby bars before each game. Items like outside alcohol, hard-sided containers, noisemakers and inflatables are prohibited in the park.
Situated in the heart of Denver, the park is surrounded by an array of bars and restaurants. LoDo, or the Lower Downtown neighborhood, sits just a few blocks to the southwest. This is Denver's most historic area, and it contains some of the city's best dining and architecture, not to mention the Denver Museum of Contemporary Art. Access the park by taking the 20th Street exit off Interstate 25. Parking is available both onsite and nearby, and visitors can purchase parking permits in advance. It's also easily accessible through the bus and rail systems that pass through Union Station, which is only two blocks away.
View Coors Field seating charts for live games! If you're planning to visit Coors Field in Denver, you'll want to make sure you have great seats. Get acquainted with Coors Field by using our seating chart below. This seating map features a complete layout of Coors Field seats and the locations of different ticket tiers. Simply click on a section to browse tickets and you'll be on your way to an unforgettable event experience!
FAQs about Coors Field
Q: What time do doors open at Coors Field?
A: Doors typically open anywhere between 90 minutes to 2 hours prior to showtime at Coors Field. Be sure to check the listing on your ticket as showtimes will vary.
Q: Who plays at Coors Field?
A: The Colorado Rockies are the home team at the Coors Field.
Q: Coors Field Seat Numbers, Sections and Seating Chart
A: When looking at seating charts for sports events, seats are arranged so that the lower numbered seats within a section are located closer to the preceding section. For example; if a venue shows three sections (A, B, and C), seat #1 in section B will be located next to section A. As the seat numbers progress within section B, they move closer to section C. Coors Field, a venue designed to host sports games, may be set up in a similar fashion. While concerts and other events held at Coors Field may not follow this layout, most sports events happening at Coors Field will follow this configuration. Concert seating is typically laid out so that the higher the seat number, the further you are from the stage/performance area. If you're seeing a concert at Coors Field, it's likely that the seats closest to the stage will have low seat numbers and low section numbers.
Q: Coors Field Reviews, Interactive Seating Charts and Seat Views
A: Finding Coors Field seating charts with seat views or 3D views from your seat has proven to be a difficult task – until now. Event Tickets Center provides fans with unbiased Coors Field reviews on our venue guides, including information on Coors Field seat numbers, row numbers, and tips on how to find great seats!
Q: Are VIP Packages or Accessible Seating offered at Coors Field?
A: Coors Field VIP seating packages and accessible seating section locations may vary per event. Please click the seating chart below or contact our customer service department to discuss options for accessible seating or VIP package purchases.
Q: Where is the Colorado Rockies Sideline at Coors Field?
A: The Colorado Rockies home bench is located in front of Section 122, Section 123, Section 124, and Section 125 and the away team bench is in front of Section 136, Section 137, Section 138, and Section 139.
Facts about Coors Field
Capacity:
50,398
Date Opened:
April 26, 1995