Ball Arena Seating Charts
Ball Arena - Basketball Row Seating Map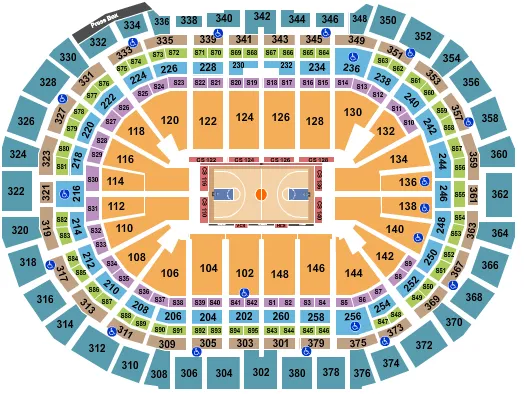 See Ball Arena - Basketball Row events that use this seating chart configuration
Denver Nuggets
The Denver Nuggets are a professional basketball team based in Denver, CO, playing in the Western Conference of the NBA. The franchise was established in 1967 and has a rich history that includes several notable players and exciting moments.
The Nuggets play their home games at the Ball Arena, which is located in downtown Denver and has been the team's home since 1999. The arena is known for its passionate fanbase, lively atmosphere, and state-of-the-art facilities.
The Nuggets have a number of known rivals, including the Utah Jazz, the Portland Trail Blazers, and the Los Angeles Lakers. The team has participated in numerous NBA playoffs over the years, although they have yet to win an NBA championship. However, the Nuggets have been a consistent playoff contender in recent years, led by star players like Nikola Jokic and Jamal Murray.
The Nuggets' most successful period was in the 1970s, when they reached the playoffs in each of their first ten seasons and made it to the ABA Finals three times, winning two championships. Since joining the NBA in 1976, the Nuggets have made the playoffs over 20 times, including a run to the Western Conference Finals in 2009.
If you're a basketball fan looking for an exciting night out, attending a Nuggets game at the Ball Arena is a must. With its passionate fanbase, top-notch facilities, and talented roster, the Nuggets offer an unforgettable experience that is sure to thrill any basketball fan.
FAQs about Denver Nuggets 2023 Game Schedule And Tickets
How and where to buy Denver Nuggets tickets?
While it may be difficult to find Denver Nuggets tickets, Event Tickets Center has plenty of Denver Nuggets tickets available starting from $11. Select your tickets using our interactive seating chart, and follow the steps in checkout. You'll be going to a Denver Nuggets event in no time!
How much are Denver Nuggets tickets?
On Event Tickets Center, Denver Nuggets ticket prices range from $11 up to $19,581 over a number of different Denver Nuggets events.
When do Denver Nuggets tickets go on sale?
Typically, Denver Nuggets will announce the schedule 3-6 months before the first game, and tickets go on sale within a few weeks of the schedule announcement.
Are Denver Nuggets tickets sold out?
No. While tickets to see Denver Nuggets may be sold out on other ticketing websites, Event Tickets Center has plenty of tickets available for you to see Denver Nuggets live.
Are Denver Nuggets tickets on sale?
Yes, Denver Nuggets tickets are on sale, and you can buy them right here at Event Tickets Center.
When is the next Denver Nuggets event?
The next Denver Nuggets event is on October 10, 2023 at Footprint Center in Phoenix, AZ. Event Tickets Center has 2350 tickets available for this event.
Event Dates and Pricing Information
| Venue | Date | Price | Tickets Available |
| --- | --- | --- | --- |
| Footprint Center | Oct 10, 2023 | From $11 | 2,350 |
| United Center | Oct 12, 2023 | From $66 | 3,458 |
| Ball Arena | Oct 15, 2023 | From $16 | 4,806 |
| Crypto.com Arena | Oct 17, 2023 | From $11 | 2,543 |
| Crypto.com Arena | Oct 19, 2023 | From $11 | 2,852 |
| Ball Arena | Oct 24, 2023 | From $225 | 3,571 |
| FedExForum | Oct 27, 2023 | From $20 | 1,881 |
| Paycom Center | Oct 29, 2023 | From $30 | 1,502 |
| Ball Arena | Oct 30, 2023 | From $18 | 4,502 |
| Target Center | Nov 1, 2023 | From $22 | 819 |