Paycor Stadium Tickets and Seating Charts - Cincinnati, OH
Consistently ranked on lists of the best American architectural structures, Paycor Stadium in Cincinnati is nothing short of a football cathedral. The NFL's
Cincinnati Bengals
have called it home since 2000.
Despite the prestige of the building, few other events are held at the venue. Exceptions include college football games, the annual Macy's Music Festival and the annual Queen City Classic Chess Tournament. Besides the music festival, Kenny Chesney and Tim McGraw played the only other concert ever held in the venue on their 2012 "Brothers of the Sun" tour.
The Jungle, as it's known by Bengals fans, has a total capacity of 65,515, which includes 114 private suites and 7,600 club seats. The stadium is fully accessible in terms of both seating and parking. Concession stands are scattered throughout the stadium and can accommodate any diet. It's located right in downtown Cincinnati on the north bank of the Ohio River, and several great dining options are available nearby. Some parking is available onsite, but it's generally reserved for season ticket holders. Several other garages are within walking distance downtown. It's also easily accessible via public transportation.
Besides its sweeping architecture, the Jungle is also known for its legendary tailgates. Tailgating in surrounding lots generally starts around 8 pm for evening games. Alcohol is allowed but must be disposed of before entering the venue. Guests must pass a security checkpoint before entering the venue. The only bags permitted are small clutch purses or small transparent bags. Items like hard-sided containers, chairs, noisemakers, recording equipment and any form of pole or stick, including umbrellas, are prohibited. Use Event Tickets Center to get Paycor Stadium tickets, or check out Paycor Stadium seating charts to find your seats to Paycor Stadium events!
View Paycor Stadium seating charts for live games! If you're planning to visit Paycor Stadium in Cincinnati, you'll want to make sure you have great seats. Get acquainted with Paycor Stadium by using our seating chart below. This seating map features a complete layout of Paycor Stadium seats and the locations of different ticket tiers. Simply click on a section to browse tickets and you'll be on your way to an unforgettable event experience!
Paycor Stadium - Music Festival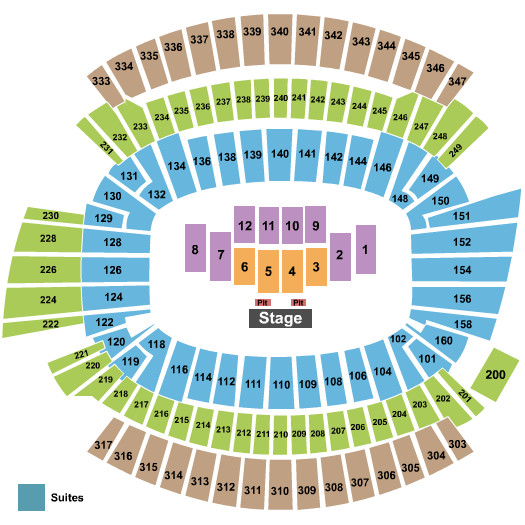 See Paycor Stadium - Music Festival events that use this seating chart configuration
Paycor Stadium - Taylor Swift 2022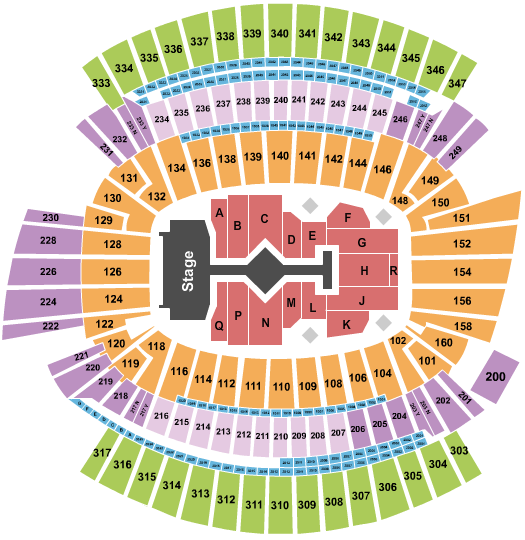 See Paycor Stadium - Taylor Swift 2022 events that use this seating chart configuration
Frequently Asked Questions
Q: What time do doors open at Paycor Stadium?
A: Doors typically open anywhere between 90 minutes to 2 hours prior to showtime at Paycor Stadium. Be sure to check the listing on your ticket as showtimes will vary.
Q: Who plays at Paycor Stadium?
A: The Cincinnati Bengals are the home team at the Paycor Stadium.
Q: Paycor Stadium Seat Numbers, Sections and Seating Chart
A: When looking at seating charts for sports events, seats are arranged so that the lower numbered seats within a section are located closer to the preceding section. For example; if a venue shows three sections (A, B, and C), seat #1 in section B will be located next to section A. As the seat numbers progress within section B, they move closer to section C. Paycor Stadium, a venue designed to host sports games, may be set up in a similar fashion. While concerts and other events held at Paycor Stadium may not follow this layout, most sports events happening at Paycor Stadium will follow this configuration. Concert seating is typically laid out so that the higher the seat number, the further you are from the stage/performance area. If you're seeing a concert at Paycor Stadium, it's likely that the seats closest to the stage will have low seat numbers and low section numbers.
Q: Paycor Stadium Reviews, Interactive Seating Charts and Seat Views
A: Finding Paycor Stadium seating charts with seat views or 3D views from your seat has proven to be a difficult task – until now. Event Tickets Center provides fans with unbiased Paycor Stadium reviews on our venue guides, including information on Paycor Stadium seat numbers, row numbers, and tips on how to find great seats!
Q: Are VIP Packages or Accessible Seating offered at Paycor Stadium?
A: Paycor Stadium VIP seating packages and accessible seating section locations may vary per event. Please click the seating chart below or contact our customer service department to discuss options for accessible seating or VIP package purchases.
Q: Where is the Cincinnati Bengals Sideline at Paycor Stadium?
A: The Cincinnati Bengals home bench is located in front of Section 109, Section 110, and Section 111 and the away team bench is in front of Section 139, Section 140, and Section 141.
Q: How many seats are there in Paycor Stadium?
A: The Paycor Stadium seating capacity is 65,535.
Q: Does Paycor Stadium have a roof?
A: No, Paycor Stadium is an open air stadium.
Q: Date Opened:
A: August 19, 2000