Caesars Superdome Tickets and Seating Charts - New Orleans, LA
Though it looks futuristic, the Caesars Superdome New Orleans was built in 1975. It is the home of the NFL's
New Orleans Saints
. It features the largest fixed dome on earth. As a major, enclosed stadium in one of the most popular cities in the U.S., the Superdome often hosts major events like the Super Bowl, the College Football Championship Game and the NCAA Final Four.
Several other competitions and events have taken place at the venue, such as monster truck rallies, motocross races, rugby and soccer games, pro wrestling events and boxing matches. Several notable concerts have also occurred at the arena, including performances by Johnny Cash and Beyonce. The Essence Music Festival takes place there every year, and Pope John Paul II once addressed a crowd of 80,000 children beneath the dome.
The Superdome holds 73,208 for football games but ranges for other events. The venue is in full compliance with the American Disabilities Act and is fully accessible.
The Superdome is right in downtown New Orleans, directly adjacent to Interstate 10. The complex has seven different parking lots that can hold as many as 7,000 vehicles. Rates and availability will change based on the event. All parking garages accept cash only.
Several food and drink options throughout the venue and can accommodate any diet. Many other bars and restaurants can be found in the surrounding downtown New Orleans area.
Before you can enter the Superdome, visitors must pass through a security checkpoint. Prohibited items include any kind of container, glass, large bags, noisemakers, outside food and drink, audio and video recording devices and helium balloons. Re-entry is not permitted. Use Event Tickets Center to get Caesars Superdome tickets, or check out Caesars Superdome seating charts to find your seats to Caesars Superdome events!
View Caesars Superdome seating charts for live games! If you're planning to visit Caesars Superdome in New Orleans, you'll want to make sure you have great seats. Get acquainted with Caesars Superdome by using our seating chart below. This seating map features a complete layout of Caesars Superdome seats and the locations of different ticket tiers. Simply click on a section to browse tickets and you'll be on your way to an unforgettable event experience!
Caesars Superdome - Football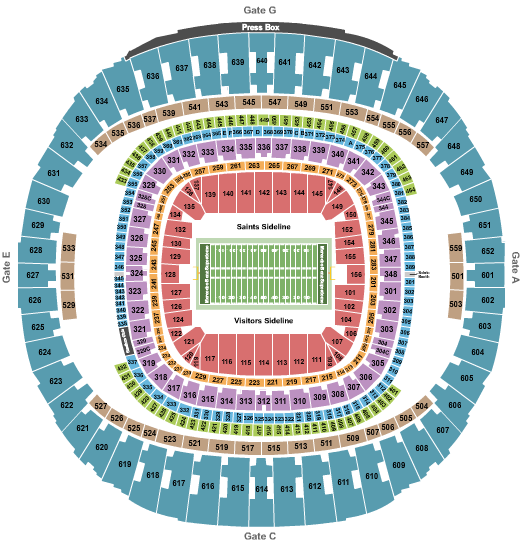 See Caesars Superdome - Football events that use this seating chart configuration
Frequently Asked Questions
Q: What time do doors open at Caesars Superdome?
A: Doors typically open anywhere between 90 minutes to 2 hours prior to showtime at Caesars Superdome. Be sure to check the listing on your ticket as showtimes will vary.
Q: Who plays at Caesars Superdome?
A: The New Orleans Saints are the home team at the Caesars Superdome.
Q: Caesars Superdome Seat Numbers, Sections and Seating Chart
A: When looking at seating charts for sports events, seats are arranged so that the lower numbered seats within a section are located closer to the preceding section. For example; if a venue shows three sections (A, B, and C), seat #1 in section B will be located next to section A. As the seat numbers progress within section B, they move closer to section C. Caesars Superdome, a venue designed to host sports games, may be set up in a similar fashion. While concerts and other events held at Caesars Superdome may not follow this layout, most sports events happening at Caesars Superdome will follow this configuration. Concert seating is typically laid out so that the higher the seat number, the further you are from the stage/performance area. If you're seeing a concert at Caesars Superdome, it's likely that the seats closest to the stage will have low seat numbers and low section numbers.
Q: Caesars Superdome Reviews, Interactive Seating Charts and Seat Views
A: Finding Caesars Superdome seating charts with seat views or 3D views from your seat has proven to be a difficult task – until now. Event Tickets Center provides fans with unbiased Caesars Superdome reviews on our venue guides, including information on Caesars Superdome seat numbers, row numbers, and tips on how to find great seats!
Q: Are VIP Packages or Accessible Seating offered at Caesars Superdome?
A: Caesars Superdome VIP seating packages and accessible seating section locations may vary per event. Please click the seating chart below or contact our customer service department to discuss options for accessible seating or VIP package purchases.
Q: Where is the New Orleans Saints Sideline at Caesars Superdome?
A: The New Orleans Saints home bench is located in front of Section 141, Section 142, and Section 143 and the away team bench is in front of Section 113, Section 114, and Section 115.
Q: How many seats are in the Caesars Superdome?
A: Caesars Superdome has 74,295 seats.
Q: What is club level at Superdome?
A: The club level seats at Caesars Superdome span the second and third levels that provide upscale food and beverage service available for purchase.
Q: Where is the plaza level in the Superdome?
A: The plaza level in the Superdome are in sections 139-145 and 111-117.
Q: What is Bunker Club in Superdome?
A: The Bunker Club gives fans access to one of two premium club lounges under the stadium seating.