US Bank Stadium Seating Charts
US Bank Stadium - Billy Joel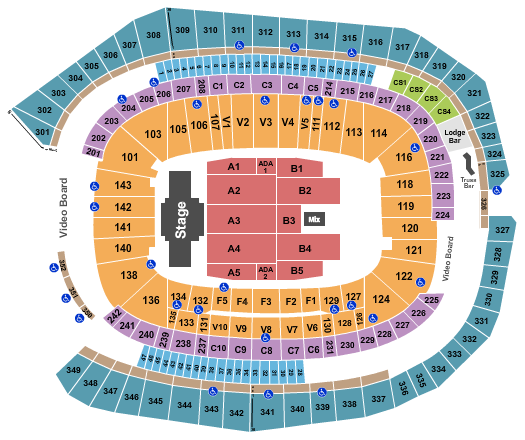 See US Bank Stadium - Billy Joel events that use this seating chart configuration
US Bank Stadium - Ed Sheeran 2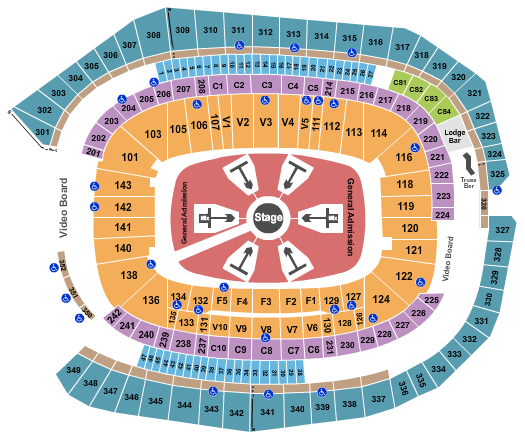 See US Bank Stadium - Ed Sheeran 2 events that use this seating chart configuration
US Bank Stadium - Football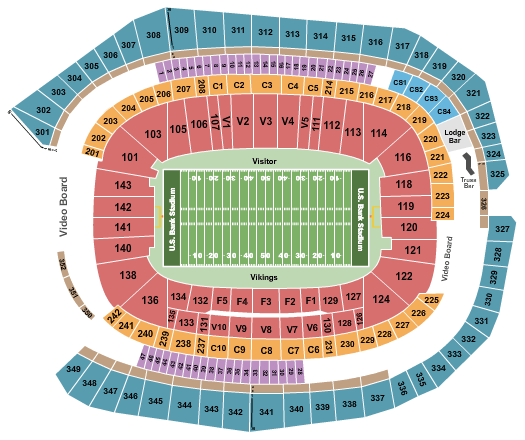 See US Bank Stadium - Football events that use this seating chart configuration
US Bank Stadium - General Admission See US Bank Stadium - General Admission events that use this seating chart configuration
US Bank Stadium - Luke Combs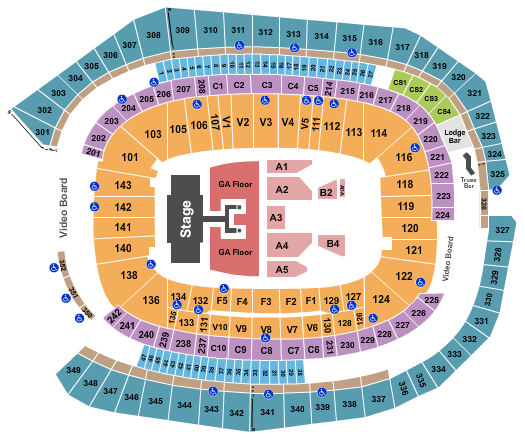 See US Bank Stadium - Luke Combs events that use this seating chart configuration
US Bank Stadium - Metallica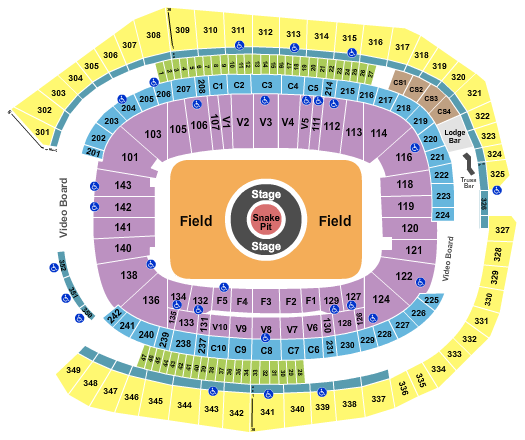 See US Bank Stadium - Metallica events that use this seating chart configuration
US Bank Stadium - Monster Jam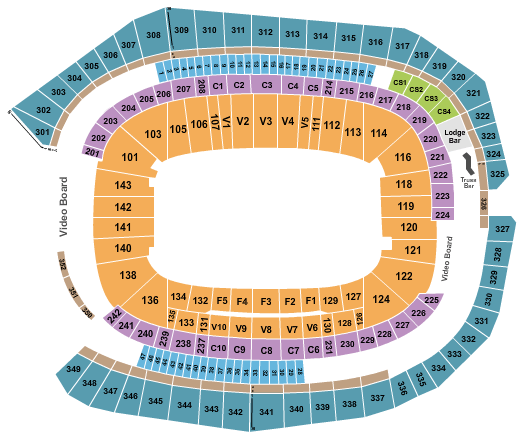 See US Bank Stadium - Monster Jam events that use this seating chart configuration
US Bank Stadium - Red Hot Chili Peppers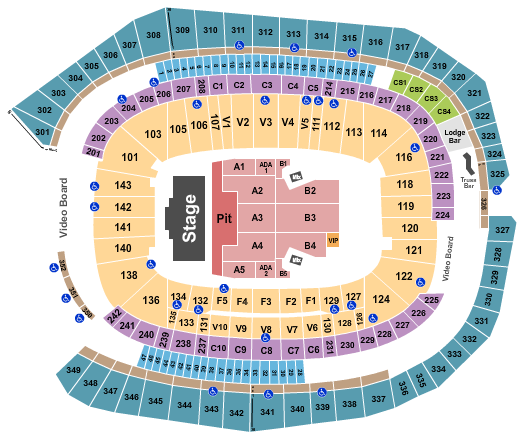 See US Bank Stadium - Red Hot Chili Peppers events that use this seating chart configuration
US Bank Stadium - Taylor Swift 2023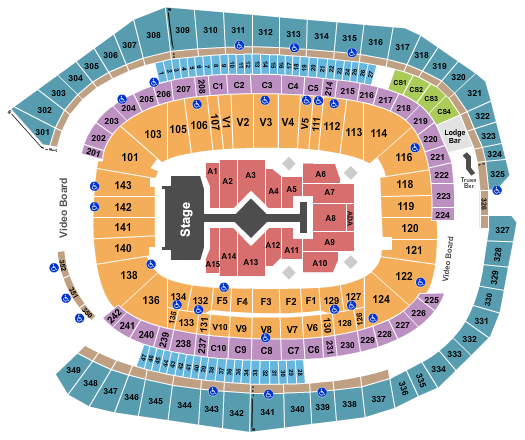 See US Bank Stadium - Taylor Swift 2023 events that use this seating chart configuration
Learn more about US Bank Stadium
A 137,000-square-foot fixed-roof stadium envisioned to be a premier sports and entertainment center in
Minneapolis
, U.S. Bank Stadium is the home of the NFL's
Minnesota Vikings
. Opened in 2016, the uniquely designed stadium quickly became an iconic part of the city's skyline. Its interior is equipped with state-of the-art facilities with wide concourses opening to the field, and a transparent roof that gives fans the feeling of being outdoors—without having to worry about
Minnesota's
famously cold weather.
The first event held at U.S. Bank Stadium Minneapolis was a soccer match between AC Milan and Chelsea FC. Besides Vikings home games, it's hosted a number of family shows, sporting events and conventions as well as concerts by
Luke Bryan
,
Metallica
and
Coldplay
. The stadium was the site for Super Bowl LII and hosted the 2019 NCAA Final Four.
Located in central Minneapolis, the stadium is easily accessible by public transportation or private car. For drivers, there are more than 20,000 parking spaces within a 20-minute walk of the stadium. It's also accessible by light rail and various bus routes. Dozens of hotels and restaurants are nearby, along with attractions like Gold Medal Park and
Target Field
, home of the
Minnesota Twins
.
Gates to the stadium open two hours before events, and guests are encouraged to arrive early to avoid the traffic and long lines. Still cameras, small clutch bags and one clear bag may be brought into the stadium. An express lane located at each gate is provided for fans who are not bringing anything into the stadium. Use Event Tickets Center to get US Bank Stadium tickets, or check out US Bank Stadium seating charts to find your seats to US Bank Stadium events!
View US Bank Stadium seating charts for live games! If you're planning to visit US Bank Stadium in Minneapolis, you'll want to make sure you have great seats. Get acquainted with US Bank Stadium by using our seating chart below. This seating map features a complete layout of US Bank Stadium seats and the locations of different ticket tiers. Simply click on a section to browse tickets and you'll be on your way to an unforgettable event experience!
FAQs about US Bank Stadium
Q: What time do doors open at US Bank Stadium?
A: Doors typically open anywhere between 90 minutes to 2 hours prior to showtime at US Bank Stadium. Be sure to check the listing on your ticket as showtimes will vary.
Q: Who plays at US Bank Stadium?
A: The Minnesota Vikings are the home team at the US Bank Stadium.
Q: US Bank Stadium Seat Numbers, Sections and Seating Chart
A: When looking at seating charts for sports events, seats are arranged so that the lower numbered seats within a section are located closer to the preceding section. For example; if a venue shows three sections (A, B, and C), seat #1 in section B will be located next to section A. As the seat numbers progress within section B, they move closer to section C. US Bank Stadium, a venue designed to host sports games, may be set up in a similar fashion. While concerts and other events held at US Bank Stadium may not follow this layout, most sports events happening at US Bank Stadium will follow this configuration. Concert seating is typically laid out so that the higher the seat number, the further you are from the stage/performance area. If you're seeing a concert at US Bank Stadium, it's likely that the seats closest to the stage will have low seat numbers and low section numbers.
Q: US Bank Stadium Reviews, Interactive Seating Charts and Seat Views
A: Finding US Bank Stadium seating charts with seat views or 3D views from your seat has proven to be a difficult task – until now. Event Tickets Center provides fans with unbiased US Bank Stadium reviews on our venue guides, including information on US Bank Stadium seat numbers, row numbers, and tips on how to find great seats!
Q: Are VIP Packages or Accessible Seating offered at US Bank Stadium?
A: US Bank Stadium VIP seating packages and accessible seating section locations may vary per event. Please click the seating chart below or contact our customer service department to discuss options for accessible seating or VIP package purchases.
Q: Where is the Minnesota Vikings Sideline at US Bank Stadium?
A: The Minnesota Vikings home bench is located in front of Field Club 2, Field Club 3, and Field Club 4 and the away team bench is in front of Vikings Club 1, Vikings Club 2, Vikings Club 3, Vikings Club 4, and Vikings Club 5.
Q: How much does the US Bank Stadium seat?
A: The US Bank Stadium seating capacity is 66,655.
Q: How many seats are in a row at US Bank Stadium?
A: The number of seats in a row at US Bank Stadium varies from section to section and row to row and can numbered from 1 to 40 seats.
Q: How many seats does US Bank Stadium have for concerts?
A: US Bank Stadium seats 66,655 people.
Q: Who plays at US Bank Stadium in Minnesota?
A: US Bank Stadium is home to the Minnesota Vikings.