MetLife Stadium Seating Charts
MetLife Stadium - Football - Rows Seating Map
See MetLife Stadium - Football - Rows events that use this seating chart configuration
MetLife Stadium - Generic Floor Seating Map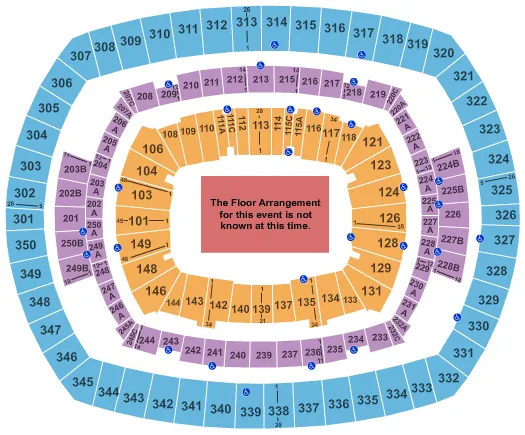 See MetLife Stadium - Generic Floor events that use this seating chart configuration
MetLife Stadium - George Strait Seating Map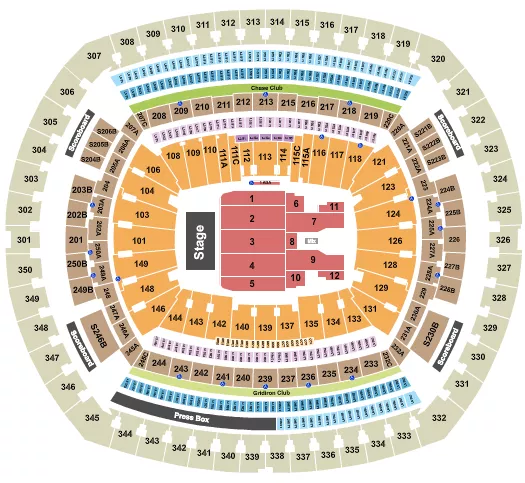 See MetLife Stadium - George Strait events that use this seating chart configuration
MetLife Stadium - Kenny Chesney 2024 Seating Map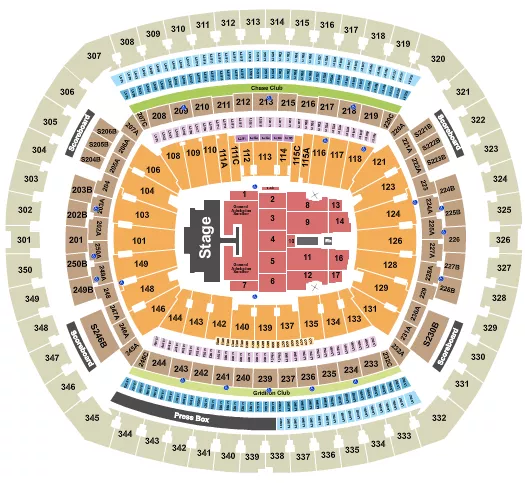 See MetLife Stadium - Kenny Chesney 2024 events that use this seating chart configuration
MetLife Stadium - Luke Combs Seating Map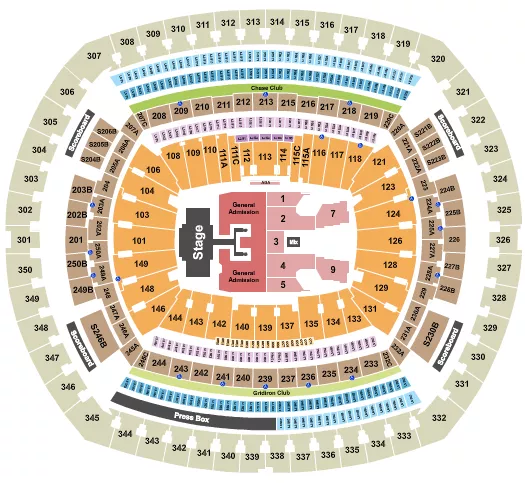 See MetLife Stadium - Luke Combs events that use this seating chart configuration
MetLife Stadium - Morgan Wallen Seating Map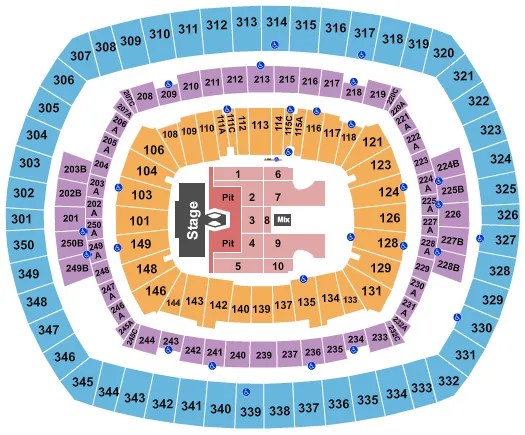 See MetLife Stadium - Morgan Wallen events that use this seating chart configuration
MetLife Stadium - NFL Stadium Series Seating Map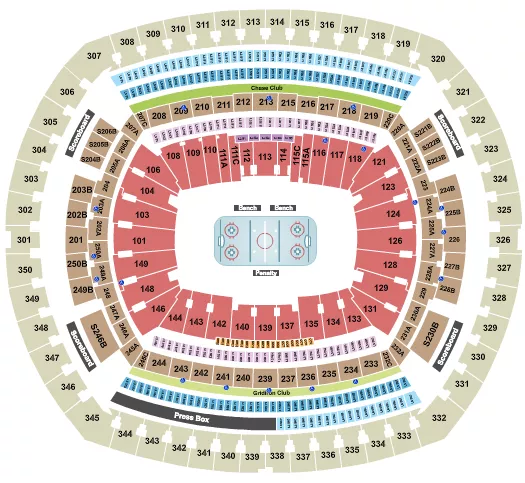 See MetLife Stadium - NFL Stadium Series events that use this seating chart configuration
MetLife Stadium - Rolling Stones 2 Seating Map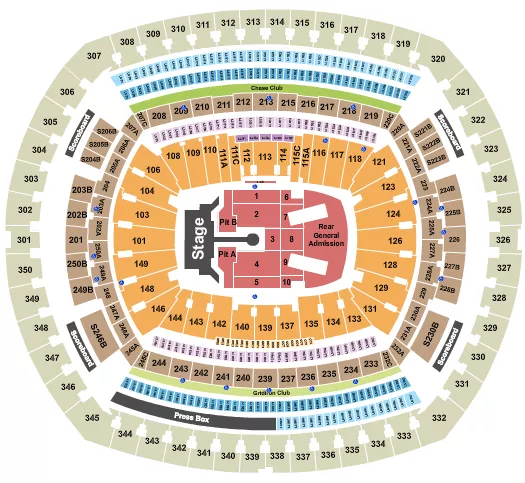 See MetLife Stadium - Rolling Stones 2 events that use this seating chart configuration
Learn more about MetLife Stadium
America's Largest NFL Stadium
Welcome to the heart of the Meadowlands Sports Complex in East Rutherford, New Jersey, where sports dreams come to life at MetLife Stadium. Located just ten miles away from New York City, it boasts a seating capacity of 82,500, making it the largest stadium by capacity in the NFL and the 28th largest stadium in the world. Constructed with a budget of $1.6 billion in 2007, this monumental venue has witnessed countless iconic moments since its inception.
MetLife Stadium, since 2010, has proudly served as the home ground for the four-time Super Bowl champions, the New York Giants. It gained significant attention for hosting Super Bowl XLVIII in 2014, a unique outdoor Super Bowl held in a cold city, where the Seattle Seahawks triumphed over the Denver Broncos. Over the years, the stadium has seen over 550 major events and 3,000 special occasions. From international soccer matches like the Copa America Centenario Final in 2016 to massive wrestling events like WrestleMania 29 and 35, its legacy continues to grow. The XFL's New York Guardians, who later became the Orlando Guardians, also called this stadium their home in 2020.
Whether you're an ardent supporter of the Giants or Jets, or simply here to witness the magic of a game, MetLife Stadium promises an experience like no other. The energy, the fans, and the entire ambiance ensure that memories made here are cherished for a lifetime.
Memorable Musical Moments at MetLife Stadium
Its impressive size coupled with world-class facilities, easy access, and closeness to New York City, makes MetLife Stadium a dream venue for grand musical events. The stadium's musical journey commenced with a bang in 2010 when Bon Jovi staged three mesmerizing concerts for over 200,000 fans. Over the years, it has been the chosen venue for mammoth music festivals like the Electric Daisy Carnival New York and Hot 97's Summer Jam.
Many globally-renowned artists and bands have graced the stadium with their presence, including:
Bruce Springsteen and the E Street Band during their Wrecking Ball World Tour in 2012.
Beyoncé and Jay-Z for their On The Run Tour in 2014.
AC/DC as part of their Rock or Bust World Tour in 2015.
U2 during The Joshua Tree Tour in 2017.
Taylor Swift's mesmerizing performance during The Eras Tour in 2023.
Ed Sheeran's record-breaking +-=÷x Tour in 2023, which saw the highest attendance ever at the stadium, with 89,106 attendees.
History of MetLife Stadium
MetLife Stadium, constructed as a successor to the venerable Giants Stadium, became the shared home for both the New York Giants and the New York Jets. The construction, which started in September 2007, was a joint venture, with both NFL teams partnering in ownership and operations. The stadium proudly opened its gates on April 10, 2010. Its location, the Meadowlands Sports Complex, echoes its predecessor's legacy. The complex houses MetLife Stadium, Meadowlands Racing & Entertainment, the Quest Diagnostics Training Center, and the mammoth American Dream mall, which ranks as the second-largest shopping mall in the U.S. Although christened as the New Meadowlands Stadium in 2010, it was rebranded the following year when MetLife, a New York City-based insurance giant, acquired the naming rights.
Retired Numbers at MetLife Stadium
MetLife Stadium stands as a testament to the illustrious history of both the Giants and the Jets, with each team showcasing their Ring of Honor:
Jets Ring of Honor
12, Joe Namath, QB, 1965–76
13, Don Maynard, WR, 1963–72
28, Curtis Martin, RB, 1998–2005
73, Joe Klecko, DL, 1977–87
90, Dennis Byrd, DE, 1989–92
Giants Ring of Honor
1, Ray Flaherty, E, 1928–1935
4, Tuffy Leemans, RB, 1936–1943
7, Mel Hein, C/LB, 1931–1945
10, Eli Manning, QB, 2004–2019
11, Phil Simms, QB, 1979–1993
16, Frank Gifford, HB/WR, 1952–1964
32, Al Blozis, OT, 1942–1944
40, Joe Morrison, RB/WR, 1959–1972
42, Charlie Conerly, QB, 1948–1961
50, Ken Strong, HB, 1936–1947
56, Lawrence Taylor, LB, 1981–1993
92, Michael Strahan, DE, 1993–2007
The New York Giants' unique gesture of retiring the number 14 jersey twice is noteworthy. Initially retired in tribute to Ward Cuff in 1946, it was later worn by Y.A. Tittle when he joined the Giants in 1961. With Tittle's remarkable contribution, leading to his Hall of Fame recognition, the number 14 jersey was retired again, this time in honor of both Cuff and Tittle.
MetLife Stadium Design
MetLife Stadium, serving as a joint home for both the New York Giants and the New York Jets, is a blend of contrasting architectural styles. Drawing inspiration from the nearby Manhattan skyscrapers, the architects integrated traditional elements favored by the Giants with modern touches desired by the Jets. Initially designed to have a roof, the idea was later discarded due to budgetary concerns.
The exterior showcases a harmonious blend of limestone-like stonework with aluminum louvers and glass. Inside, innovative lighting technology enables the colors to shift between the Giants' blue and the Jets' green. These dynamic design elements not only create a captivating ambiance but also facilitate swift transformations between the setups for both teams. Highlighting the stadium's impressive architecture, the louvers alone extend for an astounding 31.1 miles.
From a fan perspective, MetLife Stadium offers unparalleled proximity to the field, with front-row seats positioned merely 46 feet from the sideline – the shortest such distance in the entire NFL. Technologically advanced, the stadium features the "Solar Ring," adorned with 1,350 solar panels that not only generate surplus electricity but also add to the stadium's visual appeal. In addition, the facility houses four spacious locker rooms to cater to both the home teams and visitors.
MetLife Stadium Amenities
The stadium proudly offers an assortment of seating options, tailored to cater to various preferences and budgets. It comprises four primary seating levels:
Lower Level: For those seeking proximity to the action.
Mezzanine Level: Balancing comfort and affordability.
Upper Level: The most pocket-friendly option.
Suite Level: Exuding luxury with access to exclusive amenities.
MetLife Stadium boasts over 200 concession stands, offering a plethora of food and beverage choices. From burgers and sushi to local delights like Nathan's Famous hot dogs, there's something for everyone. Enhancing the fan experience, the stadium offers services such as high-definition video displays, free Wi-Fi, mobile ticketing options, first aid stations, family restrooms, and more. For those driving, the stadium provides over 28,000 parking spaces, with pricing and access varying based on the event and specific lot.
Tailgating at MetLife Stadium
MetLife Stadium enthusiastically welcomes tailgating in its open parking lots, but with a few ground rules:
Each car is allocated a single space for tailgating.
Avoid blocking driving lanes and adhere to designated tailgating zones.
Open fires, deep frying, and other potential fire hazards are restricted.
Alcohol consumption should be responsible, with penalties for excess.
Stadium Tours at MetLife Stadium
The stadium offers exclusive tours, providing an in-depth look into its rich history, design, and game-day setup. These tours vary, from individual Saturday Tours to Private Group Tours, each offering unique perspectives of the stadium's illustrious features.
Future Plans for MetLife Stadium
MetLife Stadium is poised to host several FIFA World Cup matches in 2026, prompting a $16 million renovation to meet FIFA's standards. Additionally, the NHL Stadium Series in 2024 will mark its debut at this iconic venue, featuring matches between prominent teams over two consecutive days.
Memorable Moments at MetLife Stadium
Super Bowl XLVIII: The inaugural Super Bowl at MetLife Stadium transpired on February 2, 2014, between the combatants Denver Broncos and Seattle Seahawks. The Seahawks set the tone from the get-go, recording a safety on the opening play and surging to a 22-0 lead at halftime. The Seahawks clinched their maiden Super Bowl with a decisive 43-8 victory.
Miracle at the New Meadowlands: Often hailed among the NFL's most epic comebacks and finishes, this 2010 encounter witnessed the Philadelphia Eagles overpowering the New York Giants. Trailing by a daunting 21 points with under eight minutes remaining, the Eagles conjured a miraculous recovery. They netted four consecutive touchdowns, culminating in DeSean Jackson's game-sealing punt return as the clock ran out. This was a historic punt return, marking the sole instance of a game-won on such a play. This exhilarating 38–31 triumph secured the NFC East division for the Eagles, whereas the Giants, despite a commendable 10–6 season record, missed out on the playoffs.
WrestleMania 29: On April 7, 2013, MetLife Stadium was abuzz with the electrifying atmosphere of WrestleMania's 29th installment. A staggering turnout of 80,676 enthusiasts made it the third most attended WrestleMania in history. The marquee matchup, a gripping face-off between John Cena and The Rock for the WWE Championship, saw Cena emerging triumphant post two Attitude Adjustments.
Copa America Centenario Final: In a tantalizing replay of their previous tournament final, Argentina and Chile locked horns, captivating 82,026 spectators. After 120 riveting minutes, neither team could break the deadlock, with the scorecard reading 0-0. In the ensuing penalty shootout, Chile showcased nerves of steel, clinching their second successive Copa America crown in as many years.
FAQs about MetLife Stadium
Where is the New York Giants Sideline at MetLife Stadium?
The New York Giants home bench is located in front of Section 111C, Section 112, Section 113, Section 114, and Section 115C and the away team bench is in front of Section 137, Section 139, and Section 140.
Where is the New York Jets Sideline at MetLife Stadium?
The New York Jets home bench is located in front of Section 111C, Section 112, Section 113, Section 114, and Section 115C and the away team bench is in front of Section 137, Section 139, and Section 140.
Are there any covered seats in MetLife Stadium?
The upper endzone seats of MetLife Stadium are covered.
What if it rains at MetLife Stadium?
MetLife Stadium is an open stadium but there is cover from row 36 - 45 in sections 121-131, 101-106 and 146-149. If it is a football game they will still play in the rain.
Why is the stadium named MetLife Stadium?
The stadium is named after a naming rights agreement with MetLife, a global financial services company. The naming rights for the stadium were acquired by MetLife in 2011 and since then, the stadium has held the name of MetLife Stadium. Prior to that, during its construction phase, the stadium was known as New Meadowlands Stadium due to its location in the Meadowlands Sports Complex.
When did MetLife Stadium open?
MetLife Stadium officially opened on April 10, 2010, and its first event was the Big City Classic college lacrosse event on that same day.
What is the capacity of MetLife Stadium?
MetLife Stadium can accommodate 82,500 spectators. Nevertheless, this number is subject to change based on the type of event and the seating arrangements. For instance, during concerts, additional seating can be placed on the field to increase the capacity, whereas, for football games, certain sections of the upper deck can be covered to lower it. The highest attendance recorded for any event at MetLife Stadium is 93,000 people for the 12th Siyum HaShas, an occasion that marks the completion of a cycle of studying the Talmud, a central text of Rabbinic Judaism.
What was the first game and outcome at MetLife Stadium?
The first preseason game at MetLife Stadium was played on August 16, 2010, between the New York Giants and the New York Jets, both of the stadium's tenants. The Giants emerged victorious with a 31-16 win over the Jets. The first regular-season game at MetLife Stadium was held on September 12, 2010, between the New York Jets and the Baltimore Ravens. The Baltimore Ravens won the game with a final score of 10-9.
What is the most expensive ticket ever sold for a game at MetLife Stadium?
According to several sources, the highest-priced ticket recorded for an event at MetLife Stadium was for Super Bowl XLVIII. The average ticket cost for this game stood at $10,427, with the least expensive seats starting at around $7,000. Among the resale listings, the most expensive ticket was listed at $11,442 for a seat in the Coaches Club section, located in the fifth row.
What are some of the most famous players to play at MetLife Stadium?
MetLife Stadium has showcased legendary players, many tied to its co-tenants in the NFL, the New York Giants and New York Jets. Notable names include Eli Manning, who led the Giants to two Super Bowl wins in 2008 and 2012, Saquon Barkley, a standout Giants' running back since 2018 who was the NFL Offensive Rookie of the Year, Darrelle Revis, a premier cornerback who stood out with the Jets in 2007-2012 and 2015-2016, and Nick Mangold, the Jets' center from 2006 to 2016, who earned seven Pro Bowl selections. Beyond these stars, MetLife Stadium hosted others like Tom Brady, former quarterback for the Tampa Bay Buccaneers and the New England Patriots and a seven-time Super Bowl champion, as well as soccer legend Lionel Messi, who graced the field during the 2016 Copa América Centenario final against Chile.
Has MetLife Stadium hosted any Super Bowl games?
Yes, MetLife Stadium has hosted one Super Bowl game. Super Bowl XLVIII was held at the stadium on February 2, 2014, and it featured a matchup between the Seattle Seahawks and the Denver Broncos. The game marked the first time the Super Bowl was played in an open-air stadium located in a cold-weather city. The Seahawks emerged victorious and won their first Super Bowl title, defeating the Broncos with a final score of 43-8.
What other major events have taken place at MetLife Stadium?
In addition to NFL games, MetLife Stadium has been the backdrop for hundreds of events. The stadium has hosted music events by Taylor Swift, Beyoncé, U2, Bruce Springsteen, and Ed Sheeran. International soccer matches have been played in the stadium's turf, including the final of the Copa América Centenario tournament in 2016. WrestleMania, WWE's major event, captivated audiences twice, in 2013 and 2019. The stadium has also hosted the thunderous roars of Monster Jam, showcasing powerful monster trucks in fierce races and captivating freestyle displays. From motorsports like the Monster Energy Supercross Championship to music festivals like the Electric Daisy Carnival (EDC) New York, the stadium can host any type of event.
Are there premium seating options available at MetLife Stadium?
There are five premium lounges throughout the stadium that deliver exclusive amenities like on-field patios, a post-game interview room, a martini lounge, fireplaces, brick pizza ovens, celebrity chef cooking areas, and state-of-the-art technology. The stadium additionally features suites, accommodating from 12 to 30 seats, providing exceptional sightlines, private entrances, washrooms, televisions, wet bars, and refrigerators. The premium experience includes club seats that combine prime seat locations, exclusive environments, and exclusive amenities, like reserved parking, air-conditioned lounges, flat panel TVs, upscale culinary offerings, wider cushioned seats with cup holders, among others. If you want an even more exclusive experience, the EY Coaches Club is a unique club seat that allows guests to access a private on-field deck just five yards behind the home team's bench. The club also features a 20,000-square-foot lounge with views of the players' tunnel, a post-game interview room where guests can watch live press conferences, and a buffet-style menu with carving stations and dessert bars.
Does MetLife Stadium have a retractable roof?
No, MetLife Stadium is an open-air stadium, therefore, it has no retractable roof.
What are the accessibility options at MetLife Stadium?
MetLife Stadium provides a range of accessibility options for guests with disabilities, including accessible parking spaces in Lot C, wheelchair escort service from gates to seats upon requesting an assistant, assistive listening services which include streaming sound to mobile phones, closed captioning on ribbon boards and concourse televisions, interpreting services for guests who are deaf or hard of hearing (prior to contacting Guest Services at least two weeks ahead of the event), sensory inclusion kits comprising noise-canceling headphones, fidget tools, verbal cue cards, and weighted lap pads for sensory needs, and wheelchair accessible family and companion restrooms with baby changing stations. Service animals are also permitted in the stadium.
What is the bag policy at MetLife Stadium?
The bag policy at MetLife Stadium is designed to ensure the safety and security of all guests and staff. According to the policy, guests are allowed to bring one clear bag that is 12" by 6" by 12" or less, or one small purse or handbag that is 4.5" by 6.5" or less. Any other types of bags, such as backpacks, briefcases, diaper bags, or camera cases, are not permitted. The only exception is for medically necessary items, which will be inspected at a designated gate. Please note that the bag policy may vary by event, so please check the event's restrictions before you visit the venue.
What elements are prohibited inside MetLife Stadium?
The following items are completely forbidden at MetLife Stadium: Seat cushions of any size except those for medical needs, battery-operated clothing (socks, jackets, etc.) and items (signs, fans, etc.), glass bottles, coolers of any kind, thermoses or ice chests, alcohol of any kind that isn't purchased in the stadium, banners of any size, umbrellas, laser pointers, strollers, balls of any kind, video or still-photography cameras with lenses longer than six inches, weapons, any item that could be used as a projectile or any animal that isn't a service animal.
Where can I get tickets for an event at MetLife Stadium?
Join the excitement and get your tickets here at Event Tickets Center!
Event Dates and Pricing Information
| Performer | Date | Price | Tickets Available |
| --- | --- | --- | --- |
| New York Jets | Dec 3, 2023 | From $22 | 1,895 |
| New York Jets | Dec 10, 2023 | From $40 | 4,465 |
| New York Giants | Dec 11, 2023 | From $41 | 4,617 |
| New York Jets | Dec 24, 2023 | From $41 | 5,532 |
| New York Giants | Dec 31, 2023 | From $43 | 4,361 |
| New York Giants | Jan 7, 2024 | From $77 | 7,468 |
| New Jersey Devils | Feb 17, 2024 | From $130 | 3,926 |
| New York Islanders | Feb 18, 2024 | From $147 | 5,181 |
| Morgan Wallen | May 17, 2024 | From $227 | 1,662 |
| Morgan Wallen | May 18, 2024 | From $196 | 1,385 |