Ford Field Seating Charts
Ford Field - Ed Sheeran 2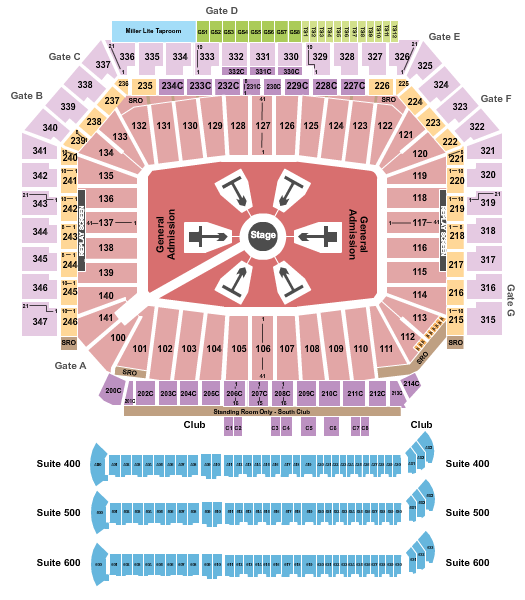 See Ford Field - Ed Sheeran 2 events that use this seating chart configuration
Ford Field - Luke Combs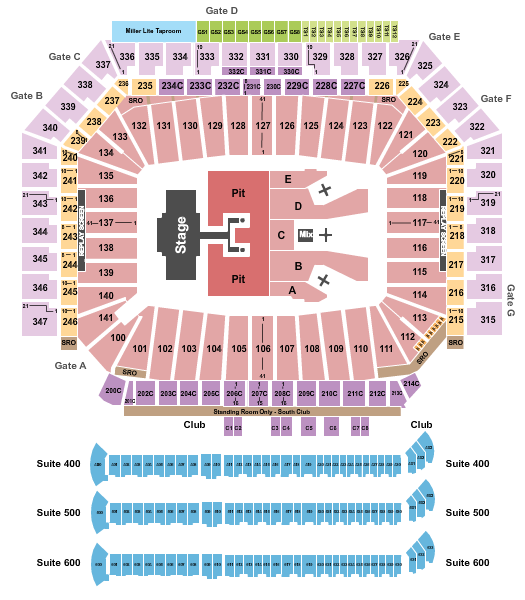 See Ford Field - Luke Combs events that use this seating chart configuration
Ford Field - Metallica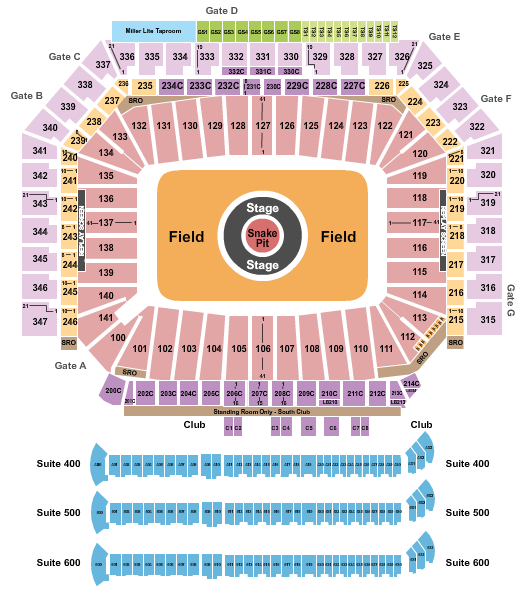 See Ford Field - Metallica events that use this seating chart configuration
Ford Field - Morgan Wallen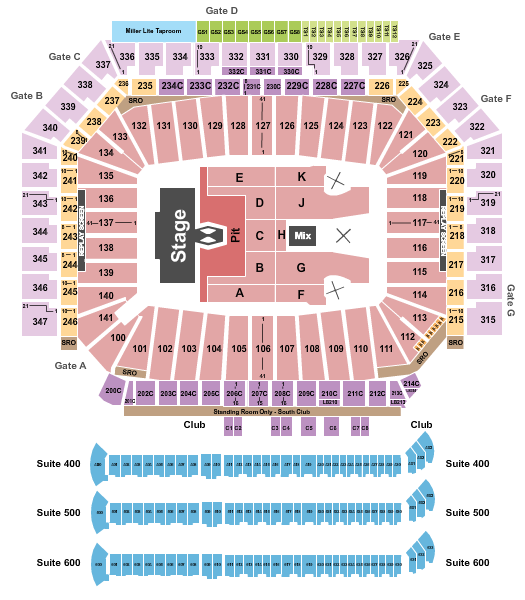 See Ford Field - Morgan Wallen events that use this seating chart configuration
Ford Field - Open Floor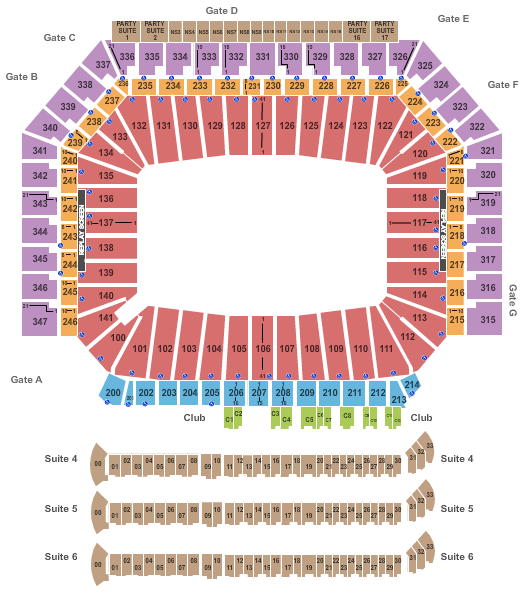 See Ford Field - Open Floor events that use this seating chart configuration
Ford Field - Supercross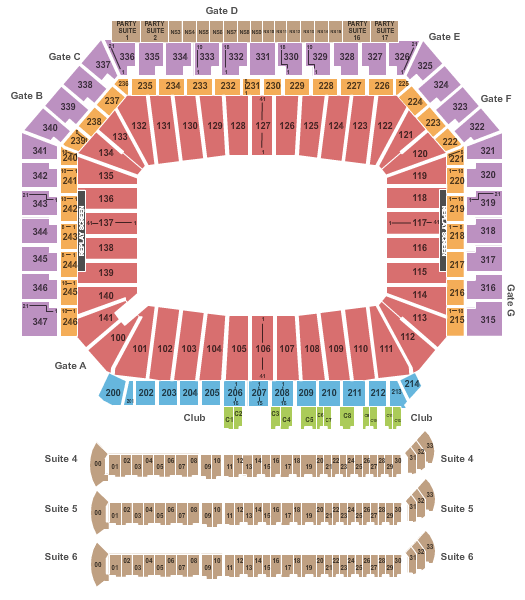 See Ford Field - Supercross events that use this seating chart configuration
Ford Field - Taylor Swift 2023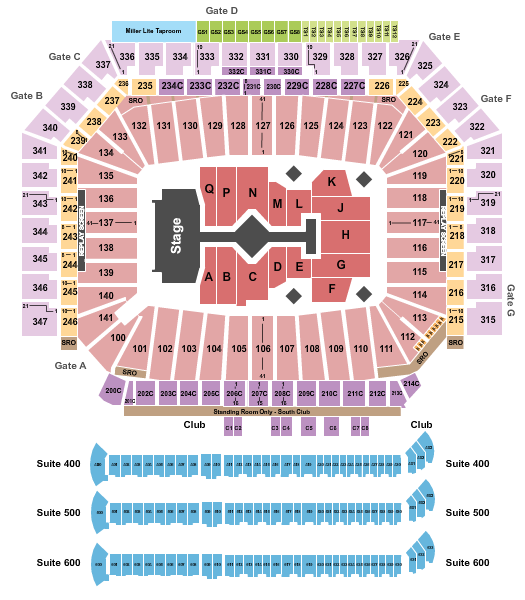 See Ford Field - Taylor Swift 2023 events that use this seating chart configuration
Learn more about Ford Field
Located in Downtown Detroit, Michigan, Ford Field is a multi-purpose indoor stadium, and home of the NFL's
Detroit Lions
. Ford Field Detroit opened in 2002 with the Lions playing against the
Green Bay Packers
. Since then, the venue has played host to a number of events, including professional and college football games, basketball games, college hockey, high school marching band competitions, WrestleMania, Monster Jam races, conventions, tradeshows and live music concerts.
One of the NFL's most unique stadiums, Ford Field incorporates a six-story former Hudson's warehouse into its design. It has a seating capacity of 65,000 with a fixed roof supported by two 18-foot-wide concrete columns. It's also known for integrating lots of glass, allowing natural light inside. A six-story glass atrium provides fans amazing views of the city's downtown skyline. It features two videoboards and two matrix scoreboards at the end zones, four scoreboards located at club level and 1,050 speakers. There are 50 permanent and 75 portable concession stands all over the stadium. Parking is available adjacent to Ford Field and Comerica Park on a first come, first serve basis. Tailgating is allowed at the Eastern Market parking lots where you can set up a party around your vehicle, with shuttles running continuously to the stadium. Or you can enjoy a 10-minute walk across the bridge to the football stadium.
It's good to know the policies of Ford Field so you can enjoy a game or event without any complications. Gates usually open two hours prior to a game or an event, and re-entry is prohibited. You may bring in purses not larger than a clutch bag, bags that are clear plastic, vinyl or PVC and do not exceed 12" x 6" x 12", and a one-gallon clear plastic freezer bag. Cameras with lenses longer than five inches, and electronic equipment including laptop computers, video recorders, tripods and wearable video cameras are prohibited, as well as food, beverages or liquids. Use Event Tickets Center to get Ford Field tickets, or check out Ford Field seating charts to find your seats to Ford Field events!
View Ford Field seating charts for live games! If you're planning to visit Ford Field in Detroit, you'll want to make sure you have great seats. Get acquainted with Ford Field by using our seating chart below. This seating map features a complete layout of Ford Field seats and the locations of different ticket tiers. Simply click on a section to browse tickets and you'll be on your way to an unforgettable event experience!
FAQs about Ford Field
Q: What time do doors open at Ford Field?
A: Doors typically open anywhere between 90 minutes to 2 hours prior to showtime at Ford Field. Be sure to check the listing on your ticket as showtimes will vary.
Q: Who plays at Ford Field?
A: The Detroit Lions are the home team at the Ford Field.
Q: Ford Field Seat Numbers, Sections and Seating Chart
A: When looking at seating charts for sports events, seats are arranged so that the lower numbered seats within a section are located closer to the preceding section. For example; if a venue shows three sections (A, B, and C), seat #1 in section B will be located next to section A. As the seat numbers progress within section B, they move closer to section C. Ford Field, a venue designed to host sports games, may be set up in a similar fashion. While concerts and other events held at Ford Field may not follow this layout, most sports events happening at Ford Field will follow this configuration. Concert seating is typically laid out so that the higher the seat number, the further you are from the stage/performance area. If you're seeing a concert at Ford Field, it's likely that the seats closest to the stage will have low seat numbers and low section numbers.
Q: Ford Field Reviews, Interactive Seating Charts and Seat Views
A: Finding Ford Field seating charts with seat views or 3D views from your seat has proven to be a difficult task – until now. Event Tickets Center provides fans with unbiased Ford Field reviews on our venue guides, including information on Ford Field seat numbers, row numbers, and tips on how to find great seats!
Q: Are VIP Packages or Accessible Seating offered at Ford Field?
A: Ford Field VIP seating packages and accessible seating section locations may vary per event. Please click the seating chart below or contact our customer service department to discuss options for accessible seating or VIP package purchases.
Q: Where is the Detroit Lions Sideline at Ford Field?
A: The Detroit Lions home bench is located in front of Section 104, Section 105, Section 106, Section 107, and Section 108 and the away team bench is in front of Section 125, Section 126, Section 127, Section 128, and Section 129.
Q: How many seats are in a row at Ford Field?
A: Between the 100s and 200s Sections, there are 7-22 seats per row. In the 300s section, there are up to 26 seats per row.
Q: How many seats are at Ford Field?
A: There are 65,000 seats at Ford Field.
Q: What is club seating at Ford Field?
A: Club seating at Ford Field provides guests with wider chairs with more padding, along with food and drink amenitites and access to lounges and private bathrooms.
Q: Is Ford Field a retractable roof?
A: Ford Field does not have a retractable roof.
Q: Is Ford Field indoors?
A: Ford Field is an indoor venue.
Facts about Ford Field
Capacity:
65,000
Date Opened:
August 24,2002