loanDepot park Seating Charts
loanDepot park - Baseball
See loanDepot park - Baseball events that use this seating chart configuration
loanDepot park - General Admission See loanDepot park - General Admission events that use this seating chart configuration
loanDepot park - Monster Jam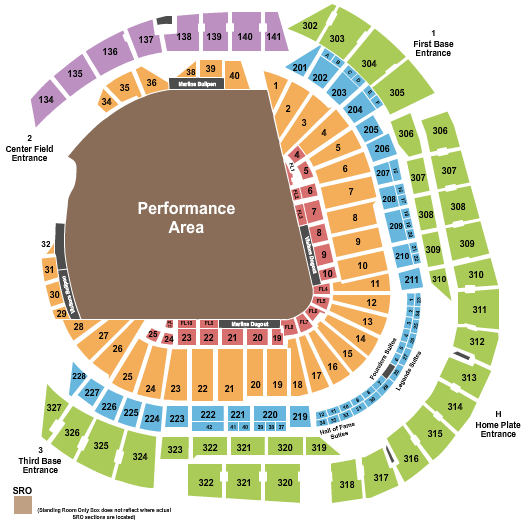 See loanDepot park - Monster Jam events that use this seating chart configuration
Learn more about loanDepot park
Construction of loanDepot park was completed in 2012, and MLB's
Miami Marlins
moved in soon after. While most ballparks and stadiums built in recent years have followed a retro style, loanDepot park bucks the trend and is a striking piece of architecture. Several artists worked on different sections of complex, and it contains many unique features like aquariums behind home plate, a full nightclub equipped with a pool, and a retractable roof and glass wall to let the breeze in on hot Miami nights.
The field is built on the site of the former Miami Orange Bowl, onetime home to the NFL's
Miami Dolphins
. Besides baseball, the park has also hosted soccer games, fundraiser galas and other special events during the offseason.
The ballpark has a seating capacity of 37,442 and can accommodate people of all abilities. It lies just two miles west of downtown Miami in the Little Havana neighborhood off of State Route 836.
The stadium is surrounded by several parking lots and garages, which offer 5,600 spots in total. Each lot is color-coded based on what part of the ballpark it connects to: blue is home plate, yellow is first base, red is third base, and green is center field. Parking spaces are available for pre-purchase and they often sell out well in advance of games. While Miami public transport does not easily connect to the stadium, the city provides free trolleys between the ballpark and the civic center in downtown Miami on game days.
A wide selection of concessions is available throughout the park and can accommodate all diets. The main artery of Little Havana is about a half-mile to the south and contains many bars and restaurants for a pre- or post-game drink.
Before you can enter the venue, guests have to pass a security checkpoint. Items such as containers, noisemakers, inflatables and aerosol cans are prohibited. Strollers are also not allowed into the stadium, but they can be checked behind the third base or home plate entrances.
Patrons are allowed to bring in one single serving of food sealed in a clear plastic bag along with one factory-sealed bottle of unflavored water each.
FAQs about loanDepot park
Q: What time do doors open at loanDepot park?
A: Doors typically open anywhere between 90 minutes to 2 hours prior to showtime at loanDepot park. Be sure to check the listing on your ticket as showtimes will vary.
Q: Who plays at loanDepot park?
A: The Miami Marlins are the home team at the loanDepot park.
Facts about loanDepot park
Capacity:
36,742
Past Names/Nicknames:
Marlins Ballpark
Date/Year Built/Opened:
Apr. 1, 2012