Busch Stadium Seating Charts
Busch Stadium - Baseball Seating Map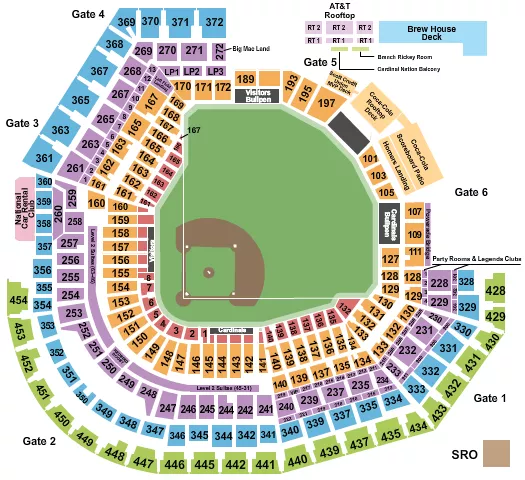 See Busch Stadium - Baseball events that use this seating chart configuration
Busch Stadium - General Admission Seating Map See Busch Stadium - General Admission events that use this seating chart configuration
Learn more about Busch Stadium
There have officially been three Busch Stadiums in St. Louis, Missouri, each of which has been home to the
St. Louis Cardinals
. The first one was originally named Sportsman's Park, but it was renamed Busch Stadium in honor of Cards owner Gussie Busch in 1953. That park closed in 1966 when there were two St. Louis Cardinals—the baseball team and the football team—and the franchises moved to a new multipurpose venue named Busch Memorial Stadium. In 2006, the Cardinals moved to the current stadium. Anheuser-Busch bought the naming rights, which is why the new stadium is commonly known as "New Busch Stadium" or "Busch Stadium III."
Busch Stadium has an impressive capacity—the highest recorded attendance for a single event was an exhibition soccer match between Chelsea and Manchester, which drew 47,925 fans. It's the regular home of the St. Louis Cardinals and hosts a variety of other events as well. The stadium was designed by Populous, a firm that has designed several other stadiums and arenas including Acrisure Stadium in Pittsburgh and the Sydney Olympic Stadium in Australia. Designed in a "retro-classic" style, the venue gives fans panoramic views of the surrounding city, including St. Louis' iconic Gateway to the West.
Besides baseball, Busch Stadium hosts other events such as exhibition and league soccer matches. It's hosted National and FIFA matches, too, welcoming teams from around the world. Other events at the stadium have included outdoor NHL games and concerts.
The New Busch Stadium is located directly off Interstate 64 in St. Louis. Parking is available adjacent to the site at Ballpark Village, where the second Busch Stadium stood. This lot tends to fill up quickly, but several other garages are available nearby.
Because the stadium is located almost directly in downtown St. Louis, there's plenty to do nearby, whether you're looking for family-friendly entertainment (like the St. Louis Zoo) or an introduction to the diverse local music scene. For a taste of the city's famous barbecue or a range of other cuisines, choose from dozens of restaurants and bars just outside the arena's doors. The stadium itself offers many concessions as well.
View Busch Stadium seating charts for live games! If you're planning to visit Busch Stadium in Saint Louis, you'll want to make sure you have great seats. Get acquainted with Busch Stadium by using our seating chart below. This seating map features a complete layout of Busch Stadium seats and the locations of different ticket tiers. Simply click on a section to browse tickets and you'll be on your way to an unforgettable event experience!
FAQs about Busch Stadium
What time do doors open at Busch Stadium?
Doors typically open anywhere between 90 minutes to 2 hours prior to showtime at Busch Stadium. Be sure to check the listing on your ticket as showtimes will vary.
Who plays at Busch Stadium?
The St. Louis Cardinals are the home team at the Busch Stadium.
Busch Stadium Seat Numbers, Sections and Seating Chart
When looking at seating charts for sports events, seats are arranged so that the lower numbered seats within a section are located closer to the preceding section. For example; if a venue shows three sections (A, B, and C), seat #1 in section B will be located next to section A. As the seat numbers progress within section B, they move closer to section C. Busch Stadium, a venue designed to host sports games, may be set up in a similar fashion.
While concerts and other events held at Busch Stadium may not follow this layout, most sports events happening at Busch Stadium will follow this configuration. Concert seating is typically laid out so that the higher the seat number, the further you are from the stage/performance area. If you're seeing a concert at Busch Stadium, it's likely that the seats closest to the stage will have low seat numbers and low section numbers.
Busch Stadium Reviews, Interactive Seating Charts and Seat Views
Finding Busch Stadium seating charts with seat views or 3D views from your seat has proven to be a difficult task – until now. Event Tickets Center provides fans with unbiased Busch Stadium reviews on our venue guides, including information on Busch Stadium seat numbers, row numbers, and tips on how to find great seats!
Are VIP Packages or Accessible Seating offered at Busch Stadium?
Busch Stadium VIP seating packages and accessible seating section locations may vary per event. Please click the seating chart below or contact our customer service department to discuss options for accessible seating or VIP package purchases.
Where is the St. Louis Cardinals Sideline at Busch Stadium?
The St. Louis Cardinals home bench is located in front of Section 142, Section 143, and Section 144 and the away team bench is in front of Section 156, Section 157, and Section 158.
Facts about Busch Stadium
Capacity:
45,538
Date Opened:
April 4, 2006
Event Dates and Pricing Information
| Performer | Date | Price | Tickets Available |
| --- | --- | --- | --- |
| Winter Warm-Up | Jan 13, 2024 | From $115 | 4 |
| St. Louis Cardinals | Apr 4, 2024 | From $109 | 1,121 |
| St. Louis Cardinals | Apr 6, 2024 | From $19 | 780 |
| St. Louis Cardinals | Apr 7, 2024 | From $16 | 678 |
| St. Louis Cardinals | Apr 8, 2024 | From $15 | 804 |
| St. Louis Cardinals | Apr 9, 2024 | From $15 | 819 |
| St. Louis Cardinals | Apr 10, 2024 | From $15 | 803 |
| St. Louis Cardinals | Apr 19, 2024 | From $38 | 765 |
| St. Louis Cardinals | Apr 20, 2024 | From $32 | 1,055 |
| St. Louis Cardinals | Apr 21, 2024 | From $38 | 795 |