Truist Park Seating Charts
Truist Park - Baseball Seating Map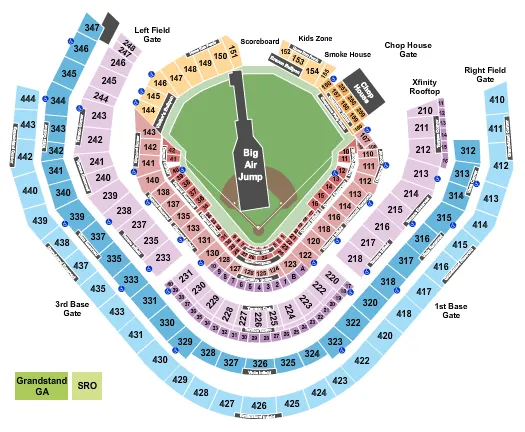 See Truist Park - Baseball events that use this seating chart configuration
Truist Park - Generic Field Seating Map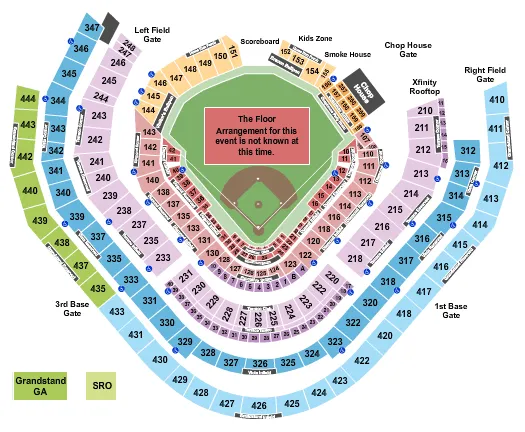 See Truist Park - Generic Field events that use this seating chart configuration
Truist Park - Green Day 2024 Seating Map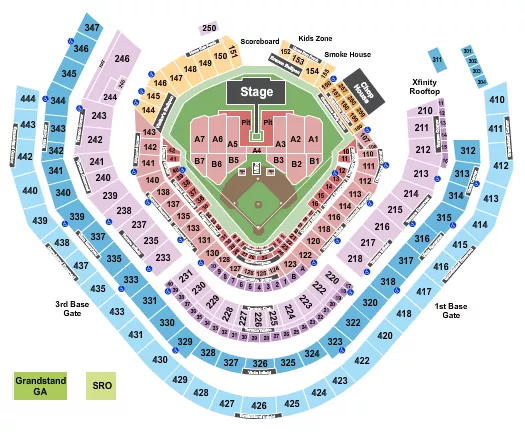 See Truist Park - Green Day 2024 events that use this seating chart configuration
Learn more about Truist Park
One of Major League Baseball's newest stadiums, Truist Park (formerly SunTrust Park) was completed in time for the 2017 season and is the home of the
Atlanta Braves
. Due to its unique design, the park has the highest density of fans nearest the field compared to any other park. This is accomplished with cantilevers supporting the upper levels, allowing them to jut out over lower rows. While the ballpark was designed for baseball, it also hosts other events including concerts—Billy Joel and Metallica were some of the first acts to perform there.
The ballpark operates several parking lots nearby, although they have been known to sell out quickly on game days. Fans who love tailgating are advised to buy passes to either the Braves North 29 lot or the Braves West 85 lot. Alternatively, the MARTA public transportation network provides access to Truist Park. The most common route is taking the Bus Route 12 from Midtown Station and connecting to the Cumberland District Circulator at the Cumberland Transfer Center.
Truist Park is in the Cumberland neighborhood about 10 miles northwest of downtown Atlanta. Several hotels are within a mile radius of the ballpark. Not many restaurants are in the surrounding area, so it's a good idea to plan to eat at the game or before heading out. The park itself offers dozens of dining options ranging from standard ballpark fare to healthy choices from the cleverly named "Field of Greens."
FAQs about Truist Park
What time do doors open at Truist Park?
Doors typically open anywhere between 90 minutes to 2 hours prior to showtime at Truist Park. Be sure to check the listing on your ticket as showtimes will vary.
Who plays at Truist Park?
The Atlanta Braves are the home team at the Truist Park.
Facts about Truist Park
Capacity:
41,149
Past Names/Nicknames:
SunTrust Park
Date/Year Built/Opened:
March 31, 2017
Event Dates and Pricing Information
| Performer | Date | Price | Tickets Available |
| --- | --- | --- | --- |
| Atlanta Braves | Apr 4, 2024 | From $9,606 | 5 |
| Atlanta Braves | Apr 5, 2024 | From $85 | 2,979 |
| Atlanta Braves | Apr 6, 2024 | From $63 | 2,871 |
| Atlanta Braves | Apr 7, 2024 | From $47 | 3,655 |
| Atlanta Braves | Apr 8, 2024 | From $35 | 3,708 |
| Atlanta Braves | Apr 9, 2024 | From $33 | 4,007 |
| Atlanta Braves | Apr 10, 2024 | From $35 | 4,272 |
| Atlanta Braves | Apr 11, 2024 | From $33 | 3,796 |
| Atlanta Braves | Apr 19, 2024 | From $57 | 3,338 |
| Atlanta Braves | Apr 20, 2024 | From $58 | 3,208 |