Petco Park Seating Charts
Petco Park - 2023 Holiday Bowl Seating Map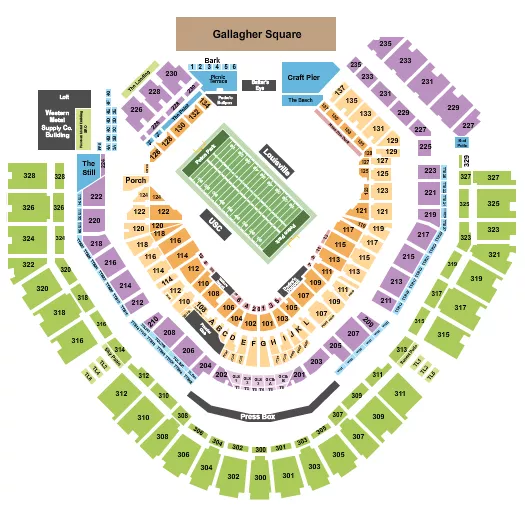 See Petco Park - 2023 Holiday Bowl events that use this seating chart configuration
Petco Park - Baseball Seating Map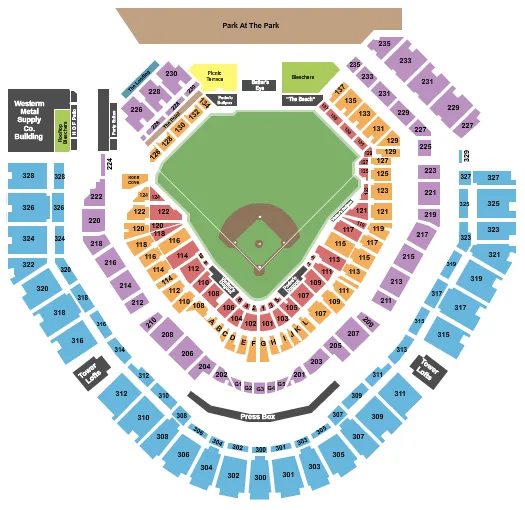 See Petco Park - Baseball events that use this seating chart configuration
Petco Park - Billy Joel Seating Map
See Petco Park - Billy Joel events that use this seating chart configuration
Petco Park - Blink 182 Seating Map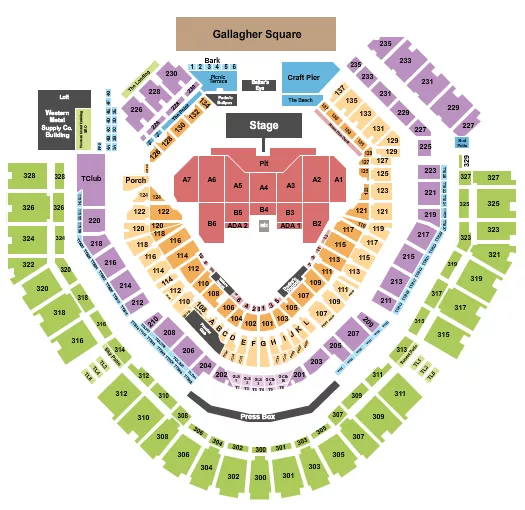 See Petco Park - Blink 182 events that use this seating chart configuration
Petco Park - Chris Stapleton Seating Map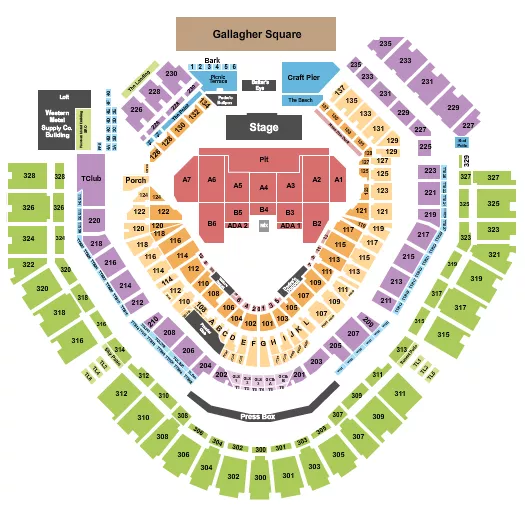 See Petco Park - Chris Stapleton events that use this seating chart configuration
Petco Park - Festival Seating Map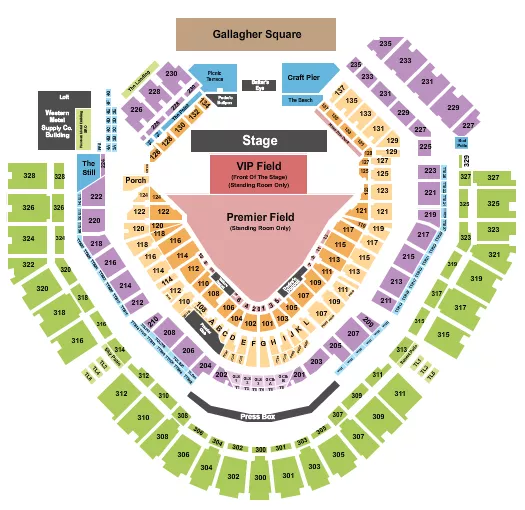 See Petco Park - Festival events that use this seating chart configuration
Petco Park - Foo Fighters Seating Map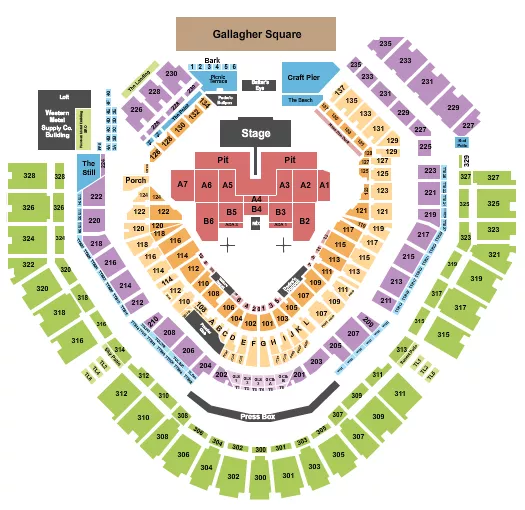 See Petco Park - Foo Fighters events that use this seating chart configuration
Petco Park - GA - VIP Seating Map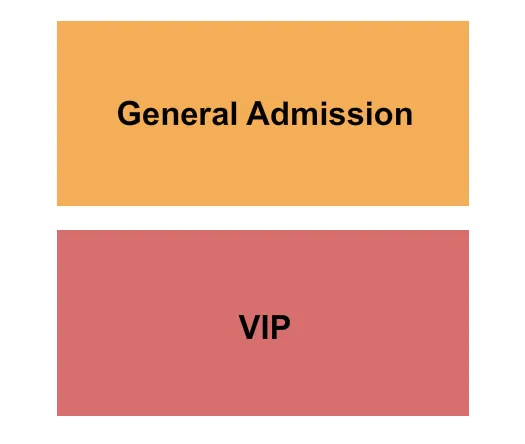 See Petco Park - GA - VIP events that use this seating chart configuration
Petco Park - General Admission Seating Map See Petco Park - General Admission events that use this seating chart configuration
Petco Park - Generic Floor Seating Map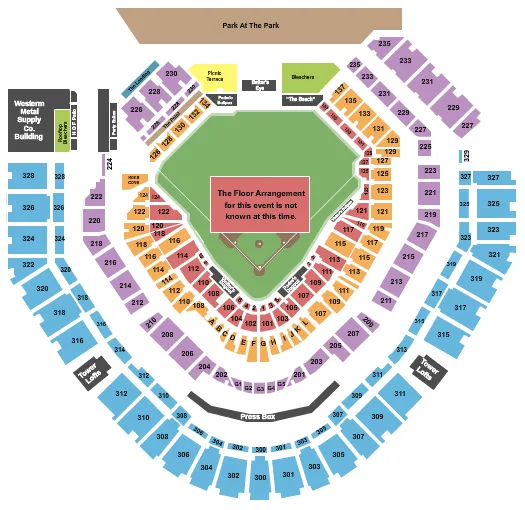 See Petco Park - Generic Floor events that use this seating chart configuration
Petco Park - Green Day 2024 Seating Map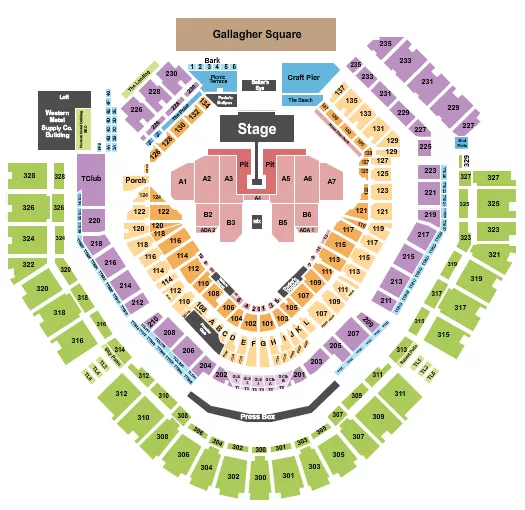 See Petco Park - Green Day 2024 events that use this seating chart configuration
Petco Park - Rodeo Seating Map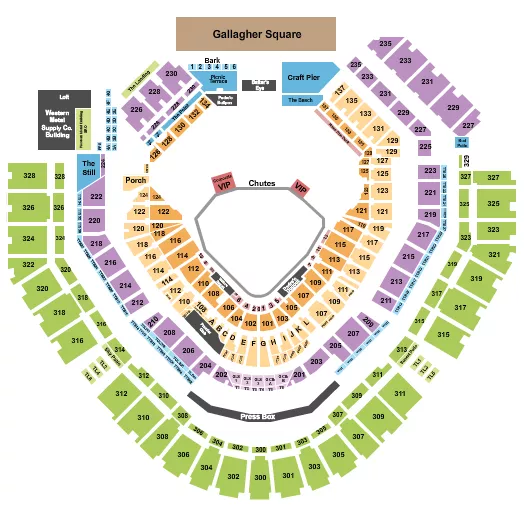 See Petco Park - Rodeo events that use this seating chart configuration
Learn more about Petco Park
Petco Park is an incredibly versatile complex—what other baseball park can claim to host golf events? Every November, the stadium partners with Callaway Golf to open a three-par nine-hole golf course on the field. Tee times typically fill up soon after they become available.
When it's not hosting golfers, Petco Park serves as the home of the MLB's
San Diego Padres
. Other competitions and events that have taken place there include college baseball, college basketball, exhibition soccer, tennis and rugby. The park has also hosted concerts, including performances by the Rolling Stones, Paul McCartney and Taylor Swift.
When Petco Park was first constructed, the city also closed off a section of K Street that borders the arena. It now serves as a public walkway where fans can find several different Padres-themed bars and shops, along with a range of great restaurants. Within the park, concession stands offering a wide variety of food and drink are scattered throughout. Many other dining options are just a short walk away in downtown San Diego.
The ballpark sits beside San Diego Bay between 7th and 10th avenues below J Street. It's easily accessible via the San Diego Trolley, which connects the park to the greater metropolitan area. Parking is available near the stadium, and the Padres encourage fans to purchase their parking permits to guarantee a spot.
Tailgating is permitted before games at Tailgate Park, where fans can drink and barbecue freely and responsibly. Items such as noisemakers, backpacks, full-sized brooms or sticks, balls and Frisbees, hard-sided containers, inflatables, selfie sticks, and outside food and alcohol are prohibited.
FAQs about Petco Park
What time do doors open at PETCO Park?
Doors typically open anywhere between 90 minutes to 2 hours prior to showtime at PETCO Park. Be sure to check the listing on your ticket as showtimes will vary.
Who plays at PETCO Park?
The San Diego Padres are the home team at the PETCO Park.
Facts about Petco Park
Capacity:
40,209
Date Opened:
April 8, 2004
Event Dates and Pricing Information
| Performer | Date | Price | Tickets Available |
| --- | --- | --- | --- |
| Holiday Bowl | Dec 27, 2023 | From $58 | 4,027 |
| Wild Horses Music Festival | Dec 30, 2023 | From $151 | 1,076 |
| FNGRS CRSSD: Proper NYE/NYD | Dec 31, 2023 | From $274 | 20 |
| San Diego Rodeo | Jan 12, 2024 | From $83 | 1,787 |
| San Diego Rodeo | Jan 13, 2024 | From $75 | 1,121 |
| San Diego Rodeo | Jan 14, 2024 | From $92 | 1,828 |
| Chris Stapleton | Mar 2, 2024 | From $150 | 2,867 |
| San Diego Padres | Mar 25, 2024 | From $71 | 16 |
| San Diego Padres | Mar 26, 2024 | From $71 | 16 |
| San Diego Padres | Mar 28, 2024 | From $201 | 653 |