Portland Veterans Memorial Coliseum Seating Charts
Portland Veterans Memorial Coliseum - Hockey Seating Map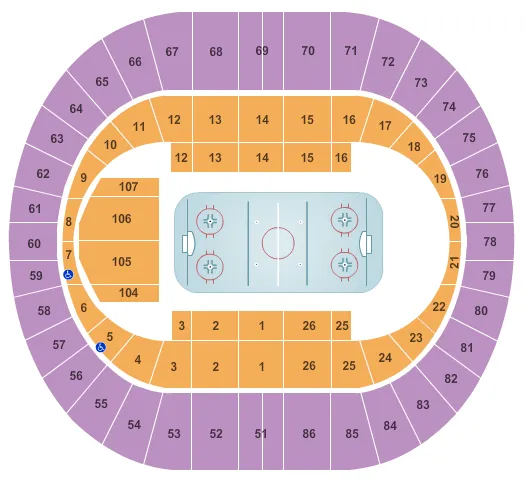 See Portland Veterans Memorial Coliseum - Hockey events that use this seating chart configuration
Buy Portland Winterhawks Tickets
The Portland Winterhawks are a junior ice hockey team based in Portland, Oregon, USA. The team is a member of the Western Hockey League (WHL). The Winterhawks were founded in 1950 and have a long and storied history in the WHL.
Over the years, the Portland Winterhawks have had many notable accomplishments. They have won three WHL championships in 1982, 1998, and 2013, and have also won the Memorial Cup, the championship trophy for all of Canadian junior hockey, in 1983 and 1998. The team has produced several NHL players, including Cam Neely, Paul Gaustad, and Joe Morrow.
The Winterhawks play their home games at the Veterans Memorial Coliseum, which has a capacity of over 12,000 fans. The arena is known for its energetic fans and intimate atmosphere, creating an exciting experience for spectators.
The Portland Winterhawks have several rivals in the WHL, including the Seattle Thunderbirds, the Everett Silvertips, and the Tri-City Americans. The rivalry with the Seattle Thunderbirds, based just a few hours north on Interstate 5, is particularly intense.
If you're a hockey fan in the Portland area or are looking for an exciting night out, attending a Portland Winterhawks game is a must. The team's impressive accomplishments on the ice combined with the passionate fans at Veterans Memorial Coliseum make for an unforgettable experience. Don't miss your chance to see the Winterhawks in action - purchase your tickets today!
FAQs about Portland Winterhawks 2023 Game Schedule And Tickets
How and where to buy Portland Winterhawks tickets?
While it may be difficult to find Portland Winterhawks tickets, Event Tickets Center has plenty of Portland Winterhawks tickets available starting from $17. Select your tickets using our interactive seating chart, and follow the steps in checkout. You'll be going to a Portland Winterhawks event in no time!
How much are Portland Winterhawks tickets?
On Event Tickets Center, Portland Winterhawks ticket prices range from $17 up to $578 over a number of different Portland Winterhawks events.
When do Portland Winterhawks tickets go on sale?
Typically, Portland Winterhawks will announce the schedule 3-6 months before the first game, and tickets go on sale within a few weeks of the schedule announcement.
Are Portland Winterhawks tickets sold out?
No. While tickets to see Portland Winterhawks may be sold out on other ticketing websites, Event Tickets Center has plenty of tickets available for you to see Portland Winterhawks live.
Are Portland Winterhawks tickets on sale?
Yes, Portland Winterhawks tickets are on sale, and you can buy them right here at Event Tickets Center.
When is the next Portland Winterhawks event?
The next Portland Winterhawks event is on December 9, 2023 at Portland Veterans Memorial Coliseum in Portland, OR. Event Tickets Center has 40 tickets available for this event.
Event Dates and Pricing Information
| Venue | Date | Price | Tickets Available |
| --- | --- | --- | --- |
| Portland Veterans Memorial Coliseum | Dec 9, 2023 | From $36 | 40 |
| Angel of the Winds Arena | Dec 10, 2023 | From $32 | 1,040 |
| Portland Veterans Memorial Coliseum | Dec 13, 2023 | From $37 | 2,867 |
| Spokane Arena | Dec 15, 2023 | From $28 | 436 |
| Portland Veterans Memorial Coliseum | Dec 16, 2023 | From $17 | 3,212 |
| Toyota Center - Kennewick | Dec 27, 2023 | From $46 | 1,738 |
| Portland Veterans Memorial Coliseum | Dec 28, 2023 | From $33 | 3,297 |
| Portland Veterans Memorial Coliseum | Dec 31, 2023 | From $40 | 3,182 |
| Portland Veterans Memorial Coliseum | Jan 5, 2024 | From $40 | 4,259 |
| Portland Veterans Memorial Coliseum | Jan 6, 2024 | From $35 | 3,415 |