Mountain Winery Tickets and Seating Charts - Saratoga, CA
Mountain Winery Seating Charts
Mountain Winery - End Stage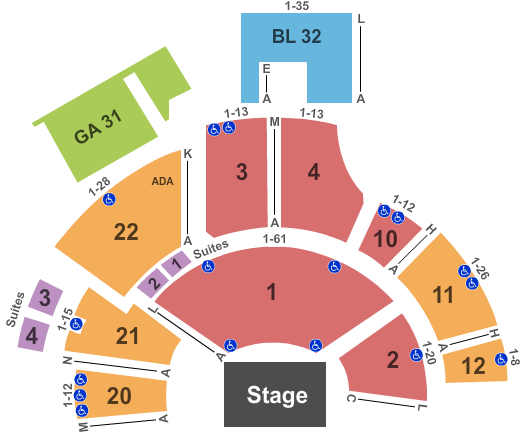 See Mountain Winery - End Stage events that use this seating chart configuration
Learn more about Mountain Winery
The Mountain Winery is located in Saratoga, California. This venue was formerly known as the Paul Masson Mountain Winery. This venue was built in 1901, and has become quite popular over the years. The many unique features of the area make the Mountain Winery one of the top destinations in the area.

Up until 1952, Mountain Winery was one of the top wine making establishments in the area. But at that time, the wine making stopped and the venue began to host concerts instead. The first concerts took place in 1958, and included performances by famous names in music such as Ray Charles, Ringo Starr, Tony Bennett, Carlos Santana, Ella Fitzgerald, and many more.

As of late, new owners took over the Mountain Winery. They planted new vineyards in 2004 with intentions of using this for the first batch of new wines to come from the Mountain Winery.

All in all, the Mountain Winery is one of the most diverse venues in the United States. This can be seen in the way that it produces wine, hosts concerts, and much more.
FAQs about Mountain Winery
Q: What time do gates open at Mountain Winery?
A: Gates typically open anywhere between 90 minutes to 2 hours prior to showtime at Mountain Winery. Be sure to check the listing on your ticket as showtimes will vary.
Q: Looking for local San Jose Amphitheater concerts?
A: Our event listing has a list of all San Jose amphitheater concerts happening at Mountain Winery. You can also check out events in neighboring cities by checking out our list of venues by state.
Q: Are VIP Packages or Accessible Seating offered at the Mountain Winery?
A: Mountain Winery VIP seating packages and accessible seating section locations may vary per event. Please click the seating chart below or contact our customer service department to discuss options for accessible seating or VIP package purchases.
Facts about Mountain Winery
Past Names/Nicknames:
Paul Masson Mountain Winery
Date/Year Built/Opened:
1901