The Cuthbert Amphitheater Tickets and Seating Charts - Eugene, OR
Cuthbert Amphitheater Seating Charts
Cuthbert Amphitheater - General Admission Seating Map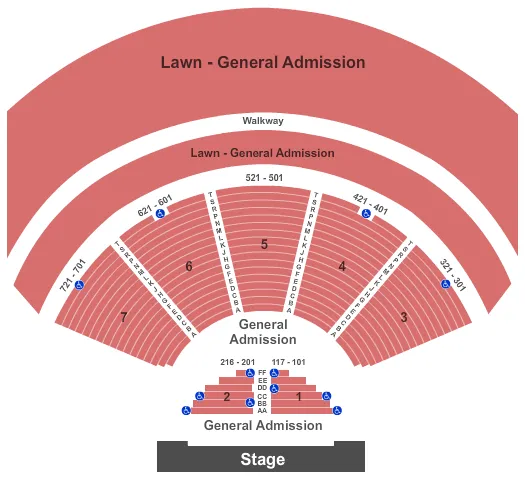 See Cuthbert Amphitheater - General Admission events that use this seating chart configuration
Learn more about Cuthbert Amphitheater
The Cuthbert Amphitheater is a renowned outdoor music venue nestled amidst the verdant scenery of Alton Baker Park in Eugene, Oregon. Known affectionately as "The Cuthbert," it offers a unique blend of natural beauty and top-notch performances, hosting an impressive range of artists that cater to diverse musical tastes.
Since its inception, The Cuthbert has seen performances by celebrated artists such as Elton John, Bob Dylan, and The Grateful Dead, highlighting its reputation as a noteworthy stage on the West Coast. With a capacity of around 5,000 spectators, the venue strikes a perfect balance between intimate shows and grand performances, fostering a memorable atmosphere for all attendees.
One notable feature of the venue is its commitment to sustainability. In addition to recycling and composting initiatives, The Cuthbert implemented a reusable cup program to further reduce waste. This thoughtful consideration to the environment heightens the overall experience, making the Cuthbert Amphitheater a beloved summer tradition in Eugene.
FAQs about Cuthbert Amphitheater
What time do gates open at The Cuthbert Amphitheater?
Gates typically open anywhere between 90 minutes to 2 hours prior to showtime at The Cuthbert Amphitheater. Be sure to check the listing on your ticket as showtimes will vary.
Looking for local Eugene Amphitheater concerts?
Our event listing has a list of all Eugene amphitheater concerts happening at The Cuthbert Amphitheater. You can also check out events in neighboring cities by checking out our list of venues by state.
Are VIP Packages or Accessible Seating offered at The Cuthbert Amphitheater?
The Cuthbert Amphitheater VIP seating packages and accessible seating section locations may vary per event. Please click the seating chart below or contact our customer service department to discuss options for accessible seating or VIP package purchases.
What is the bag policy for Cuthbert Amphitheater?
You can bring in bags but they have to be clear bags only that are no larger than 14" x 18" x 6". All bags are subject to inspection.
Is there a rideshare location at Cuthbert Amphitheater?
Yes, Uber / Lyft uses the parking area at Eugene Science Center.
Can you bring your own chair to Cuthbert Amphitheater?
Yes, chairs must be no taller than 8" and chair backs no higher than 32" off the ground.
How is parking at Cuthbert Amphitheater?
Parking free and included in ticket price. Parking is available on the South side, in the grass off of Day Island Road and on both the North side of the venue, in the Science Factory parking lot.
Can I bring my own food and drink into Cuthbert Amphitheater?
No, there is no outside food or beverages allowed at Cuthbert Amphitheater.
Facts about Cuthbert Amphitheater
Capacity:
5,000
Year Opened:
1983
Event Dates and Pricing Information
| Performer | Date | Price | Tickets Available |
| --- | --- | --- | --- |
| Deadbeats | Oct 7, 2023 | From $104 | 18 |