DCU Center Seating Charts
DCU Center - Hockey Seating Map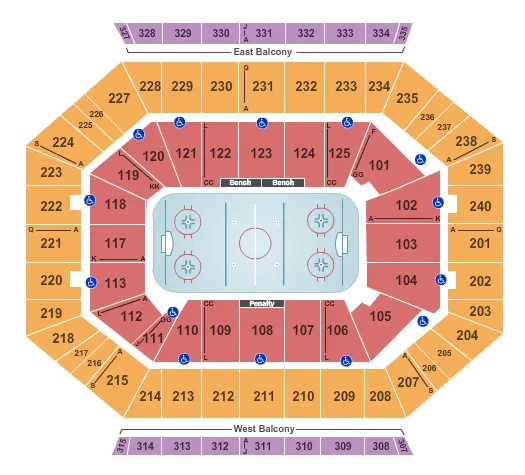 See DCU Center - Hockey events that use this seating chart configuration
Buy Worcester Railers Tickets
The Worcester Railers are a minor league ice hockey team based in Worcester, Massachusetts. The team was founded in 2017 and is a member of the ECHL, playing in the Eastern Conference's North Division.
The Railers play their home games at the DCU Center, a multi-purpose arena in downtown Worcester with a seating capacity of over 12,000. The team's colors are steel blue, grey, and white.
While the Railers are a relatively new team, they have already established several rivalries within the ECHL. Their most notable rival is the Adirondack Thunder, who are also located in the North Division. The Railers have also developed a rivalry with the Reading Royals.
In their first season, the Railers finished fourth in the North Division and lost in the first round of the playoffs. The Railers have yet to win a playoff series, but they are a team on the rise and have shown promising signs of progress in their young history.
Fans of the Railers can expect an exciting brand of hockey when they attend a game at the DCU Center. With a talented roster and a passionate fan base, the Railers are poised for future success in the ECHL. Don't miss your chance to see them in action – purchase your Worcester Railers tickets today!
FAQs about Worcester Railers 2023 Game Schedule And Tickets
How and where to buy Worcester Railers tickets?
While it may be difficult to find Worcester Railers tickets, Event Tickets Center has plenty of Worcester Railers tickets available starting from $15. Select your tickets using our interactive seating chart, and follow the steps in checkout. You'll be going to a Worcester Railers event in no time!
How much are Worcester Railers tickets?
On Event Tickets Center, Worcester Railers ticket prices range from $15 up to $1,177 over a number of different Worcester Railers events.
When do Worcester Railers tickets go on sale?
Typically, Worcester Railers will announce the schedule 3-6 months before the first game, and tickets go on sale within a few weeks of the schedule announcement.
Are Worcester Railers tickets sold out?
No. While tickets to see Worcester Railers may be sold out on other ticketing websites, Event Tickets Center has plenty of tickets available for you to see Worcester Railers live.
Are Worcester Railers tickets on sale?
Yes, Worcester Railers tickets are on sale, and you can buy them right here at Event Tickets Center.
When is the next Worcester Railers event?
The next Worcester Railers event is on December 1, 2023 at DCU Center in Worcester, MA. Event Tickets Center has 1,517 tickets available for this event.
Event Dates and Pricing Information
| Venue | Date | Price | Tickets Available |
| --- | --- | --- | --- |
| DCU Center | Dec 1, 2023 | From $19 | 1,517 |
| DCU Center | Dec 2, 2023 | From $19 | 1,920 |
| DCU Center | Dec 8, 2023 | From $19 | 2,830 |
| DCU Center | Dec 9, 2023 | From $16 | 2,103 |
| Santander Arena | Dec 15, 2023 | From $15 | 2,255 |
| Cool Insuring Arena | Dec 16, 2023 | From $17 | 289 |
| DCU Center | Dec 22, 2023 | From $29 | 2,332 |
| DCU Center | Dec 23, 2023 | From $29 | 2,431 |
| DCU Center | Dec 27, 2023 | From $21 | 2,610 |
| Santander Arena | Dec 29, 2023 | From $15 | 2,207 |