Whisky A Go Go Seating Charts
Whisky A Go Go - GA/Booth/Barstool 2 Seating Map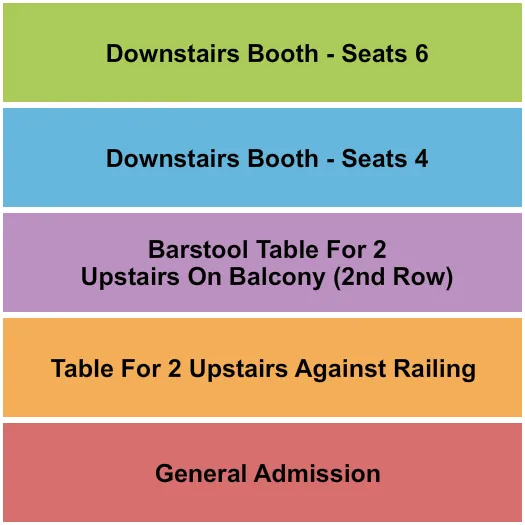 See Whisky A Go Go - GA/Booth/Barstool 2 events that use this seating chart configuration
Whisky A Go Go - GA/Booth/Barstool 3 Seating Map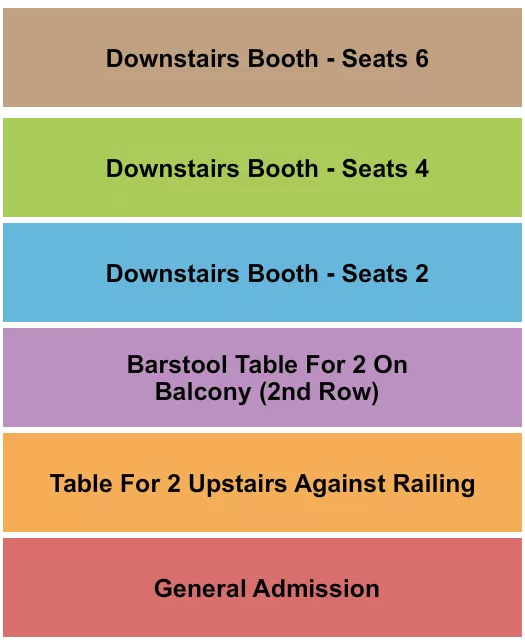 See Whisky A Go Go - GA/Booth/Barstool 3 events that use this seating chart configuration
Whisky A Go Go - General Admission Seating Map See Whisky A Go Go - General Admission events that use this seating chart configuration
Learn more about Whisky A Go Go
The Whisky A Go Go is a legendary nightclub in West Hollywood California known for its performance space and nightlife. First opened in 1964 the venue quickly became a favorite of seminal rock artists such as Jim Morrison and Frank Zappa, and later played host to up-and-coming grunge acts like Nirvana during their early days of fame. It was also the first venue to feature go-go dancers in its shows, setting the stage for dancing at music venues all around the world. Today, The Whisky A Go Go continues to stand as one of the most renowned event venues in Los Angeles and a symbol of historic musical culture. West Hollywood is an exciting city located in Los Angeles County. Known for its vibrant culture and lively nightlife, it offers plenty to explore – from art galleries and eclectic restaurants to unique shops, chic boutiques, and spacious parks for nature lovers. Popular landmarks - such as the historic Sunset Strip nightlife district and famous theater venues, are also situated here. Plus, the Academy Museum of Motion Pictures and Petersen Automotive Museum are available for those seeking a bit of cultural exploration. With a history as rich and well-established as the one the Whisky A Go Go has this venue is an absolute must-see for anyone who has even a passing interest in music. You never know what talent and amazing memories will be created when you're here! So if you're ever in West Hollywood, take some time to check out this iconic destination - you certainly won't regret it.
FAQs about Whisky A Go Go
Is parking available at Whisky A Go Go?
There is a valet lot located directly behind us, with the entrance located through the alley on Clark Street and a fair amount of metered street parking.
Is there seating available at Whisky A Go Go?
On our second floor, we have limited table seating available on a first come, first served basis. On the concert floor, we have 5 VIP booths available that require minimums spent at our bar and grill, also on a first come, first served basis.
Facts about Whisky A Go Go
Event Dates and Pricing Information
| Performer | Date | Price | Tickets Available |
| --- | --- | --- | --- |
| Fast Times | Dec 4, 2023 | From $29 | 14 |
| Burning Witches | Dec 6, 2023 | From $37 | 31 |
| Adema | Dec 7, 2023 | From $35 | 37 |
| Quiet Riot | Dec 8, 2023 | From $60 | 24 |
| Led Zepagain - Led Zeppelin Tribute | Dec 9, 2023 | From $37 | 19 |
| Bad Wolves | Dec 11, 2023 | From $53 | 27 |
| Fast Times | Dec 11, 2023 | From $30 | 18 |
| Midnight Wonderland | Dec 12, 2023 | From $54 | 20 |
| Kool Keith | Dec 13, 2023 | From $32 | 34 |
| Kings of Thrash | Dec 14, 2023 | From $50 | 28 |