ONEOK Field Seating Charts
ONEOK Field - Baseball Seating Map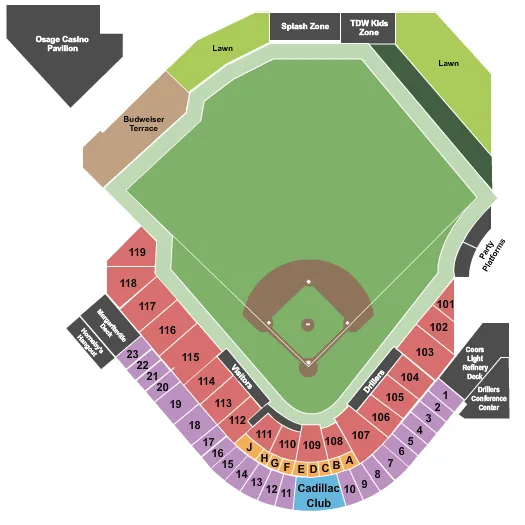 See ONEOK Field - Baseball events that use this seating chart configuration
Tulsa Drillers: A Baseball Legacy in the Heart of Oklahoma
Nestled in the heart of Oklahoma, the Tulsa Drillers have become a beloved institution in the world of Minor League Baseball (MiLB). With a rich history, a passionate fan base, and a beautiful stadium, the Drillers continue to captivate both locals and visitors alike.
The Drillers' journey began back in 1977 when they joined the Texas League as an affiliate of the Texas Rangers. Over the years, the franchise went through several name changes before settling on the Tulsa Drillers in 1982. Since then, they have served as the Double-A affiliate of the Los Angeles Dodgers.
ONEOK Field stands as a testament to Tulsa's commitment to providing an outstanding baseball experience. This state-of-the-art stadium, which opened its gates in 2010, boasts a seating capacity of over 7,800 fans and offers breathtaking views of the downtown skyline. Its modern amenities, including luxury suites and a family entertainment area, make it the perfect destination for fans of all ages.
The Tulsa Drillers have had their fair share of playoff triumphs. Their most memorable moment came in 2018 when they clinched the Texas League Championship, securing their first title in 20 years. It was a testament to the team's determination and the unwavering support of their dedicated fan base.
Over the years, the Drillers have cultivated intense rivalries within the Texas League. One of their fiercest foes is the Northwest Arkansas Naturals. Whenever these two teams clash on the field, fans can expect an electrifying atmosphere and high-stakes baseball.
If you're a baseball enthusiast or simply looking for a fun-filled outing with friends and family, don't miss the chance to catch the Tulsa Drillers in action. Grab your tickets now and witness the next chapter in their storied legacy. Join the sea of blue and cheer on your favorite players as they chase victory under the bright lights of ONEOK Field.
FAQs about Tulsa Drillers 2023 Game Schedule And Tickets
How and where to buy Tulsa Drillers tickets?
While it may be difficult to find Tulsa Drillers tickets, Event Tickets Center has plenty of Tulsa Drillers tickets available starting from $33. Select your tickets using our interactive seating chart, and follow the steps in checkout. You'll be going to a Tulsa Drillers event in no time!
How much are Tulsa Drillers tickets?
On Event Tickets Center, Tulsa Drillers ticket prices range from $33 up to $101 over a number of different Tulsa Drillers events.
When do Tulsa Drillers tickets go on sale?
Typically, Tulsa Drillers will announce the schedule 3-6 months before the first game, and tickets go on sale within a few weeks of the schedule announcement.
Are Tulsa Drillers tickets sold out?
No. While tickets to see Tulsa Drillers may be sold out on other ticketing websites, Event Tickets Center has plenty of tickets available for you to see Tulsa Drillers live.
Are Tulsa Drillers tickets on sale?
Yes, Tulsa Drillers tickets are on sale, and you can buy them right here at Event Tickets Center.
When is the next Tulsa Drillers event?
The next Tulsa Drillers event is on April 5, 2024 at Arvest Ballpark in Springdale, AR. Event Tickets Center has 52 tickets available for this event.
Event Dates and Pricing Information
| Venue | Date | Price | Tickets Available |
| --- | --- | --- | --- |
| Arvest Ballpark | Apr 5, 2024 | From $33 | 52 |
| Arvest Ballpark | Apr 6, 2024 | From $33 | 52 |
| Arvest Ballpark | Apr 7, 2024 | From $33 | 52 |
| ONEOK Field | Apr 9, 2024 | From $74 | 20 |
| ONEOK Field | Apr 10, 2024 | From $52 | 20 |
| ONEOK Field | Apr 11, 2024 | From $52 | 20 |
| ONEOK Field | Apr 12, 2024 | From $52 | 20 |
| ONEOK Field | Apr 13, 2024 | From $52 | 20 |
| ONEOK Field | Apr 14, 2024 | From $52 | 20 |
| Riverfront Stadium - KS | Apr 16, 2024 | From $50 | 28 |