Thunder Bay Community Auditorium Seating Charts
Thunder Bay Community Auditorium - End Stage Seating Map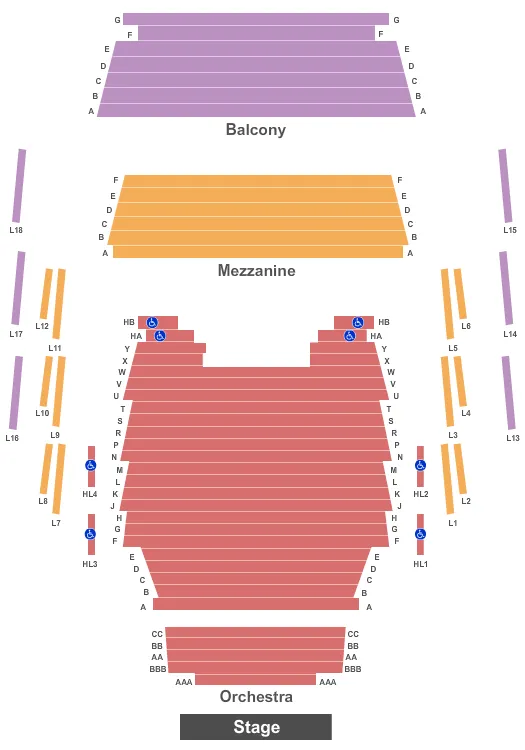 See Thunder Bay Community Auditorium - End Stage events that use this seating chart configuration
Learn more about Thunder Bay Community Auditorium
The Thunder Bay Community Auditorium is a must-visit performance arts center located in Ontario's beautiful Thunder Bay. Boasting 1,511 seats, the theater showcases big-name performers and more throughout the year. It has been an integral part of the city's culture since its opening in 1976, and with a seating capacity of 3,500, welcomes thousands of guests every year. The auditorium's proximity to Algonquin Park also enables it to host breathtaking outdoor activities in one of Ontario's most beautiful landscapes, making it one of Canada's top theater venues.

Thunder Bay is a great place to be and offers a lot to see and do. Nature lovers can explore Sleeping Giant Provincial Park, with its observation tower providing stunning views over the city and Lake Superior. There are also a variety of wineries and craft breweries located in the area, and history buffs can take trips along the Waterfront Trail or tour Fort William Historical Park - home to Canada's largest reconstructed fur trading center. Events in Thunder Bay come in all shapes, sizes, and genres, so no matter what type you're into, there's something for you, according to Budget & Travel magazine.

No matter what kind of event you're looking to attend, the Thunder Bay Community Auditorium has something for everyone. With its state-of-the-art features and more than 150,000 visitors annually, this performing arts center is a must-see when in Thunder Bay. Make sure you check out all that this incredible venue has to offer – you won't be disappointed.
Event Dates and Pricing Information
| Performer | Date | Price | Tickets Available |
| --- | --- | --- | --- |
| Bluey's Big Play | Dec 8, 2023 | From $53 | 159 |
| Bluey's Big Play | Dec 9, 2023 | From $40 | 183 |
| Bluey's Big Play | Dec 9, 2023 | From $55 | 142 |
| Bluey's Big Play | Dec 10, 2023 | From $55 | 365 |
| Bluey's Big Play | Dec 10, 2023 | From $54 | 317 |
| Serena Ryder | Dec 11, 2023 | From $83 | 101 |
| Thunder Bay Symphony Orchestra | Dec 16, 2023 | From $72 | 128 |
| Thunder Bay Symphony Orchestra | Jan 20, 2024 | From $73 | 110 |
| The Sheepdogs | Jan 21, 2024 | From $73 | 126 |
| Banff Mountain Film Festival | Jan 28, 2024 | From $37 | 105 |