Mishawaka Amphitheatre Tickets and Seating Charts - Bellvue, CO
Mishawaka Amphitheatre Seating Charts
Mishawaka Amphitheatre - GA & VIP Deck 2 Seating Map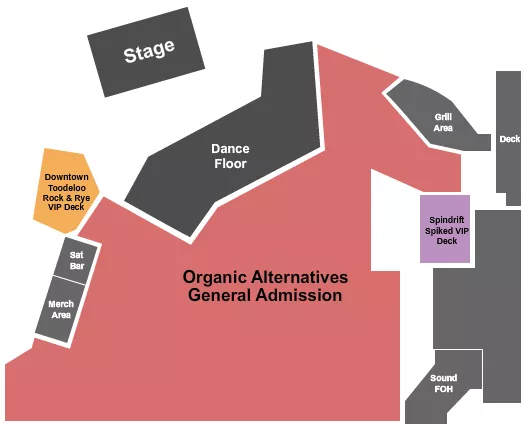 See Mishawaka Amphitheatre - GA & VIP Deck 2 events that use this seating chart configuration
Learn more about Mishawaka Amphitheatre
The Mishawaka Amphitheater is a one-of-a-kind outdoor concert venue in the small Colorado town of Bellevue. Its long and exciting history has seen various performances, from well-known to relatively unknown acts in music, comedy, and more, over the past 100 years. Surrounded by incredible views of Colorado's majestic landscape, the venue provides a fantastic setting for guests to enjoy events such as music concerts, comedy shows, and more. Bellvue is the perfect stop for an unforgettable adventure! Home to several fascinating shops and great restaurants, visitors can indulge in retail therapy and tantalize their taste buds. Nature lovers can immerse themselves in the area's magnificent views, peaceful trails, and diverse wildlife opportunities. At the same time, adventure seekers can discover unique historic places and activities ranging from camping grounds and fishing flecks tucked away in photographs and scenes around lakes. Water park getaways, mountain biking on gorgeous trails winding through lush vegetation, and leisurely horse rides along babbling streams. The Mishawaka Amphitheatre is a must-see for anyone looking for a fantastic show or night out under the stars. With its breathtaking amphitheater setting, it is treasured by both locals and tourists for providing unparalleled views of Poudre Canyon and an unforgettable night under star-studded skies. So if you're near Bellvue, check out this remarkable venue for yourself - it's sure to leave you with memories that will last for a lifetime!
FAQs about Mishawaka Amphitheatre
Where is the Mishawaka Amphitheatre?
Mishawaka Amphitheatre is located next to the Poudre River in Bellvue, CO about 40min from Fort Collins. Opened in 1919 this 1000 person amphitheatre has attracted some of the greatest talent in country.
What forms of payment are accepted at Mishawaka Amphitheatre?
The Mish is an entirely cashless venue. The Mish Only accepts credit and debit cards ONLY. Mobile payments are not accepted.
How is parking at Mishawaka Amphitheatre?
Mishawaka Amphitheatre has on-site parking for $45 per car.
Does Mishawaka Amphitheatre have chairs?
Mishawaka Amphitheatre is a standing room only venue. Chairs are allowed but the venue asks that if you have a chair to use it in the very back of the venue. Blankets are not allowed.
Can I bring food or beverage inside Mishawaka Amphitheatre?
the Mishawaka Amphitheatre does not allow outside food or beverages.
Event Dates and Pricing Information