Coca-Cola Park - PA Seating Charts
Coca-Cola Park - PA - Baseball Seating Map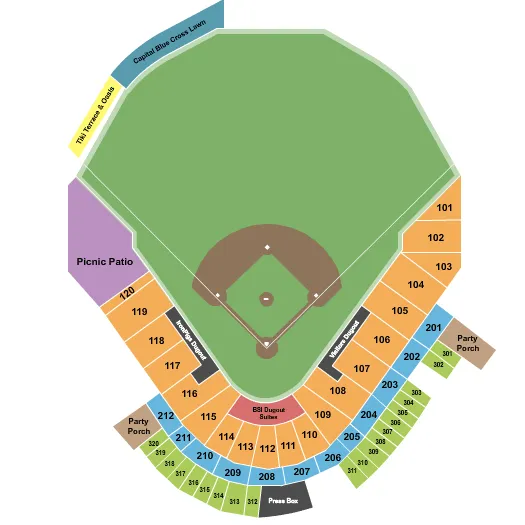 See Coca-Cola Park - PA - Baseball events that use this seating chart configuration
The Lehigh Valley IronPigs are a vibrant fixture in the world of Minor League Baseball. As a member of the Triple-A East, they serve as the top affiliate of the Philadelphia Phillies. The franchise was established in 2008 in Allentown, Pennsylvania, and has since then made an indelible mark on the sports scene.
The IronPigs call the Coca-Cola Park their home. This state-of-the-art facility boasts a seating capacity of over 10,000, offering an intimate and exciting atmosphere for fans. The park's design incorporates a wide range of amenities and unique features, enhancing the overall spectator experience.
In terms of league history, the IronPigs have shown resilience and determination. The team has made multiple appearances in the International League playoffs, notably reaching the championship series in 2011. These performances have solidified the IronPigs as a competitive force within the Minor League Baseball.
A key rivalry has emerged over the years with the Scranton/Wilkes-Barre RailRiders, the top affiliate of the New York Yankees. Games between these two teams are marked by high intensity and competitiveness, drawing large crowds and contributing to the vibrant atmosphere at Coca-Cola Park.
The Lehigh Valley IronPigs have demonstrated a commitment to excellence, both on and off the field. They continue to invest in player development, leading to a rich history of players advancing to the Major League Baseball. This commitment to nurturing talent and promoting competitive spirit makes them a team to watch in the coming seasons.
Experience the thrill of minor league baseball firsthand by attending a Lehigh Valley IronPigs game. The electrifying energy, the competitive play, and the charm of Coca-Cola Park combine to create an unforgettable sports experience. Don't miss out on this opportunity. Purchase your tickets today and come cheer on the IronPigs as they chase their next championship!
FAQs about Lehigh Valley IronPigs 2023 Game Schedule And Tickets
How and where to buy Lehigh Valley IronPigs tickets?
While it may be difficult to find Lehigh Valley IronPigs tickets, Event Tickets Center has plenty of Lehigh Valley IronPigs tickets available starting from $20. Select your tickets using our interactive seating chart, and follow the steps in checkout. You'll be going to a Lehigh Valley IronPigs event in no time!
How much are Lehigh Valley IronPigs tickets?
On Event Tickets Center, Lehigh Valley IronPigs ticket prices range from $20 up to $94 over a number of different Lehigh Valley IronPigs events.
When do Lehigh Valley IronPigs tickets go on sale?
Typically, Lehigh Valley IronPigs will announce the schedule 3-6 months before the first game, and tickets go on sale within a few weeks of the schedule announcement.
Are Lehigh Valley IronPigs tickets sold out?
No. While tickets to see Lehigh Valley IronPigs may be sold out on other ticketing websites, Event Tickets Center has plenty of tickets available for you to see Lehigh Valley IronPigs live.
Are Lehigh Valley IronPigs tickets on sale?
Yes, Lehigh Valley IronPigs tickets are on sale, and you can buy them right here at Event Tickets Center.
When is the next Lehigh Valley IronPigs event?
The next Lehigh Valley IronPigs event is on March 29, 2024 at Coca-Cola Park - PA in Allentown, PA. Event Tickets Center has 22 tickets available for this event.
Event Dates and Pricing Information
| Venue | Date | Price | Tickets Available |
| --- | --- | --- | --- |
| Coca-Cola Park - PA | Mar 29, 2024 | From $29 | 22 |
| Coca-Cola Park - PA | Mar 30, 2024 | From $29 | 22 |
| Coca-Cola Park - PA | Mar 31, 2024 | From $29 | 22 |
| Innovative Field | Apr 2, 2024 | From $32 | 40 |
| Innovative Field | Apr 3, 2024 | From $20 | 40 |
| Innovative Field | Apr 4, 2024 | From $20 | 40 |
| Innovative Field | Apr 5, 2024 | From $32 | 40 |
| Innovative Field | Apr 6, 2024 | From $32 | 40 |
| Innovative Field | Apr 7, 2024 | From $20 | 40 |
| Coca-Cola Park - PA | Apr 9, 2024 | From $29 | 22 |