Las Vegas Ballpark Seating Charts
Las Vegas Ballpark - Baseball-2 Seating Map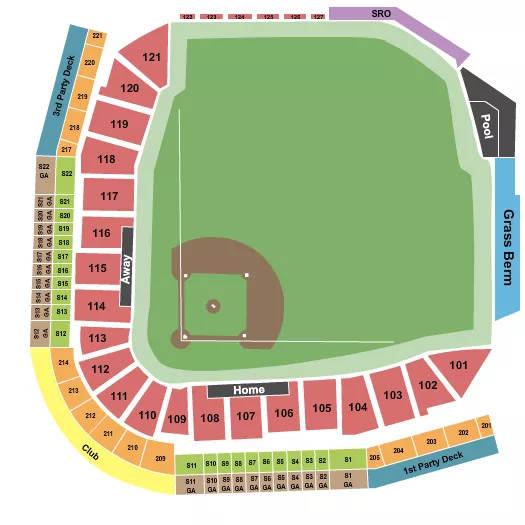 See Las Vegas Ballpark - Baseball-2 events that use this seating chart configuration
The Las Vegas Aviators, a beloved franchise in the world of Minor League Baseball, bring the spirit of America's favorite pastime to the vibrant city of Las Vegas, Nevada. With a rich history and a strong presence in the sport, the Aviators have captured the hearts of fans and created unforgettable moments on the field.
Nestled in the heart of Las Vegas, the Aviators call the Las Vegas Ballpark their home. This state-of-the-art facility provides a first-class experience for both players and spectators. With a seating capacity of over 10,000, fans can immerse themselves in the electric atmosphere and witness the excitement of the game up close.
The Aviators compete in the Pacific Coast League, a league with a storied history of competitive baseball and fierce rivalries. One of the team's most notable rivals is the Albuquerque Isotopes. Whenever these two teams meet, the atmosphere is charged with anticipation, as both teams strive to secure victory and bragging rights.
Throughout their franchise history, the Aviators have showcased their talent and dedication on the field. They have participated in multiple playoffs and have tasted championship glory. In 1986, under their previous name, the Las Vegas Stars, they captured the Pacific Coast League Championship. The team's success on the field reflects their commitment to excellence and their relentless pursuit of victory.
Attending an Aviators game is an experience like no other. The combination of thrilling baseball action, passionate fans, and the vibrant atmosphere of Las Vegas creates an unforgettable outing for all who attend. Whether you're a die-hard baseball enthusiast or a casual fan looking for a fun night out, the Aviators offer something for everyone.
Don't miss out on the opportunity to be part of the excitement. Grab your tickets today and witness the Las Vegas Aviators in action. Experience the thrill of the game, join the community of passionate fans, and create lasting memories. The Aviators are ready to deliver an unforgettable baseball experience, and they can't wait to see you at the Las Vegas Ballpark!
FAQs about Las Vegas Aviators 2023 Game Schedule And Tickets
How and where to buy Las Vegas Aviators tickets?
While it may be difficult to find Las Vegas Aviators tickets, Event Tickets Center has plenty of Las Vegas Aviators tickets available starting from $17. Select your tickets using our interactive seating chart, and follow the steps in checkout. You'll be going to a Las Vegas Aviators event in no time!
How much are Las Vegas Aviators tickets?
On Event Tickets Center, Las Vegas Aviators ticket prices range from $17 up to $131 over a number of different Las Vegas Aviators events.
When do Las Vegas Aviators tickets go on sale?
Typically, Las Vegas Aviators will announce the schedule 3-6 months before the first game, and tickets go on sale within a few weeks of the schedule announcement.
Are Las Vegas Aviators tickets sold out?
No. While tickets to see Las Vegas Aviators may be sold out on other ticketing websites, Event Tickets Center has plenty of tickets available for you to see Las Vegas Aviators live.
Are Las Vegas Aviators tickets on sale?
Yes, Las Vegas Aviators tickets are on sale, and you can buy them right here at Event Tickets Center.
When is the next Las Vegas Aviators event?
The next Las Vegas Aviators event is on March 29, 2024 at Las Vegas Ballpark in Las Vegas, NV. Event Tickets Center has 48 tickets available for this event.
Event Dates and Pricing Information
| Venue | Date | Price | Tickets Available |
| --- | --- | --- | --- |
| Las Vegas Ballpark | Mar 29, 2024 | From $43 | 48 |
| Las Vegas Ballpark | Mar 30, 2024 | From $43 | 60 |
| Las Vegas Ballpark | Mar 31, 2024 | From $43 | 56 |
| Constellation Field | Apr 2, 2024 | From $20 | 118 |
| Constellation Field | Apr 3, 2024 | From $17 | 120 |
| Constellation Field | Apr 4, 2024 | From $17 | 117 |
| Constellation Field | Apr 5, 2024 | From $20 | 117 |
| Constellation Field | Apr 6, 2024 | From $20 | 117 |
| Constellation Field | Apr 7, 2024 | From $20 | 117 |
| Las Vegas Ballpark | Apr 9, 2024 | From $43 | 60 |