121 Financial Ballpark Seating Charts
121 Financial Ballpark - Baseball Seating Map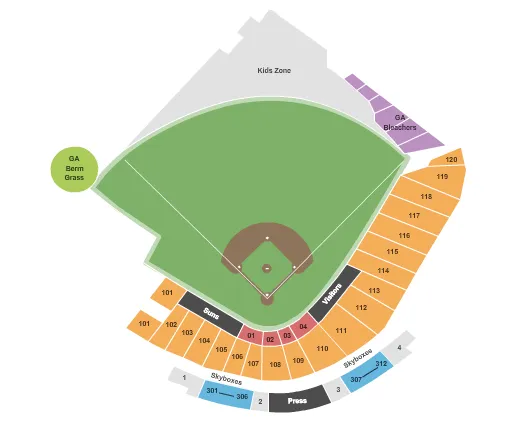 See 121 Financial Ballpark - Baseball events that use this seating chart configuration
The Jacksonville Jumbo Shrimp
The Jacksonville Jumbo Shrimp, a cornerstone of the Minor League Baseball in Florida, has a history that goes back over half a century. Originally established as the Jacksonville Suns in 1962, the team has made a lasting impact on the baseball scene, both in Jacksonville and beyond.
Renamed as the Jumbo Shrimp in 2017, the franchise stirred up an exciting wave of renewed energy and spirit. The name represents Jacksonville's robust seafood industry and the fun, family-friendly atmosphere of minor league baseball. Despite initial controversy over the name change, it has since become a beloved part of Jacksonville's sports culture.
The team plays home games at the 121 Financial Ballpark, a beautiful facility located in downtown Jacksonville, accommodating over 11,000 fans. The stadium is known for its unique baseball experience, with excellent sightlines, up-close action, and a wide array of delicious local food options.
Over the years, the Jumbo Shrimp has had its share of ups and downs on the field. Their playoff history is highlighted by Southern League championships in 1996, 2001, 2005, 2009, and 2010, under the former moniker, the Suns. These successes underscore the team's resilience and commitment to excellence.
The Jumbo Shrimp have developed some notable rivalries, with the most intense being against the Pensacola Blue Wahoos. Games between these two teams are marked by high competition and thrilling moments, making them a must-see event for fans.
It's not just about the present for the Jumbo Shrimp. The team has a rich legacy of alumni who have gone on to successful Major League careers. This list includes hall-of-famers like Nolan Ryan and Tom Seaver, who played for the Suns early in their careers. The team continues to produce high-level talent, demonstrating its commitment to player development.
From its inception as the Suns to its evolution into the Jumbo Shrimp, this franchise has woven a rich tapestry of baseball history. With its engaging games, fantastic stadium, and dedicated fans, the Jacksonville Jumbo Shrimp is more than just a minor league team - it's a community institution that brings people together through the love of baseball.
FAQs about Jacksonville Jumbo Shrimp 2023 Game Schedule And Tickets
How and where to buy Jacksonville Jumbo Shrimp tickets?
While it may be difficult to find Jacksonville Jumbo Shrimp tickets, Event Tickets Center has plenty of Jacksonville Jumbo Shrimp tickets available starting from $17. Select your tickets using our interactive seating chart, and follow the steps in checkout. You'll be going to a Jacksonville Jumbo Shrimp event in no time!
How much are Jacksonville Jumbo Shrimp tickets?
On Event Tickets Center, Jacksonville Jumbo Shrimp ticket prices range from $17 up to $135 over a number of different Jacksonville Jumbo Shrimp events.
When do Jacksonville Jumbo Shrimp tickets go on sale?
Typically, Jacksonville Jumbo Shrimp will announce the schedule 3-6 months before the first game, and tickets go on sale within a few weeks of the schedule announcement.
Are Jacksonville Jumbo Shrimp tickets sold out?
No. While tickets to see Jacksonville Jumbo Shrimp may be sold out on other ticketing websites, Event Tickets Center has plenty of tickets available for you to see Jacksonville Jumbo Shrimp live.
Are Jacksonville Jumbo Shrimp tickets on sale?
Yes, Jacksonville Jumbo Shrimp tickets are on sale, and you can buy them right here at Event Tickets Center.
When is the next Jacksonville Jumbo Shrimp event?
The next Jacksonville Jumbo Shrimp event is on March 29, 2024 at 121 Financial Ballpark in Jacksonville, FL. Event Tickets Center has 66 tickets available for this event.
Event Dates and Pricing Information
| Venue | Date | Price | Tickets Available |
| --- | --- | --- | --- |
| 121 Financial Ballpark | Mar 29, 2024 | From $25 | 66 |
| 121 Financial Ballpark | Mar 30, 2024 | From $25 | 68 |
| 121 Financial Ballpark | Mar 31, 2024 | From $22 | 72 |
| Durham Bulls Athletic Park | Apr 2, 2024 | From $38 | 34 |
| Durham Bulls Athletic Park | Apr 3, 2024 | From $38 | 34 |
| Durham Bulls Athletic Park | Apr 4, 2024 | From $38 | 34 |
| Durham Bulls Athletic Park | Apr 5, 2024 | From $38 | 34 |
| Durham Bulls Athletic Park | Apr 6, 2024 | From $38 | 34 |
| Durham Bulls Athletic Park | Apr 7, 2024 | From $38 | 34 |
| 121 Financial Ballpark | Apr 9, 2024 | From $17 | 70 |