Fiddlers Green Amphitheatre Tickets and Seating Charts - Englewood, CO
Fiddlers Green Amphitheatre Seating Charts
Fiddlers Green Amphitheatre - End Stage Seating Map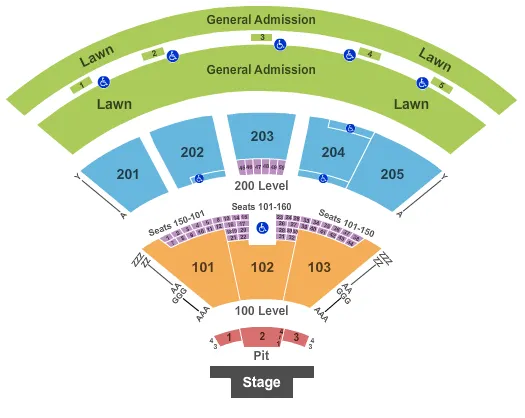 See Fiddlers Green Amphitheatre - End Stage events that use this seating chart configuration
Fiddlers Green Amphitheatre - Endstage GA Pit Seating Map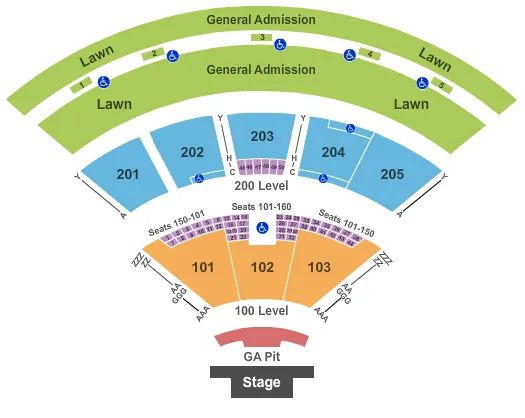 See Fiddlers Green Amphitheatre - Endstage GA Pit events that use this seating chart configuration
Learn more about Fiddlers Green Amphitheatre
Surrounded by office buildings in Greenwood Plaza,
Englewood
, Fiddler's Green Amphitheatre is the largest outdoor amphitheater in the Denver metropolitan area with a seating capacity of 17,000. It was originally built to host community festivals and symphonic music, and was designed as a large-scale earth sculpture alongside rolling grassy slopes, with views of the Rocky Mountains. The venue boasts a state-of the-art sound and lighting system, making each concert and event a fantastic musical experience.
The venue is accessible via light rail and is served by several bus routes. There are a number of hotels just minutes away from the venue to suit anyone's budget. Visitors may bring in a small umbrella, bags, jackets, seat cushions, and one factory sealed water bottle (24-ounce or less). Camera policies are different for every event, so contact the venue on the day of the show. Video and recording equipment are prohibited.
Because it is just 30 minutes from
Denver
, you can also enjoy visiting the sights and attractions of the city such as museums, historic attractions, monuments, and parks. Event Tickets Center offers a wide selection of Fiddler's Green Amphitheatre tickets to choose from.
Fiddler's Green Amphitheatre Seating Information
Fiddler's Green Amphitheatre features diverse seating options for an enjoyable event experience. Please note that all seating areas are uncovered, so dressing appropriately for the weather is advisable.
Reserved Seating
The reserved seating area is organized into two tiers. Sections 101-103 comprise the first tier, while the second tier encompasses sections 201-205. Positioned in front of the stage, these sections provide an unobstructed view of the performers. The seats, offering comfort and ample legroom, ensure a satisfying experience.
Pit Seating
The pit seating area is the closest option for those seeking proximity to the stage. Divided into three sections—Pit 1, Pit 2, and Pit 3—Pit 2, centrally located, typically commands the highest ticket price. Four rows of folding chairs are set up during reserved shows, with Row 1 at the forefront.
Accessible Seating
Fiddler's Green Amphitheatre provides accessible seating options throughout the lawn in sections 101, 102, 103, 202, and 204. Specifically designed for guests with disabilities, these areas include wheelchair spaces and companion seats to ensure an inclusive experience.
General Admission Lawn
Located behind the reserved seating area, the general admission lawn accommodates up to 10,000 guests. Ideal for those seeking a relaxed atmosphere, guests are welcome to bring blankets or low-backed chairs. As the lawn area features unassigned seating, arriving early is recommended to secure a favorable spot.
Box Suites
For a more private experience, Fiddler's Green Amphitheatre offers box suites on the second tier, accommodating up to 12 guests each. These suites include comfortable seating, a private restroom, and a dedicated server, enhancing the overall enjoyment of the event.
We trust this seating information aids in planning your visit to Fiddler's Green Amphitheatre. Enjoy the show!
Recommended Hotels Near Fiddler's Green Amphitheatre
If you're planning to attend an event at Fiddler's Green Amphitheatre, finding a comfortable and convenient place to stay nearby is essential. Here are two hotels that we recommend:
DoubleTree by Hilton Hotel Denver Tech Center
This hotel is conveniently located just three miles from Fiddler's Green Amphitheatre and offers a complimentary shuttle service to the venue. Guests can unwind in the indoor pool, keep up with their fitness routine in the on-site fitness center, and savor delicious meals at the hotel's restaurant. Additionally, you can take advantage of free parking and Wi-Fi during your stay.
Distance to Fiddler's Green Amphitheatre: A 5-minute drive.
Hyatt Place Denver Tech Center
Located a mere 2 miles away from Fiddler's Green Amphitheatre, this hotel provides a free shuttle service to the venue. Enjoy the convenience of an indoor pool, a fitness center, and a 24-hour business center. The hotel also offers complimentary parking and Wi-Fi for all guests.
Distance to Fiddler's Green Amphitheatre: 6-minute drive
Both hotels received positive reviews from previous guests and offer a range of amenities to ensure a comfortable and convenient stay. Remember that some hotels may offer extra services like pet-friendly accommodations, spa services, or additional parking.
FAQs about Fiddlers Green Amphitheatre
What time do gates open at Fiddlers Green Amphitheater?
Gates typically open anywhere between 90 minutes to 2 hours prior to showtime at Fiddlers Green Amphitheater. Be sure to check the listing on your ticket as showtimes will vary.
Looking for local Englewood Amphitheater concerts?
Our event listing has a list of all Englewood amphitheater concerts happening at Fiddlers Green Amphitheater. You can also check out events in neighboring cities by checking out our list of venues by state.
How is Fiddler's Green Amphitheatre to see a concert?
With over 200,000 annual visitors to Fiddler's Green Amphitheatre it has become the largest outdoor amphitheatre in the Denver Metro area. The venue has state of the art sound and lighting systems and not a bad seat to be found. Fiddler's brings in the biggest musical talent around.
Where is Fiddler's Green Amphitheatre located.
Fiddler's Green is in Greenwood Village about 20min outside of Denver. The amphitheatre is near the Denver Technological Center amongst office buildings.
How is parking at Fiddler's Green Amphitheatre?
There is plenty of public and private parking in close Fiddler's. Gold parking pass guarantees a space within Peakview Tower or GWCP Gold parking lots. There is also day of show parking at The Cascades Cash Parking lot located at 6300 South Syracuse Way at East Caley Avenue.
Can you bring food into Fiddler's Green Amphitheatre?
No outside food or alcohol is allowed in Fiddler's Green.
How do I get information about weather and traffic for Fiddler's Green?
Greenwood Village Police has a text notification system for Fiddler's Green. This system will text subscribed concert goers regarding traffic and weather concerns on the day of the concert. To enroll, text FIDDLERS411 to 888777
Facts about Fiddlers Green Amphitheatre
Capacity:
18,000
Past Names/Nicknames:
Coors Amphitheater Comfort Dental Amphitheater
Date Opened:
June 11, 1988
Event Dates and Pricing Information
| Performer | Date | Price | Tickets Available |
| --- | --- | --- | --- |
| Jordan Davis | Jun 9, 2024 | From $63 | 776 |
| Noah Kahan | Jun 25, 2024 | From $191 | 1,122 |
| Noah Kahan | Jun 26, 2024 | From $174 | 1,220 |
| Hootie & The Blowfish | Jul 10, 2024 | From $74 | 9,258 |
| Cody Johnson | Aug 17, 2024 | From $87 | 10,645 |
| Hozier | Aug 30, 2024 | From $119 | 1,822 |
| Creed | Sep 7, 2024 | From $94 | 1,384 |