Cellairis Amphitheatre At Lakewood Tickets and Seating Charts - Atlanta, GA
Cellairis Amphitheatre at Lakewood Seating Charts
Cellairis Amphitheatre at Lakewood - End Stage Seating Map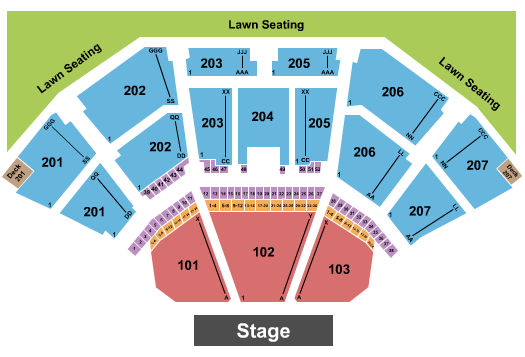 See Cellairis Amphitheatre at Lakewood - End Stage events that use this seating chart configuration
Cellairis Amphitheatre at Lakewood - End Stage Large Pit 3 Seating Map
See Cellairis Amphitheatre at Lakewood - End Stage Large Pit 3 events that use this seating chart configuration
Cellairis Amphitheatre at Lakewood - Endstage - Reserved Lawn Seating Map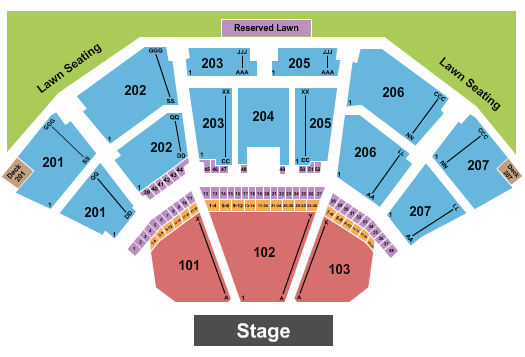 See Cellairis Amphitheatre at Lakewood - Endstage - Reserved Lawn events that use this seating chart configuration
Cellairis Amphitheatre at Lakewood - Endstage 3 GA Pits Seating Map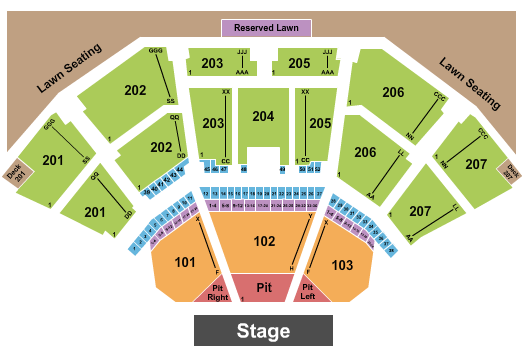 See Cellairis Amphitheatre at Lakewood - Endstage 3 GA Pits events that use this seating chart configuration
Learn more about Cellairis Amphitheatre at Lakewood
Cellairis Amphitheatre at Lakewood is an
Atlanta
, Georgia venue well-known for hosting live music performances from some of the biggest names in the music industry such as Tina Turner, Sting, Coldplay, Elton John, Eric Clapton, Aerosmith, and many others. This
Georgia
amphitheater is set within 75 acres of wooded area. It has pavilion roofing to cover some guests, and seats that can accommodate up to 7,000 patrons, plus a lawn area that can accommodate 12,000.
Opened in 1989, the venue was originally named Lakewood Amphitheater, but over the years it was also called the Coca-Cola Lakewood Amphitheater and HiFi Buys Amphitheater. In 2008, it changed its name back to Lakewood Amphitheater. In May 2009, Aaron's stepped in with a naming-rights agreement and carried the title of Aaron's Amphitheater at Lakewood from 2009-2015 before the name reverted to Lakewood Amphitheater once again in 2016. In 2017 the name was changed once again to Cellairis Amphitheater at Lakewood.
VIP parking is available and can be purchased prior to arrival. Patrons also have the option to upgrade to VIP parking at the Pryor Road entrance. Standard parking is always available. If standard parking is included in the ticket price, this will be stated in the ticket text. Otherwise, a separate parking charge should be expected. The venue is accessible by private car or taxi.
All events will take place regardless of weather conditions, and umbrellas are prohibited. Lawn chairs are also not allowed, but they may be available for rent at the venue depending on the event.
All bags are subject to inspection. Personal cameras are allowed, but flash photography, video and removable lens cameras are prohibited unless granted permission by the venue authorities. Food and beverages purchased outside are not allowed except for one factory-sealed bottle of water per patron. Coolers and baskets are prohibited.
FAQs about Cellairis Amphitheatre at Lakewood
Q: What time do gates open at Cellairis Amphitheater At Lakewood?
A: Gates typically open anywhere between 90 minutes to 2 hours prior to showtime at Cellairis Amphitheater At Lakewood. Be sure to check the listing on your ticket as showtimes will vary.
Q: Looking for local Atlanta Amphitheater concerts?
A: Our event listing has a list of all Atlanta amphitheater concerts happening at Cellairis Amphitheater At Lakewood. You can also check out events in neighboring cities by checking out our list of venues by state.
Q: Where is Cellairis Amphitheatre At Lakewood?
A: The Lakewood Amphitheatre is located about 4 miles from downtown Atlanta GA. Opened in 1989 this 19,000 seat venue has hosted some of the top touring acts in the world. The band Phish list it as one of their favorite places to play.
Q: How is parking at Cellairis Amphitheatre At Lakewood?
A: Cellairis Amphitheatre At Lakewood on site parking can hold 6,000 vehicles. Upgrade to Premier parking for closer parking and a quicker exit. Premier parking can be purchased in advance or at the venue.
Q: What is the bag policy at Cellairis Amphitheatre At Lakewood?
A: Small purses or clutches are allowed as well as clear plastic or vinyl bags no larger than 12" x 6" x 12".
Q: Is there a rideshare location at Cellairis Amphitheatre At Lakewood?
A: The drop off and pick up area for rideshare at Cellairis Amphitheatre is located in the F lot.
Q: Can I bring my lawn chair into Cellairis Amphitheatre At Lakewood?
A: Lawn chairs are allowed but must be no higher than 9in off the ground. You can rent a lawn chair for $10 at the East and West plazas.
Facts about Cellairis Amphitheatre at Lakewood
Capacity:
19,000
Past Names/Nicknames:
Coca-Cola Lakewood Amphitheater HiFi Buys Amphitheater Aaron's Amphitheater at Lakewood Lakewood Amphitheater
Date/Year Built/Opened:
1989