Zellerbach Hall Seating Charts
Zellerbach Hall - End Stage Seating Map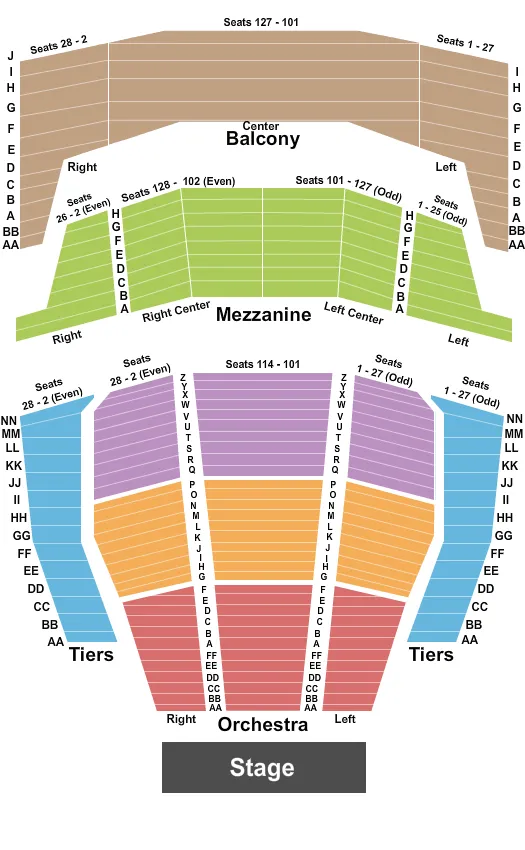 See Zellerbach Hall - End Stage events that use this seating chart configuration
Learn more about Zellerbach Hall
Situated on the University of California, Berkeley campus, Zellerbach Hall is an incredible multi-venue performance facility. Its top-notch acoustics and modern amenities make it one of the best places to experience live events in Berkeley. This state-of-the-art performing arts center has been providing unforgettable experiences to audiences since 1968, celebrated for its remarkable acoustics, design, and atmosphere. It continues to bring in world-renowned artists from various genres, from classical music concerts to theatre performances. The iconic architecture combines modern technology with a classic design that creates an immersive experience for every audience member. Berkeley is a great city for tourists, from the University of California campus to downtown, with its eclectic mix of shops and restaurants. Tilden Regional Park is also quite popular due to its beautiful scenery, abundant animals, and stunning vistas of San Francisco Bay. Or you might go on a tour of the city's history called "The Tour of Ideas" and discover how the locals shaped civic life. Because of its pleasant weather, beautiful scenery, and unique offerings, a trip to Berkeley is one you won't forget any time soon. Zellerbach Hall is an impressive event venue that should be experienced at least once by anyone interested in the performing arts. Whether you're catching a show or studying its architecture, it offers something special to locals and visitors alike.
FAQs about Zellerbach Hall
Is there parking at Zellerbach Hall?
There are multiple options for parking at Zellerbach Hall. The following lots are available; Foothill Lot (Hearst Avenue, east of Highland Avenue) Upper Hearst Structure (Hearst Avenue and La Loma Street) Lower Hearst Structure (Hearst and Scenic Avenues) Berkeley Law Lot (Gayley Road)
Who is Zellerbach Hall named after?
Built 1968. The primary fine arts performance space on campus is named for Isadore and Jennie Zellerbach, who contributed $1 million toward its construction. The 2,100-seat main auditorium has witnessed performances by many of the world's most acclaimed orchestras, vocalists, dance companies, and speakers.
Event Dates and Pricing Information
| Performer | Date | Price | Tickets Available |
| --- | --- | --- | --- |
| San Francisco Gay Men's Chorus | Dec 17, 2023 | From $465 | 22 |
| Shen Yun Performing Arts | Jan 11, 2024 | From $172 | 120 |
| Shen Yun Performing Arts | Jan 12, 2024 | From $149 | 266 |
| Shen Yun Performing Arts | Jan 13, 2024 | From $149 | 241 |
| Shen Yun Performing Arts | Jan 14, 2024 | From $145 | 256 |
| Cecile McLorin Salvant | Jan 25, 2024 | From $113 | 238 |
| Les Ballets Trockadero De Monte Carlo | Jan 27, 2024 | From $108 | 220 |
| Les Ballets Trockadero De Monte Carlo | Jan 28, 2024 | From $107 | 160 |
| John Malkovich in The Infernal Comedy: Confessions of a Serial Killer | Feb 3, 2024 | From $119 | 58 |
| Renee Fleming | Feb 9, 2024 | From $133 | 100 |