Xfinity Center - MA Seating Charts
Xfinity Center - MA - Endstage Open Air GA Seating Map
See Xfinity Center - MA - Endstage Open Air GA events that use this seating chart configuration
Xfinity Center - MA - Endstage Open Air GA 2 Seating Map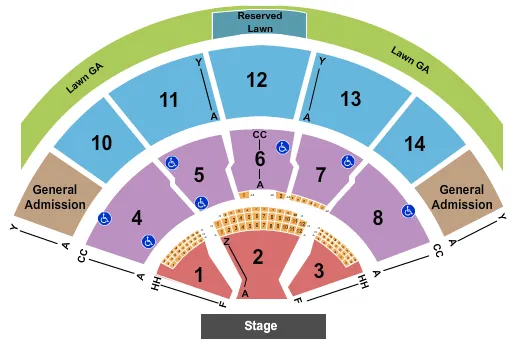 See Xfinity Center - MA - Endstage Open Air GA 2 events that use this seating chart configuration
Xfinity Center - MA - Endstage Open Air GA 3 Seating Map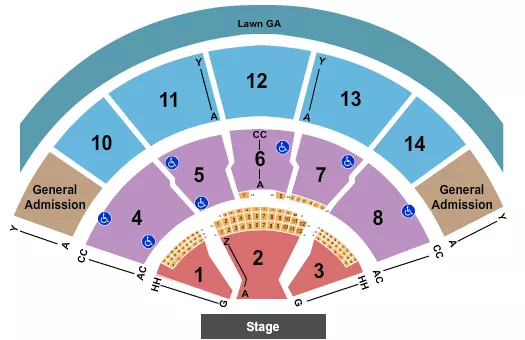 See Xfinity Center - MA - Endstage Open Air GA 3 events that use this seating chart configuration
Xfinity Center - MA - Endstage Pit - Reserved & GA 2 Seating Map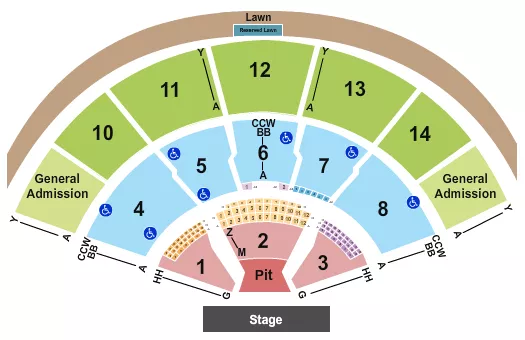 See Xfinity Center - MA - Endstage Pit - Reserved & GA 2 events that use this seating chart configuration
Learn more about Xfinity Center - MA
The Xfinity Center is an outdoor amphitheater in Mansfield, Massachusetts that opened in the summer of 1986. It started out with a 12,000 capacity then later expanded to 19,900 in 1994 with 7,000 lawn seats, 7,000 reserved seats, and 5,900 general admission seats. Box seating is available for those who prefer a private area during the event. For those who want to get up close with their favorite artist, they may choose to be in the pit located at the front of the venue. Regular and lawn seating are also available. The amphitheater has hosted acts such as
Nickelback
, The Fray,
Aerosmith
, James Taylor,
Korn
, and many others.
The facility has 16 parking lots with free ample parking for ticket holders. Tailgating is allowed given that venue guidelines are followed.
All bags are subject to inspection. Clear plastic, vinyl, or PVC bags and small wristlet or handheld wallets are encouraged instead of large backpacks and bags. Food is allowed as long as it is contained in one-gallon clear, plastic freezer bags. One factory-sealed bottle of water is allowed per patron. Concessions are available at the venue including wine and beer.
Personal cameras are allowed. Selfie sticks, iPads and other tablets, professional cameras with detachable lenses, audio and video recording devices are prohibited. Umbrellas are not allowed. Instead, patrons are encouraged to use rain jackets or raincoats in case rain is forecasted.
Guests can shop in the nearby stores such as Wrentham Village Premium Outlets and Old Country Store and Emporium. Other attractions near the venue include Capron Park Zoo, tours with Norton Kayak Company, flight instruction and tours with Blue Hill Helicopters, and wine tours at Mulberry Vineyard. About 30 minutes from Mansfield, you can also find a variety of events and attractions in the city of
Boston, Massachusetts
.
Xfinity Center Concert Ticket and Venue Information:
Capacity:
19,900
Past Names/Nicknames:
Great Woods Center for the Performing Arts

Tweeter Center for the Performing Arts

Comcast Center

Xfinity Center
Date/Year Built/Opened:
June 13, 1986
FAQs about Xfinity Center - MA
What time do gates open at Xfinity Center?
Gates typically open anywhere between 90 minutes to 2 hours prior to showtime at Xfinity Center. Be sure to check the listing on your ticket as showtimes will vary.
Looking for local Boston Amphitheater concerts?
Our event listing has a list of all Boston amphitheater concerts happening at Xfinity Center. You can also check out events in neighboring cities by checking out our list of venues by state.
What parking options are at Xfinity Center?
The Xfinity Center has plenty of parking options. Everything from free general parking to premier and VIP both of which are closer to the venue and have a faster exit.
Can I use cash at Xfinity Center?
Yes The Xfinity Center accepts cash but in limited areas such as the parking lots and the box office. All POS locations take all major credit cards and mobile pay.
How is the traffic around the Xfinity Center?
Traffic is always heavy on show nights. Carpooling is highly recommended. To exit quickly think about upgrading your parking to premier or VIP.
Can you tailgate at Xfinity Center?
Yes tailgating is allowed but must end no later than 30 min before the show starts.
What can I bring into the Xfinity Center?
You are welcome to bring in small clear bags or purses. small blankets and clear non glass water bottles. Umbrellas are not allowed so bring a poncho if rain is forecast.
Event Dates and Pricing Information
| Performer | Date | Price | Tickets Available |
| --- | --- | --- | --- |
| Hank Williams Jr. | Jun 8, 2024 | From $72 | 1,286 |
| Niall Horan | Jun 15, 2024 | From $50 | 3,535 |
| Alanis Morissette | Jul 9, 2024 | From $74 | 2,266 |
| Sammy Hagar | Jul 26, 2024 | From $72 | 2,032 |
| Earth, Wind and Fire | Jul 27, 2024 | From $83 | 2,789 |
| Limp Bizkit | Jul 31, 2024 | From $63 | 1,766 |
| Foreigner | Aug 2, 2024 | From $71 | 2,123 |
| New Kids on the Block | Aug 10, 2024 | From $73 | 1,654 |
| Lynyrd Skynyrd | Aug 17, 2024 | From $83 | 2,386 |
| Thirty Seconds To Mars | Aug 18, 2024 | From $51 | 2,320 |