Wynn Resort Tickets and Seating Charts - Las Vegas, NV
Encore Theatre At Wynn Las Vegas Seating Charts
Encore Theatre At Wynn Las Vegas - End Stage Seating Map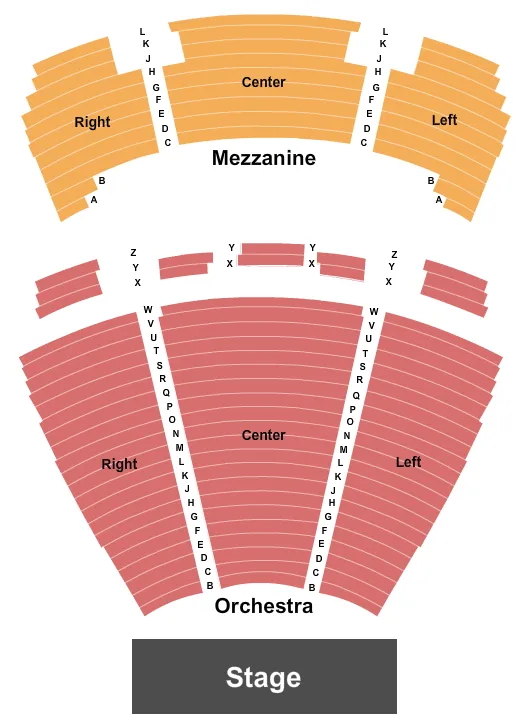 See Encore Theatre At Wynn Las Vegas - End Stage events that use this seating chart configuration
Learn more about Encore Theatre At Wynn Las Vegas
The Wynn Las Vegas Resort is a luxurious and extravagant getaway located on the famed strip in Paradise, Nevada. With its 5-star accommodations, world-class dining options and lavish casino, this hotel is sure to make your stay in Las Vegas one for the books. It also has an incredible event venue for you to enjoy during your visit, from concerts to Broadway performances. Since its construction, Wynn Resort has been an acclaimed Las Vegas icon. It is one of the most luxurious resorts in the city, boasting over 2,700 hotel rooms along with numerous amenities such as fine dining, upscale shopping, and a championship golf course. Comedy clubs, beautiful mountainside lounges, spas and world-class casinos are also available on site. It is also renowned for being one of the first resorts on The Strip to offer retail shops directly moving into resort lobbies rather than separate buildings. Las Vegas is a vibrant city filled with exciting sights and sounds, offering great options for tourists. It's known for its attractions, fabulous restaurants, friendly people, and lively nightlife. You can take in the iconic casinos on the Strip or venture off to Fremont Street to find an authentic old-school vibe. Shopping lovers will adore the numerous luxury stores along The Strip or explore the eclectic boutiques in downtown Las Vegas. There are also entertainment shows, concerts, and sport games to be seen. Nature lovers will find plenty of outdoor activities such as exploring Red Rock Canyon National Conservation Area's miles of trails. Wynn Resort in Las Vegas offers world class luxury, entertainment and dining - a perfect destination for any special occasion. With amenities ranging from an incredible 111,000 square foot casino to five-star restaurants and lush accommodations, it is sure to exceed all expectations. Book your stay at Wynn Resort today to experience the best of Las Vegas!
FAQs about Encore Theatre At Wynn Las Vegas
What entertainment options are available at the Wynn Resort?
There are a wide variety of entertainment options available. The Encore Theater is the main event venue inside the Wynn Resort. Also there are numerous nightlife and live show options to fit all needs.
Facts about Encore Theatre At Wynn Las Vegas
Event Dates and Pricing Information
| Performer | Date | Price | Tickets Available |
| --- | --- | --- | --- |
| Jim Gaffigan | Dec 9, 2023 | From $106 | 1 |
| Steve Martin | Dec 15, 2023 | From $183 | 39 |
| Steve Martin | Dec 16, 2023 | From $124 | 83 |
| David Blaine | Dec 29, 2023 | From $103 | 499 |
| David Blaine | Dec 30, 2023 | From $120 | 567 |
| David Blaine | Dec 31, 2023 | From $71 | 681 |
| Sebastian Maniscalco | Jan 13, 2024 | From $141 | 309 |
| Sebastian Maniscalco | Jan 13, 2024 | From $129 | 749 |
| Sebastian Maniscalco | Jan 14, 2024 | From $109 | 553 |
| Sebastian Maniscalco | Jan 14, 2024 | From $104 | 837 |