The Wharf Amphitheatre Tickets and Seating Charts - Orange Beach, AL
The Wharf Amphitheatre Seating Charts
The Wharf Amphitheatre - End Stage Seating Map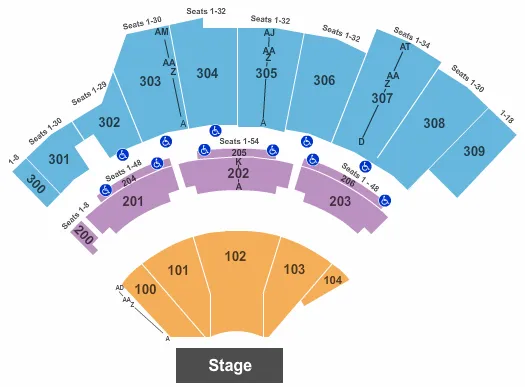 See The Wharf Amphitheatre - End Stage events that use this seating chart configuration
The Wharf Amphitheatre - Old Dominion Seating Map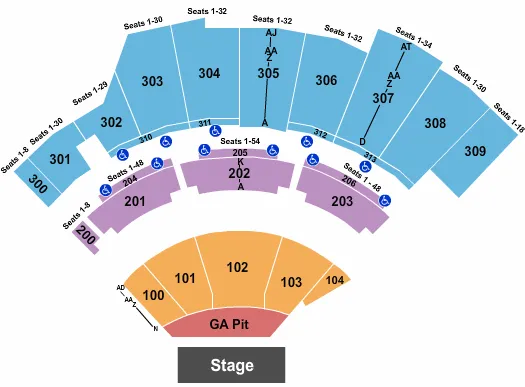 See The Wharf Amphitheatre - Old Dominion events that use this seating chart configuration
Learn more about The Wharf Amphitheatre
The Wharf Amphitheater is a popular music and event venue conveniently located between
Pensacola, Florida
and Mobile, Alabama. Open since 2006, the venue has hosted acts ranging from
Taylor Swift
and Kings of Leon to Journey and
Jimmy Buffet
. The venue is divided into seating sections including backed seating, bench seating and bleacher seating with no backs.
The Wharf at Orange Beach is accessible via private car or boat, thanks to its location on the Intracoastal Waterway. Parking spaces are available on a first-come first-serve basis. Handicap parking is also available on the eastern side of the main entrance. Tailgate parties are not permitted.
Backpacks are not allowed. For the safety of the patrons, all bags are subject to inspection. Umbrellas are not allowed in the venue. Outside beverages, food and alcohol are not allowed. Video and audio recorders and cameras are not allowed.
All performances take place rain or shine unless stated otherwise. Before and after the concert, visitors may enjoy exploring the shops and restaurants located around the amphitheater and walking around the scenic marina. Should concertgoers decide to book an overnight stay, there are hotels located close to The Wharf Amphitheater.
FAQs about The Wharf Amphitheatre
What time do gates open at The Wharf Amphitheater?
Gates typically open anywhere between 90 minutes to 2 hours prior to showtime at The Wharf Amphitheater. Be sure to check the listing on your ticket as showtimes will vary.
Looking for local Pensacola Amphitheater concerts?
Our event listing has a list of all Pensacola amphitheater concerts happening at The Wharf Amphitheater. You can also check out events in neighboring cities by checking out our list of venues by state.
Is Wharf Amphitheatre covered?
No Wharf Amphitheatre is 10,000 seat open air venue that one of the largest music venues along the Gulf Coast.
How is Wharf Amphitheatre parking?
Parking tends to fill up quickly so arrive early. Parking is free or you can purchase a Premier Parking Pass for for select shows.
What can I bring to Wharf Amphitheatre?
Some of the things you can bring to Wharf Amphitheatre are a clear tote no larger than 12" x 12" x 8", small handbags and a clear plastic Zip Top bag. Umbrellas outside beverages, food and alcohol are not allowed.
What is there to do around the Wharf Amphitheatre?
There is plenty to do around Wharf Amphitheatre. From shopping and dinning along main street to the marina, water excursions and the popular Ferris wheel.
Can you bring children to Wharf Amphitheatre?
Yes, all ages welcome. Everyone must have a ticket to Wharf Amphitheatre.
Facts about The Wharf Amphitheatre
Capacity:
10,000
Date Opened:
May 2006
Event Dates and Pricing Information