Wesbanco Arena Seating Charts
Wesbanco Arena - Basketball - Globetrotters Seating Map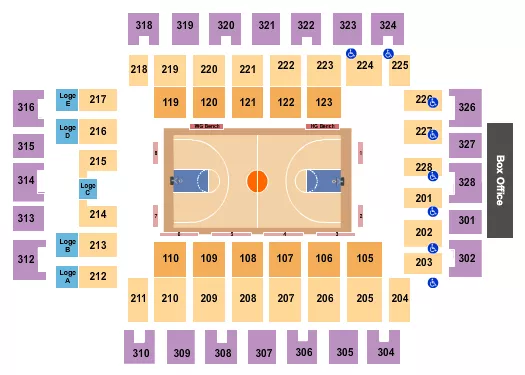 See Wesbanco Arena - Basketball - Globetrotters events that use this seating chart configuration
Wesbanco Arena - Disney On Ice 2024 Seating Map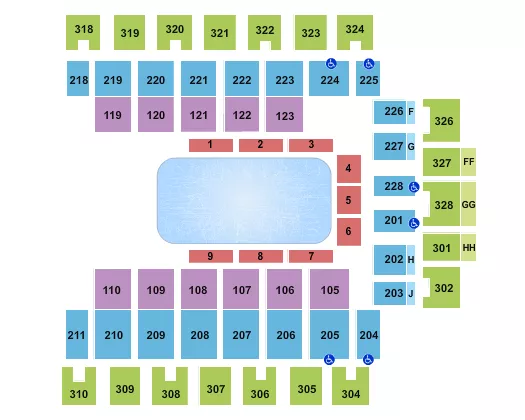 See Wesbanco Arena - Disney On Ice 2024 events that use this seating chart configuration
Wesbanco Arena - Endstage GA Floor Seating Map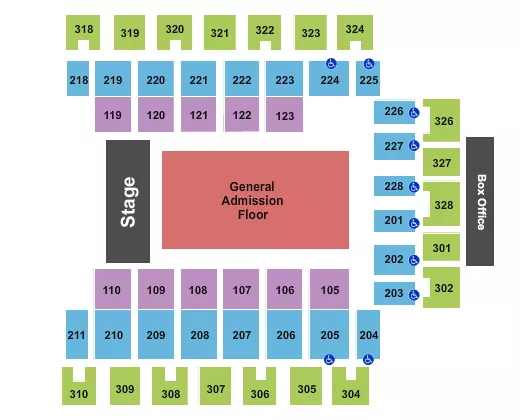 See Wesbanco Arena - Endstage GA Floor events that use this seating chart configuration
Wesbanco Arena - Hockey Seating Map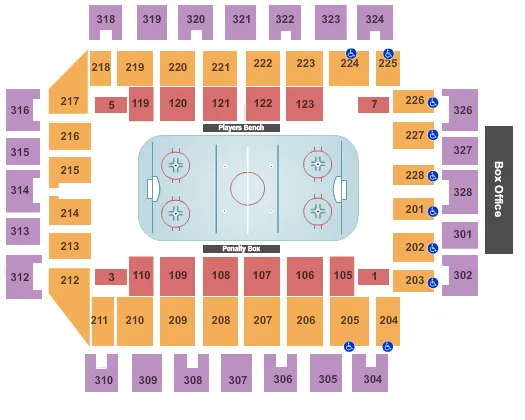 See Wesbanco Arena - Hockey events that use this seating chart configuration
Wesbanco Arena - PBR Seating Map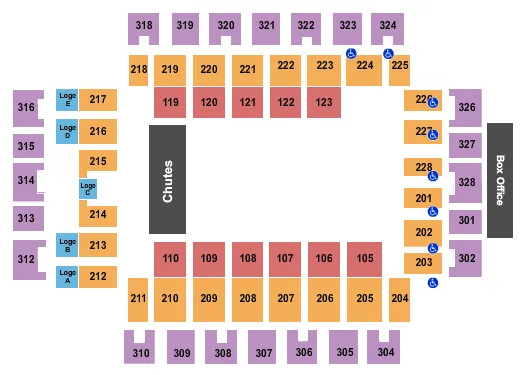 See Wesbanco Arena - PBR events that use this seating chart configuration
Learn more about Wesbanco Arena
WesBanco Arena is a multi-purpose event venue located in beautiful Wheeling, West Virginia. Developed in 1977 as the Wheeling Civic Center, it has been renovated and updated over the years to provide guests with an optimal entertainment experience. It features seating for up to 6,400 fans between its lower bowl and upper balcony sections and offers plenty of amenities such as concession stands, restrooms, and parking facilities. Wheeling is full of life and history, from its 19th-century Victorian architecture to its thriving outdoor marketplace. Explore the downtown area's traditional retail stores, specialty shops, and art galleries, or take part in one of the city's many festivals. Take a trip to the iconic Suspension Bridge, a National Historic Landmark since 1977, or enjoy outdoor activities such as kayaking, golfing, or fishing. Make sure to visit WesBanco Arena next time you're in town! With 23,684 square feet of space, it's the perfect place to attend a hockey game, indoor football game, or convention. Enjoy all that Wheeling has to offer, and you won't regret your visit to this unique West Virginia town!
FAQs about Wesbanco Arena
Year Opened:
1977
Who plays at Wesbanco Area?
It is home to the Wheeling Nailers ice hockey team, the West Virginia Roughriders indoor football team, and the Ohio Valley Athletic Conference wrestling tournament.
Facts about Wesbanco Arena
Event Dates and Pricing Information
| Performer | Date | Price | Tickets Available |
| --- | --- | --- | --- |
| Wheeling Nailers | Dec 9, 2023 | From $13 | 161 |
| Wheeling Nailers | Dec 10, 2023 | From $13 | 108 |
| Wheeling Nailers | Dec 15, 2023 | From $16 | 772 |
| Wheeling Nailers | Dec 16, 2023 | From $18 | 1,060 |
| Wheeling Nailers | Dec 30, 2023 | From $18 | 1,204 |
| Wheeling Nailers | Dec 31, 2023 | From $19 | 1,098 |
| Wheeling Nailers | Jan 12, 2024 | From $19 | 799 |
| OVAC Wrestling Tournament | Jan 13, 2024 | From $83 | 4 |
| Wheeling Nailers | Jan 13, 2024 | From $20 | 684 |
| Wheeling Nailers | Jan 14, 2024 | From $19 | 813 |