Wayne Theatre - VA Seating Charts
Wayne Theatre - VA - End Stage Seating Map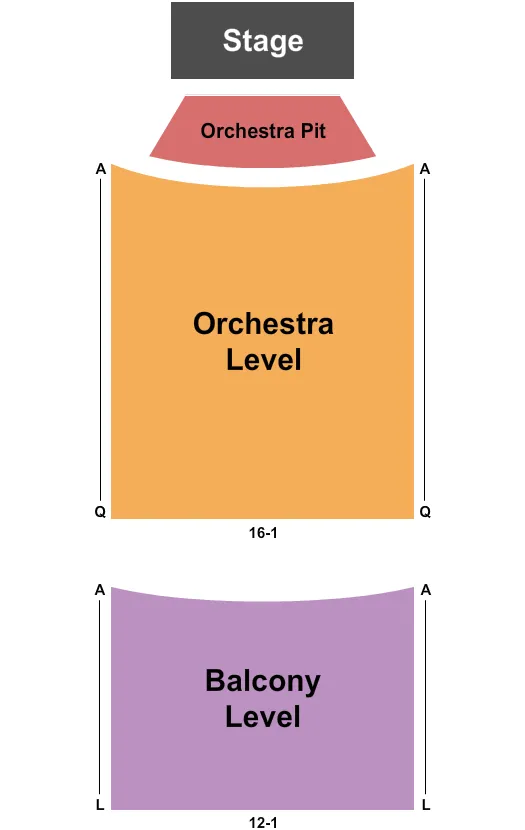 See Wayne Theatre - VA - End Stage events that use this seating chart configuration
Wayne Theatre - VA - General Admission Seating Map See Wayne Theatre - VA - General Admission events that use this seating chart configuration
Learn more about Wayne Theatre - VA
If you're ever in Waynesboro, Virginia, be sure to check out the Wayne Theatre. This popular event venue has been around for many years and hosts a variety of events, such as concerts and theater performances, as well as movie showings. The theatre has been the cultural cornerstone of Waynesboro since it opened in 1895 and was lovingly restored to its original splendor in 2008. Showing movies most nights of the week and hosting live music events nearly every weekend, it stands as one of the town's best venues for entertainment.

Waynesboro is a great place to explore, with plenty of outdoor recreation, art and culture venues, antique malls, flea markets, farmers markets, and boutiques. You can also enjoy festivals such as Sculpture fest or International Cement Plant Closings Parade, as well as a nice selection of restaurants.

The Wayne Theatre offers an unforgettable entertainment experience. Don't miss your chance to visit this wonderful venue in Waynesboro!
Facts about Wayne Theatre - VA
Capacity
385
Year Opened
1927
Event Dates and Pricing Information
| Performer | Date | Price | Tickets Available |
| --- | --- | --- | --- |
| Elf - The Musical | Dec 3, 2023 | From $77 | 4 |
| Pam Tillis | Dec 6, 2023 | From $95 | 15 |
| Elf - The Musical | Dec 8, 2023 | From $74 | 25 |
| Studio Wayne Improvisators | Dec 8, 2023 | From $33 | 5 |
| Elf - The Musical | Dec 9, 2023 | From $74 | 33 |
| Elf - The Musical | Dec 9, 2023 | From $74 | 38 |
| Elf - The Musical | Dec 10, 2023 | From $74 | 40 |
| Merry Country Christmas | Dec 11, 2023 | From $68 | 42 |
| Merry Country Christmas | Dec 11, 2023 | From $68 | 29 |
| The Rush Experience | Dec 13, 2023 | From $103 | 32 |