Town Hall Theatre - NY Seating Charts
Town Hall Theatre - NY - End Stage Seating Map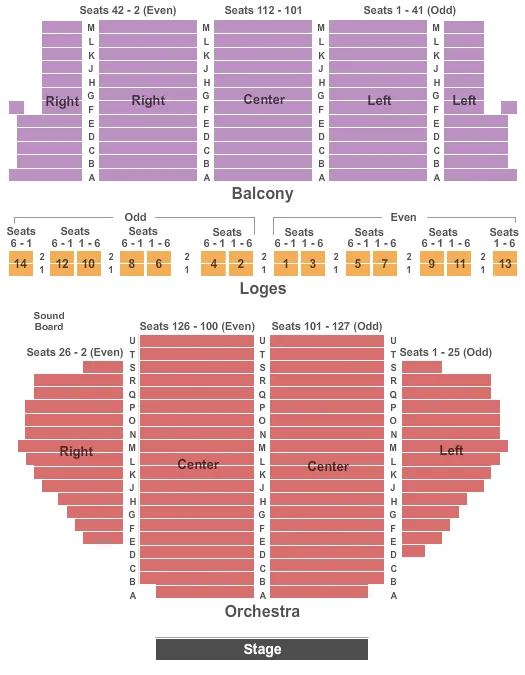 See Town Hall Theatre - NY - End Stage events that use this seating chart configuration
Learn more about Town Hall Theatre - NY
The Town Hall Theatre, located in New York City, is a National Historic site that attracts thousands of fans every year. Located in the city's theatre district you can only imagine how much attention it receives throughout the year.

Past shows include: Flamenco Fire!, An Evening without Monty Python, 5th Annual Broadway Cabaret Festival, Coal Country, Nanci Griffith, David Garrett, Playing for Change: Songs Around the World, and Tegan and Sara.

The historic venue is located in one of the top theatre cities in the world, and attracts some of the best talent in the country for performances.
Facts about Town Hall Theatre - NY
Capacity:
1,495
Opened:
1921
Event Dates and Pricing Information
| Performer | Date | Price | Tickets Available |
| --- | --- | --- | --- |
| Elliot Page | Jun 6, 2023 | From $93 | 26 |
| Jacqueline Novak's Get On Your Knees | Jun 8, 2023 | From $53 | 38 |
| Jacqueline Novak | Jun 9, 2023 | From $22 | 71 |
| Jacqueline Novak | Jun 9, 2023 | From $14 | 113 |
| Blue Note Jazz Festival | Jun 10, 2023 | From $98 | 351 |
| Normal Gossip | Jun 14, 2023 | From $145 | 55 |
| A2IM Libera Awards | Jun 15, 2023 | From $434 | 168 |
| Normal Gossip | Jun 16, 2023 | From $75 | 212 |
| Anatoliy Beliy | Jun 24, 2023 | From $297 | 48 |
| Neal Brennan | Jul 13, 2023 | From $64 | 121 |