Tower Theater At Liberty University Tickets and Seating Charts - Lynchburg, VA
Tower Theater at Liberty University Seating Charts
Tower Theater at Liberty University - End Stage Seating Map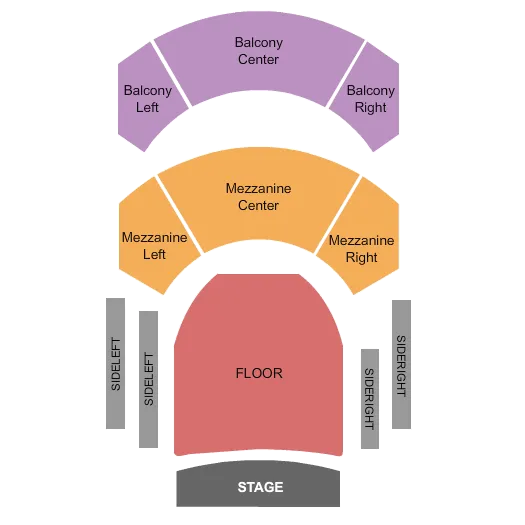 See Tower Theater at Liberty University - End Stage events that use this seating chart configuration
Learn more about Tower Theater at Liberty University
The Tower Theater at Liberty University, located in Lynchburg, Virginia, is a prominent venue for performing arts. Since its opening in 1981, it has hosted an array of events and performers across all genres, becoming an integral part of the college cultural experience. The theater can accommodate up to 1570 guests with its state-of-the-art sound system, providing exquisite acoustics and a spacious stage and seating area.

The quaint town of Lynchburg, located in Central Virginia, boasts a variety of attractions for visitors. The Appomattox River offers canoeing and kayaking, while the nearby James River Trail provides miles of scenic hiking trails. Antique stores downtown and farmer's markets throughout the region offer unique shopping opportunities, and the Liberty University Museum of Natural History & Science is one of the many noteworthy collections.

With its world-class facilities and high-quality production, the Tower Theater at Liberty University is an event venue not to be missed. Whether you're there to experience the work of students studying theater arts or to catch a traveling act, you'll be sure to have a memorable night at the Tower Theater!
Event Dates and Pricing Information
| Performer | Date | Price | Tickets Available |
| --- | --- | --- | --- |
| The Wiz | Apr 19, 2024 | From $42 | 92 |
| The Wiz | Apr 20, 2024 | From $42 | 110 |
| The Wiz | Apr 20, 2024 | From $42 | 76 |
| The Wiz | Apr 21, 2024 | From $42 | 112 |
| The Wiz | Apr 25, 2024 | From $42 | 111 |
| The Wiz | Apr 26, 2024 | From $42 | 98 |
| The Wiz | Apr 27, 2024 | From $42 | 144 |
| The Wiz | Apr 27, 2024 | From $42 | 136 |
| The Wiz | Apr 28, 2024 | From $42 | 106 |
| The Wiz | May 2, 2024 | From $42 | 127 |