Toledo Zoo Amphitheatre Tickets and Seating Charts - Toledo, OH
As you can imagine, the Toledo Zoo Amphitheater is located within the Toledo Zoo. And of course, this is in Toledo, Ohio. Although the set up of the venue may sound a bit strange on the surface, it does a great job in attracting top musical talent on a regular basis. In fact, during the summer concert season the venue is one of the most popular in this part of the country. Operated by Live Nation, it is safe to say that the Toledo Zoo Amphitheater will always be hosting top notch events.

Although the Toledo Zoo Amphitheater only has a seating capacity of 4,500, this does not slow down performers or ticket buyers. The fact of the matter is that the smaller size makes it even more enjoyable for those people who are lucky enough to get tickets. This allows everybody to be close to the stage, and for the performer to interact with a large portion of the audience.

Overall, the Toledo Zoo Amphitheater offers an intimate experience that you are sure to remember for the rest of your life.
Toledo Zoo Amphitheatre - End Stage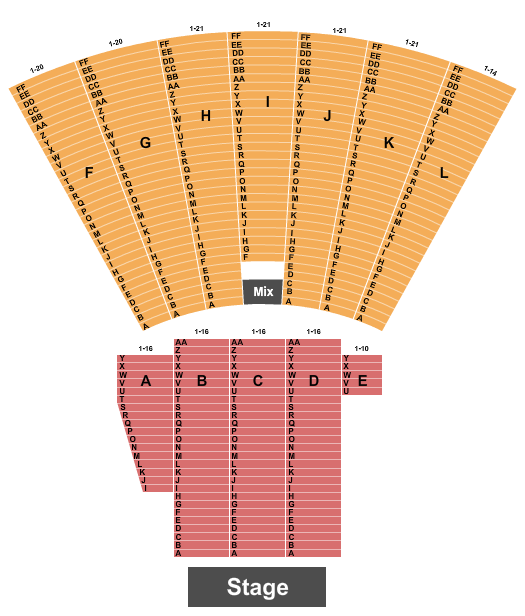 See Toledo Zoo Amphitheatre - End Stage events that use this seating chart configuration
Frequently Asked Questions
Q: What time do gates open at Toledo Zoo Amphitheatre?
A: Gates typically open anywhere between 90 minutes to 2 hours prior to showtime at Toledo Zoo Amphitheatre. Be sure to check the listing on your ticket as showtimes will vary.
Q: Looking for local Toledo Amphitheater concerts?
A: Our event listing has a list of all Toledo amphitheater concerts happening at Toledo Zoo Amphitheatre. You can also check out events in neighboring cities by checking out our list of venues by state.