Huntington Center Seating Charts
Huntington Center - Hockey Seating Map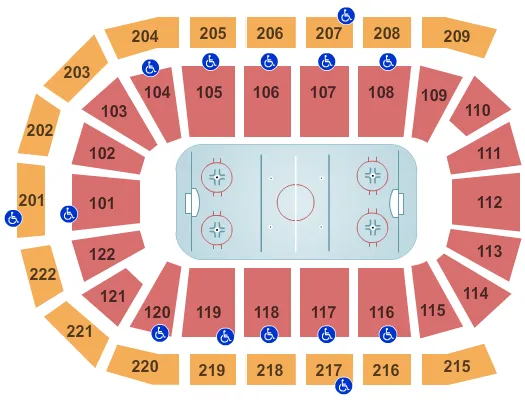 See Huntington Center - Hockey events that use this seating chart configuration
Buy Toledo Walleye Tickets
The Toledo Walleye is a professional ice hockey team based in Toledo, Ohio, and competes in the ECHL. The team was founded in 1991 as the Toledo Storm and joined the ECHL in 1992. In 2007, the team was purchased by Toledo Arena Sports, Inc. and renamed the Toledo Walleye in 2009, after a fan vote.
The Walleye have had a successful history, making the playoffs in all but three of their seasons in the ECHL. They have also won three Brabham Cups for finishing with the best regular season record in the league. They also have two conference titles and five division titles.
The Walleye have several intense rivalries, including with the Fort Wayne Komets and the Kalamazoo Wings. These matchups bring out the best in both teams and create an electric atmosphere at the Huntington Center, the team's home arena. The Huntington Center is a state-of-the-art facility that provides excellent sight-lines, comfortable seating, and a lively atmosphere.
Attending a Walleye game is an exciting experience that is sure to impress any hockey fan. The team plays a fast-paced and physical game that is entertaining to watch. Don't miss out on the chance to see this exciting team in action - buy your tickets today!
FAQs about Toledo Walleye 2023 Game Schedule And Tickets
How and where to buy Toledo Walleye tickets?
While it may be difficult to find Toledo Walleye tickets, Event Tickets Center has plenty of Toledo Walleye tickets available starting from $10. Select your tickets using our interactive seating chart, and follow the steps in checkout. You'll be going to a Toledo Walleye event in no time!
How much are Toledo Walleye tickets?
On Event Tickets Center, Toledo Walleye ticket prices range from $10 up to $1,177 over a number of different Toledo Walleye events.
When do Toledo Walleye tickets go on sale?
Typically, Toledo Walleye will announce the schedule 3-6 months before the first game, and tickets go on sale within a few weeks of the schedule announcement.
Are Toledo Walleye tickets sold out?
No. While tickets to see Toledo Walleye may be sold out on other ticketing websites, Event Tickets Center has plenty of tickets available for you to see Toledo Walleye live.
Are Toledo Walleye tickets on sale?
Yes, Toledo Walleye tickets are on sale, and you can buy them right here at Event Tickets Center.
When is the next Toledo Walleye event?
The next Toledo Walleye event is on December 1, 2023 at Wesbanco Arena in Wheeling, WV. Event Tickets Center has 75 tickets available for this event.
Event Dates and Pricing Information
| Venue | Date | Price | Tickets Available |
| --- | --- | --- | --- |
| Wesbanco Arena | Dec 1, 2023 | From $10 | 75 |
| Huntington Center | Dec 2, 2023 | From $42 | 150 |
| Huntington Center | Dec 3, 2023 | From $24 | 111 |
| Huntington Center | Dec 6, 2023 | From $39 | 8 |
| Huntington Center | Dec 8, 2023 | From $28 | 193 |
| Heritage Bank Center | Dec 9, 2023 | From $39 | 1,166 |
| Xtream Arena | Dec 15, 2023 | From $33 | 821 |
| Xtream Arena | Dec 16, 2023 | From $33 | 497 |
| Xtream Arena | Dec 17, 2023 | From $33 | 774 |
| Huntington Center | Dec 23, 2023 | From $33 | 272 |