Ting Pavilion Tickets and Seating Charts - Charlottesville, VA
Ting Pavilion Seating Charts
Ting Pavilion - GA & GA Pit Seating Map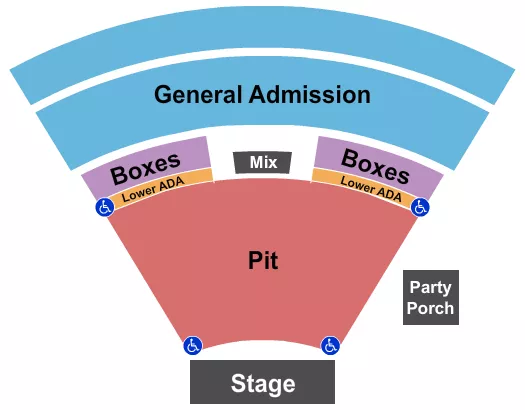 See Ting Pavilion - GA & GA Pit events that use this seating chart configuration
Learn more about Ting Pavilion
The Ting Pavilion is a premier outdoor entertainment venue located in the heart of Downtown Charlottesville, Virginia. Renowned for its distinctive style and atmosphere, the pavilion attracts visitors from around the world, offering both locals and tourists a unique concert-going experience.
The structure proudly showcases a design that beautifully marries modern architecture with eco-friendly elements. With a capacity of nearly 3,500, it offers an intimate yet lively atmosphere, creating a perfect environment for concerts and other events.
Since its inauguration, the Ting Pavilion has played host to a rich lineup of acclaimed artists, encompassing a broad array of genres. Notable past performers include The Avett Brothers, The Lumineers, and country superstar, Miranda Lambert. This diverse history of performances speaks to the venue's commitment to providing a wide variety of entertainment options.
Interestingly, the pavilion is not just a hub of live music but also a strong pillar of the community. It hosts a myriad of local events like craft fairs and food festivals, showing a dedication to bolstering local businesses and cultural initiatives. Truly, the Ting Pavilion is more than a venue - it is a vibrant symbol of Charlottesville's culture and artistic spirit.
FAQs about Ting Pavilion
What time do gates open at Ting Pavilion?
Gates typically open anywhere between 90 minutes to 2 hours prior to showtime at Ting Pavilion. Be sure to check the listing on your ticket as showtimes will vary.
Looking for local Charlottesville Amphitheater concerts?
Our event listing has a list of all Charlottesville amphitheater concerts happening at Ting Pavilion. You can also check out events in neighboring cities by checking out our list of venues by state.
Where is the Ting Pavilion?
Ting Pavilion is located at the end of the downtown mall in Charlottesville, VA. Ting Pavilion has a capacity of 3,500 and has been hosting concerts since 2005.
Where should I park for a concert at Ting Pavilion?
Ting Pavilion is just at the end of the downtown mall so there are plenty of parking garages in the area. The Water Street Parking Garage is probably the closest.
Can I bring a lawn chair to Ting Pavilion?
Low back lawn chairs are allowed in lawn area.
Does Ting Pavilion allow re-entry?
Re-entry is allowed at most events at Ting Pavilion.
Can I bring in my own food to Ting Pavilion?
Ting Pavilion allows you to bring your own food and beverages. The only exceptions to bringing your own food is no glass containers or outside alcoholic.
Facts about Ting Pavilion
Date/Year Built/Opened:
2005
Event Dates and Pricing Information
| Performer | Date | Price | Tickets Available |
| --- | --- | --- | --- |
| Flipturn | Apr 20, 2024 | From $52 | 92 |