Tilson Auditorium Tickets and Seating Charts - Terre Haute, IN
Tilson Auditorium Seating Charts
Tilson Auditorium - End Stage Seating Map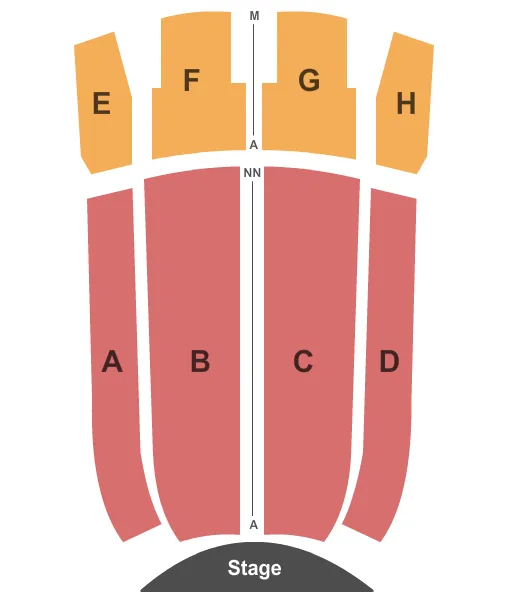 See Tilson Auditorium - End Stage events that use this seating chart configuration
Learn more about Tilson Auditorium
Located in Terre Haute, Indiana, Tilson Auditorium is a multi-utility space dedicated to music and art. With its flexible design and long history of special events, it is the perfect venue to enjoy any kind of live performance. Built in 1921, it has hosted concerts, shows, conventions, and other events over the past century. Today, it is still an active venue hosting classes from Indiana State University and a variety of different events for the local community, including live music from jazz to rock's roll. With 2500 seats, it is one of the largest venues in Terre Haute and offers a unique atmosphere to anyone who steps foot inside its walls.

Beyond the daily events at Tilson Auditorium, you can explore plenty of other sights and interests. Visit the nearby Lost Creek Fish Hatchery for an informative glimpse into local wildlife, or check out Ouabache State Park for a peaceful getaway with its campgrounds, hiking trails, and lakeside views. For those looking to enrich their cultural department, Terre Haute is the proud home of several museums, including the Vigo County Historical Museum and Clabber Girl Museum, where you can learn all about biscuits, crackers, and other baked goodies! The downtown area is bustling with unique shops like Treasures From Nancy's Attic offering antiques along with art galleries showcasing regional artwork. And when hunger strikes, you'll be delighted to discover many restaurants serving everything from American pub favorites to locally sourced dishes.

No matter what brings you to Terre Haute, Tilson Auditorium promises an unforgettable experience to its guests. From the latest music acts to dramatic art performances, this space has something for every taste and style. Whether you're visiting Terre Haute for business or pleasure, come experience the beauty of live entertainment, courtesy of Tilson Auditorium!
Event Dates and Pricing Information