The Summit Music Hall Seating Charts
The Summit Music Hall - Endstage GC Seating Map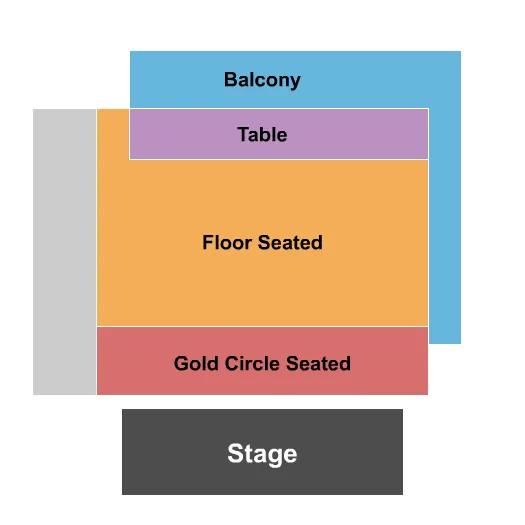 See The Summit Music Hall - Endstage GC events that use this seating chart configuration
The Summit Music Hall - General Admission Seating Map See The Summit Music Hall - General Admission events that use this seating chart configuration
Learn more about The Summit Music Hall
The Moon Room at the Summit Music Hall is an intimate and exciting event venue located in downtown Denver. Perfect for smaller events and shows, the Moon Room's atmosphere and decor are sure to give you a truly memorable experience. Since its inception in 2007, the venue has become an iconic part of Denver nightlife, with a relaxed and casual atmosphere and intimate seating with room for 400 people. Guests are treated to an immersive experience that includes genres ranging from punk, grime, and hip-hop to indie-rock and pop. What's more, is that its shows often attract larger stars playing smaller gigs just for their fans here - making each show as unique as it can be!

Denver is a great spot for outdoor enthusiasts and adventurers, with 300 days of sunshine per year and stunning Rocky Mountain views. The city also offers plenty of culture with unique restaurants, shops, and entertainment venues. Guided tours and impressive museums provide further insight into the sights and sounds of Colorado.

The Moon Room at the Summit Music Hall is a must-see venue if you're in Denver. With its fantastic menu, convenient location near Coors Field, and an array of events throughout the year, it's an experience you won't soon forget.
Event Dates and Pricing Information
| Performer | Date | Price | Tickets Available |
| --- | --- | --- | --- |
| Royksopp | Sep 26, 2023 | From $72 | 17 |
| Senses Fail | Sep 28, 2023 | From $47 | 17 |
| Bearracuda - Show | Sep 29, 2023 | From $46 | 16 |
| Lastlings | Sep 30, 2023 | From $37 | 17 |
| Nothing But Thieves | Oct 1, 2023 | From $33 | 16 |
| Tate McRae | Oct 2, 2023 | From $211 | 39 |
| Movements | Oct 5, 2023 | From $54 | 21 |
| Neil Frances | Oct 6, 2023 | From $43 | 20 |
| OG Nixin | Oct 7, 2023 | From $48 | 14 |
| The Chats | Oct 8, 2023 | From $43 | 20 |