The O'Shaughnessy Seating Charts
The O'Shaughnessy - End Stage Seating Map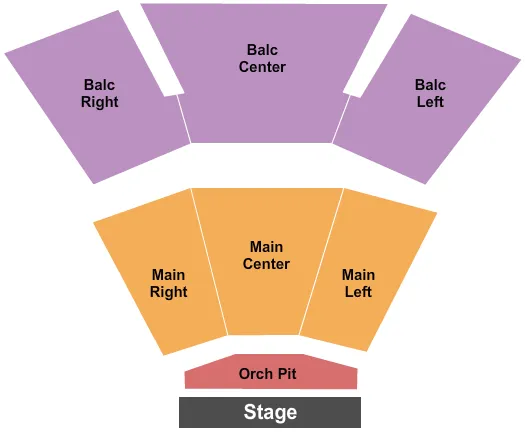 See The O'Shaughnessy - End Stage events that use this seating chart configuration
Learn more about The O'Shaughnessy
The O'Shaughnessy is a Saint Paul, Minnesota event venue founded on the idea of shared experiences that provide meaningful connections and lasting memories. From corporate events to social gatherings, this beautiful space is perfect for any celebration.

The O'Shaughnessy has been an iconic part of the Saint Paul community since it opened in 1915. Built for theatrical performances, it has evolved over the years to become a premier venue for the full spectrum of performing arts, including music, dance, opera, theater, and more. It has provided a vibrant cultural landscape to Saint Paul residents for over a century, hosting both classical and modern performances every night.

No matter what brings you to the city, Saint Paul is filled with fantastic attractions. Explore Historic Forts Snelling and Ridgely, enjoy the views of Minnehaha Falls Park, catch a show at The Fitzgerald Theater or The St. Paul River Center Arena, take in live performances at Turf Club, The Amsterdam Bar & Hall, and other music venues, or visit one of the many recording studios to see how records are made in person. Shop local vendors at Midtown Farmers Market or take part in unique festivals such as Winter Carnival and Red Bull Crashed Ice.

If you're looking for a memorable evening in St. Paul, you owe it to yourself to visit The O'Shaughnessy. From its delicious whiskey to world-class performances, this is a destination sure to make memories that will last for years!
Event Dates and Pricing Information
| Performer | Date | Price | Tickets Available |
| --- | --- | --- | --- |
| Katie McMahon's Celtic Christmas | Dec 8, 2023 | From $58 | 15 |
| Kevin Kling | Dec 9, 2023 | From $59 | 66 |
| The Classic Nutcracker | Dec 15, 2023 | From $86 | 36 |
| The Classic Nutcracker | Dec 16, 2023 | From $74 | 41 |
| The Classic Nutcracker | Dec 17, 2023 | From $74 | 26 |
| She The People | Feb 3, 2024 | From $59 | 45 |
| Richard Leider | Feb 6, 2024 | From $60 | 43 |
| Kevin Kling & Friends - The Love Show | Feb 14, 2024 | From $59 | 53 |
| Moipei | Feb 17, 2024 | From $54 | 48 |
| Letters Aloud: Thanks, But No Thanks - The Best Rejection Letters Ever | Feb 24, 2024 | From $54 | 55 |