Long Center Tickets and Seating Charts - Lafayette, IN
The Long Center For The Performing Arts - IN Seating Charts
The Long Center For The Performing Arts - IN - End Stage Seating Map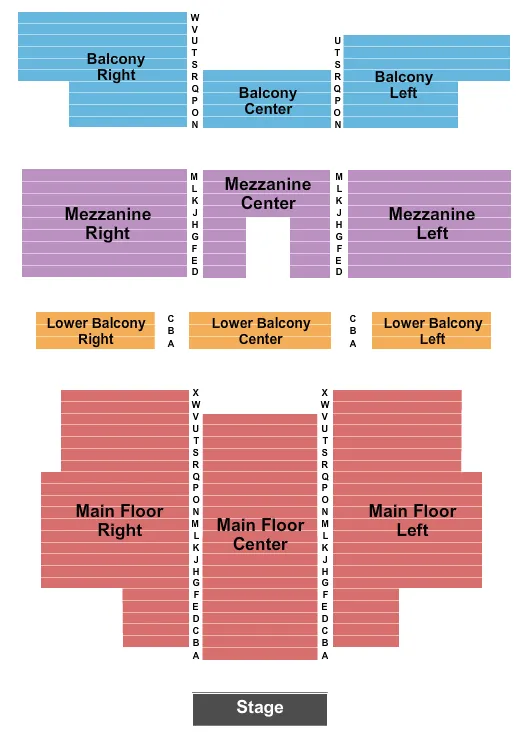 See The Long Center For The Performing Arts - IN - End Stage events that use this seating chart configuration
Learn more about The Long Center For The Performing Arts - IN
The Joe R. and Teresa Lozano Long Center for the Performing Arts is the premier venue for performing arts in Lafayette, Indiana. Opened in 2002, it features a 3,500-seat Concert Hall, and 200-seat Amphitheater, and houses the Acadiana Symphony Orchestra & Conservatory of Music. Its auditorium offers balcony seating so that guests can enjoy performances from great heights. The Center has hosted a variety of shows ranging from Broadway to recitals and also serves as an educational facility with classrooms dedicated to teaching aspiring students about music, theatre, and more.

Lafayette is a bustling city full of attractions and experiences. From parks like Columbian Park to Wea Creek Orchard, there are plenty of exciting opportunities awaiting. Visitors can find residents gathering in vibrant spots for live music or enjoying local brews at one of the many breweries in town. Lafayette's restaurants offer a wide variety of cuisine - from ethnic delicacies to old-fashioned comfort food. There is also plenty of history in the area; visit Mansion on Main Street, St John's Episcopal Church, Prophetstown State Park, Eliminar Nature Preserve, or Wolf Park.

From local theatre productions and musicals to world-renowned symphonies, the Long Center is an excellent place to explore the offerings of local artists and performers. With something for everyone to enjoy, it's sure to provide an incredible event that you won't want to miss out on. So come check out what this venue in downtown Austin has to offer–you won't be disappointed!
Event Dates and Pricing Information